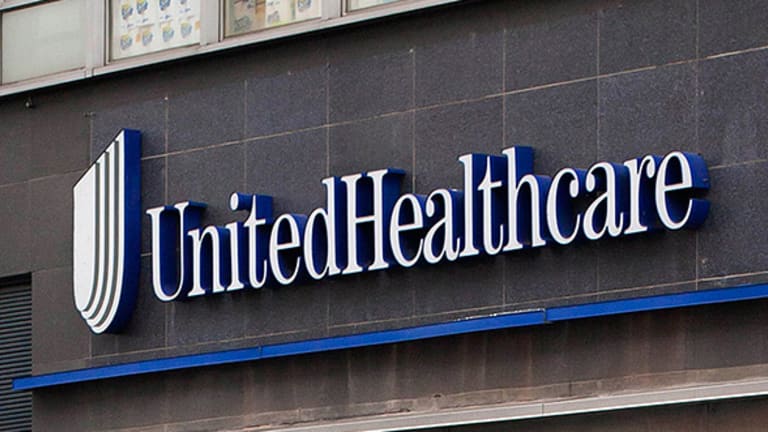 Here's Why UnitedHealth Group Is a Screaming Buy
The health care sector is soaring and this hot health giant is leading the pack.
Health insurance never goes out of fashion. Whether the economy is booming or in a slump, people will buy policies that secure their or their loved ones' futures.
But that doesn't mean that investors should put their money on the first insurance stock they see. Apart from the sector and its potential, it is important to understand the workings of the company.
We've scoured the market for a stock that is in great health and also has a lot of firepower left and have narrowed down to UnitedHealth Group (UNH) - Get UnitedHealth Group Incorporated (DE) Report . Here's why UnitedHealth Group is poised to thump the overall market this year.
UnitedHealth is the largest health insurer in the U.S. Through its products and services, it improves access to health care services and makes them more affordable. In recent times, the company has secured its leading position with significant deals.
UnitedHealth acquired Rocky Mountain Heath Plans, a company based in Colorado, which was valued at $30-to-$40 million. Rocky's customer base of 300,000 individuals in Colorado would mostly add to UnitedHealth's existing count of $1.2 million, an uptick of a quarter.
This was still a relatively small deal. UnitedHealth's real bite was the acquisition of the fourth-largest pharmacy-benefit manager (PBM), Catamaran, for $12.8 billion in cash.
The job of PBMs, which work for health plans and employers, is to manage pharmacy benefits and negotiate prices with pharma companies and drugstores.
When Catamaran was absorbed into UnitedHealth's OptumRx unit, a part of the Optum health-services division, it became the third largest PBM in the U.S. In the second quarter of 2016 alone, Optum's revenues climbed 52% year on year.
Another development that could further cement UnitedHealth's position as the largest health insurer is the Department of Justice throwing a spanner in the works of merger plans of Aetna (AET) and Humana (HUM) - Get Humana Inc. Report as well as Anthemundefined and Cigna (CI) - Get Cigna Corporation Report , according to Fitch.
Aging Population to Drive Growth
The U.S. is now facing a peculiar problem: an aging population.
Persons aged 65 years or older were 46.2 million in 2014, representing 14.5% of the population. The figure is expected to reach 21.7% of the population by 2040. As an aging population will definitely have more health care needs, UnitedHealth is bound to benefit.
UnitedHealth has enjoyed a consistent track record of beating analyst estimates. For at least the last four quarters, the company recorded earnings per share growth significantly higher than analyst expectations.
For the next five years, analysts expect the company to register gains of nearly 15% annually, outperforming the estimates of 8.85% for the S&P 500 (SPY) - Get S&P 500 ETF TRUST ETF Report . Going by its track record of earnings beats, we expect the trend to continue going forward.
Analysts have a 12-month median price target of $163 on the stock, representing almost 19% upside to the stock. That gain would make UNH one of the growth champions in an overall market that many analysts expect to post meager gains at best.
The dividend yield of 1.8% may not seem to boost the total returns prospects of the stock at present, but an improving balance sheet and a payout ratio of just 31.6% allows plenty of headroom for growth.
---
As we've just explained, UnitedHealth Group is a smart bet now. If you're looking for other growth opportunities, we've found a genius trader who turned $50,000 into $5 million by using his proprietary trading method. For a limited time, he's guaranteeing you $67,548 per year in profitable trades if you follow his simple step-by-step process. Click here now for details.
This article is commentary by an independent contributor. At the time of publication, the author held no positions in the stocks mentioned.