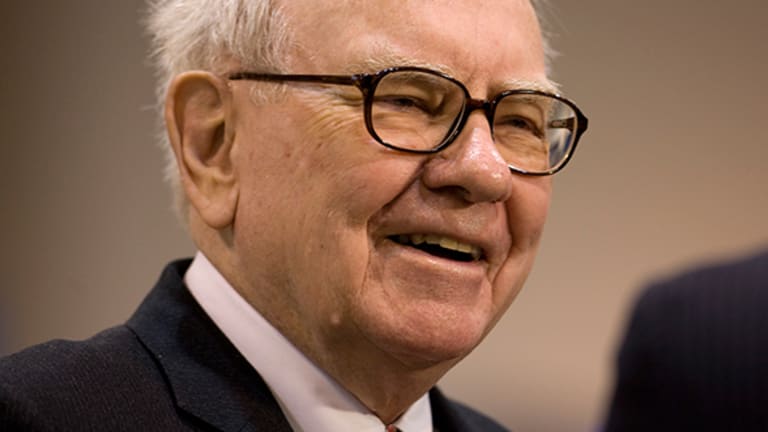 Publish date:
Invest Like Warren Buffett and Find Stocks With Pricing Power, Here's a Guide
Inflation is ultra-low, but don't think that it can't re-emerge. Here are options to combat that possibility.
Inflation is ultra-low, but don't think that it can't re-emerge. Here are options to combat that possibility.
Those who do an Internet search for "inflation, interest rates and monetary policy," might want to step back from their computers and have a fire extinguisher ready.
The plethora of articles, blogs, historical analyses and papers provide a seemingly endless array of explanations as to how and why these concepts overlap.
Although inflation may be simply defined as a general increase in prices and a decline in the purchasing value of money, the idea is anything but simple.
Like myriad other factors related to the economy as a whole and the financial markets in particular, the wheel of inflation -- its dangers, timing and virtues -- has many spokes of cause and effect. If it does rear its head, however, it is important for investors to understand the potential impact that it could have on an equity portfolio.
Of course, very few people are talking about inflation as has it has been stubbornly low since the financial crisis. Low growth and low expected future growth are just two of many contributing factors.
Although the consensus view is that this environment won't change any time soon, many investors know that over-weighting the short term without understanding history may not be a good long-term strategy.
In July, long term Treasuries hit a low for the year of 1.84% but have since risen to 2.33%, a big move in a short period of time.
What does this mean?
An April article in The Wall Street Journal referred to an uptick in government bond yields as a "move typically linked to rising expectations of economic growth and inflation," though at the time some viewed the rally as a "false start."
The article quoted Charlie Diebel, head of rates at Aviva Investors, who addressed rising yields saying, "despite the persistent claim that central banks are out of ammunition, this month's sell-off in government bonds does tell you to a degree that people are buying into the concept that policy measures will eventually work."
When pondering these questions, it is helpful to pivot to the tenets of investing legends such as Warren E. Buffett who, in 1977, wrote an in-depth analysis on the subject for Fortune magazine.
While explaining that inflation hurts both stocks and bonds, he wrote, "stocks are probably still the best of all the poor alternatives in an era of inflation -- at least they are if you buy in at appropriate prices."
Nearly 40 years later, Buffett still seems to believe that. Case in point: Even when he thought that the government's response to the financial crisis would trigger serious inflation, he urged investors to buy U.S. stocks.
When inflation hits, stocks can draw on expanding earnings streams as companies raise prices and increase profits. Also, stocks have an overall advantage over fixed-income investments because of the equity risk premium or the notion that they return more over the long haul because investors demand higher returns in exchange for more short-term volatility.
David Dreman, another investment guru whose philosophies are the basis for my Guru Strategy computer models, has called inflation a "virus" that permanently entered the investment world after World War II.
He found that, over the long term, inflation erodes the returns of fixed-income investments such as bonds or Treasury bills.
In his book Contrarian Investment Strategies, Dreman noted that from 1946 to 1996, compound returns for stocks after inflation were better than those of bonds 84% of the time, given a holding period of five years. When looking at 20-year holding periods, stocks beat both bonds and T-bills 100% of the time.
Of course, knowing if and when inflation will spark and how long it will last would provide an excellent basis for choosing between fixed-income securities and stocks. However, as we know, this is impossible to do.
So the equity investor's best defense against an inflationary environment is to hold stocks of businesses that have substantial pricing power, that is, the ability to maintain or raise prices in good times and bad.
These are precisely the types of companies Buffett targets, those with brand recognition, a competitive advantage and a loyal customer base. The demand for their goods is inelastic and the key to maintaining healthy revenue streams and margins.
Using my guru-based models on Validea, here are three stocks that possess pricing power and earn high marks for strong business fundamentals.
1. Apple (AAPL) - Get Report
This technology giant designs, manufactures and markets a host of communication and media devices including Apple TV, the iPad, iPhone, iPod and Mac.
Our Buffett-based screening model gives Apple a perfect score due to its enduring competitive advantage as well as its earnings predictability and average return on total capital over the past 10 years, including all debt, of 27.6%, which is well over the minimum requirement of 12%.
Free cash flow per share of $10.05 is a plus under this model, and management's use of retained earnings reflects a favorable return of 28.6%.
Our Peter Lynch-based model also favors the company's price-earnings ratio of 13.70, as it relates to growth in earnings per share of 23.54%, based on three-, four and five-year averages. This ratio, called the PEG, passes at 0.58, below the required level of 1.
Apple is a holding in Jim Cramer's Action Alerts PLUS Charitable Trust Portfolio. See how Cramer rates the stock here. Want to be alerted before Cramer buys or sells AAPL? Learn more now.
2. Monster Beverage (MNST) - Get Report
Through its subsidiaries, Monster Beverage markets and distributes energy drinks under the widely recognizable Monster brand.
The company earns a near perfect score under our Buffett-based stock screen due to its debt-free balance sheet, 10-year average return on total capital of 30.4%, versus the minimum requirement of 12%, and consistent EPS growth, averaging 17.2%, based on three-, four- and five-year averages.
Management's use of retained earnings reflects a return of 15.6%.
3. Sherwin-Williams (SHW) - Get Report
This company is a household name in coatings, paint and related products.
Sherwin-Williams gets high marks from our Buffett-based model due to its modest debt level, which earnings can pay off in under two years, and 10-year average EPS growth of 13%.
Return on total capital over the past three years has averaged 34% and over the past 10 years has averaged 25.5%, both well above the 12% minimum requirement. Free cash flow per share of $10.25 is a plus, and shares outstanding have fallen over the past five years to 95 million from 103 million, an indication that management has been using excess capital to increase shareholder value.
In addition, management's use of retained earnings reflects a 16.5% return, a plus under this model.
John P. Reese is founder and chief executive of Validea.com, an investment research firm, and Validea Capital Management, an asset management firm serving affluent investors and companies.
He is also co-author of two investing books, including
The Guru Investor: How to Beat the Market Using History's Best Investment Strategies
(Wiley).
At the time of publication, John Reese and/or his private clients were long AAPL, MNST and SHW.