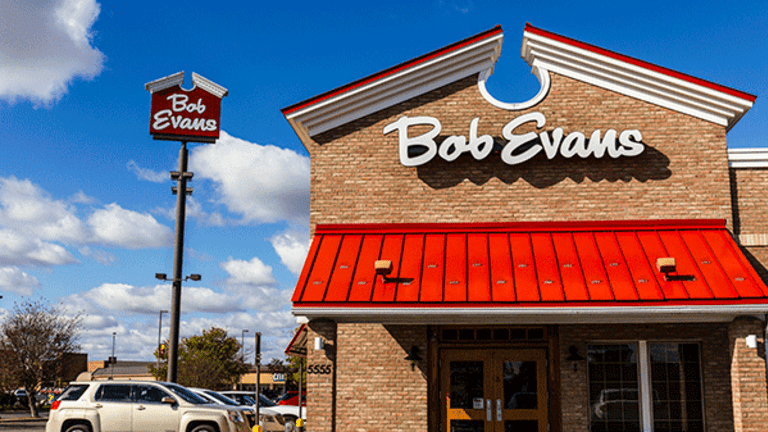 Here's Why to Avoid Bob Evans Shares, Despite the 20%-Plus Gains
The stock rose Wednesday following an announcement that the company will sell its iconic restaurant chain. But this stock is too risky for investors looking for long-term profits.
Bob Evans Farms' (BOBE) slogan is "Down on the Farm," but the company's stock headed up by a lot on Wednesday.
After a tumultuous year, could its stock finally be becoming less risky for investors?
Shares jumped more than 20% Wednesday following news that the company will shed its iconic but troubled restaurant chain.
Bob Evans Farms started out more than 70 years ago as a single truck-stop diner. Over the decades, it has evolved into a restaurant chain serving up down-home meals in more than 500 locations in 18 states.
But Bob Evans Farms has also become a food processing company in its own right. In fact, BEF Foods, the company's packaged-foods division that makes macaroni and cheese, sausages, and other freezer and fridge favorites, is becoming more successful than the restaurant business.
The entire restaurant industry faces headwinds due to what some are calling a "restaurant recession."
A number of factors, including lower prices at grocery stores versus higher supply costs for restaurants and a general feeling of anxiety due to the election of Donald Trump, has contributed to the downturn. Restaurants including the once-popular Chipotle Mexican Grill and fast-food giant McDonald's have seen unexpected sales declines.
Bob Evans Farms' restaurants have been particularly unattractive. The chain fits into the casual-dining category, which offers food and table service that are more expensive than that at traditional fast-food restaurants.
Other restaurants in this category, including Denny's and Ruby Tuesday, have also seen big drops in sales.
These casual restaurants lack the convenience as well as the healthier and more gourmet menus of trendy fast-casual eateries such as Panera Bread. The "foodie" millennial crowd, which spends more on eating out than other generations, just isn't interested in biscuits and gravy.
Panera Bread is a holding in Jim Cramer's Action Alerts PLUS Charitable Trust Portfolio. See how Cramer rates the stock here. Want to be alerted before Cramer buys or sells PNRA? Learn more now.
Last year, plunging revenue led Bob Evans Farms to shut dozens of under-performing locations.
But that wasn't enough for activist investor Thomas Sandell, whose Sandell Asset Management owns about 7% of the company's shares. He has been pushing for the company to split its businesses for years, though his original idea was for Bob Evans Farms to spin off the processed-food business.
The restaurant business will be sold to private-equity firm Golden Gate Capital for $565 million, with expected cash proceeds of as much as $485 million. The cash will be used to pay down some of the company's massive debt load, as well as for a special dividend.
Ailing casual eateries are nothing new for Golden Gate Capital. In 2014, it bought struggling Red Lobster from Darden Restaurants in a deal worth $2.1 billion.
Bob Evans Farms Chief Executive and President Saed Mohseni will stay with the restaurant chain and run it for Golden Gate Capital, while BEF Foods President Mike Townsley will become Bob Evans Farms' new president and chief executive.
The company also said that it will use new debt to acquire Pineland Farms Potato for $115 million. The potato company will join the company's portfolio, which includes the Bob Evans, Country Creek and Owens brands.
Bob Evans Farms' decision to sell its struggling restaurant business was a wise move. However, it is unlikely that its stock can keep up its Wednesday momentum.
Processed-food sales have declined recently, with rival Hormel Foods ending last year on a down note. Bob Evans Farms' new focus on this market could prove underwhelming.
Increasingly, Americans are spending more money on organic and "whole" foods at the grocery store.
American consumers spent more than $43 billion on organic foods last year, according to the Organic Trade Association.
This is a market that is growing by double digits every year, as retailers as diverse as Amazon,Kroger and Walmart increase their presence in a market previously dominated by Whole Foods.
If Bob Evans Farms really wants to improve its sales, it should move into this sector, perhaps with the purchase of a smaller organic brand.
Until then, this stock will remain too risky for investors looking for long-term profits.
---
But it's not the only risky investment out there. A blistering financial storm is about to hit our shores. When it hits, weak companies and their investors will be washed away. You need to put yourself on solid ground. And that doesn't just mean changing your investment allocations or loading up on cash. I'll show you how to protect yourself and prosper when you click here.
The author is an independent contributor who at the time of publication owned none of the stocks mentioned.