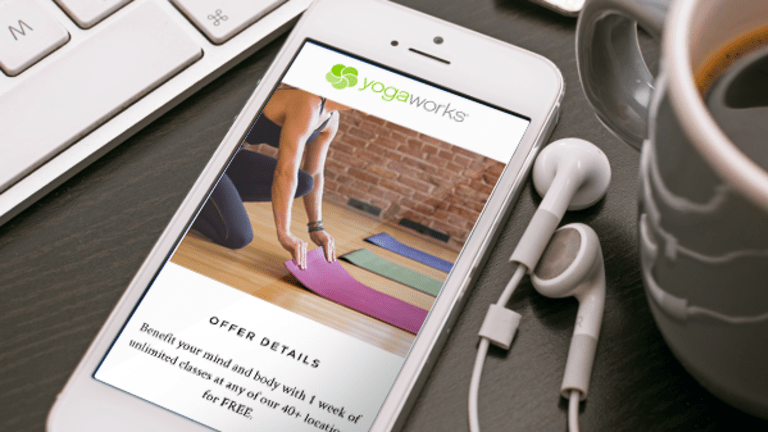 Here's Why This Yoga Studio Operator Just Pulled Its IPO
Namaste.
Private equity-backed YogaWorks will not be making its grand, public debut after all, and, breathe, it's probably for the best.
The Culver City, Calif.-based yoga operator announced on Thursday, July 20, the day it was set to start publicly trading on the Nasdaq under the ticker symbol YOGA, that it was "postponing" its IPO, "due to market conditions."
While the practice of yoga is growing more popular among millennials focused on a healthier lifestyle, the majority of them don't appear to be choosing to do it at YogaWorks studios.
For the second quarter ending June 30, YogaWorks expects net revenues between $12.3 million and $12.6 million, a decline from the $13.3 million it generated in the year-ago period. The company estimates second-quarter visits of 700,000 to 720,000, compared to the 754,567 visits it gained in the same period a year ago, according to its Form S-1 filed on July 10 with the Securities and Exchange Commission.
For the three months ended March 31, YogaWorks reported revenue of $13.9 million, lower than the $15.1 million it generated in the year-ago period, the filing showed.
YogaWorks acknowledged in its Form S-1 that it operates in a highly competitive environment, with rivals in the form of yoga studio operators, private studios, country clubs and gyms, among others. Plus, some consumers are choosing in-home options such as yoga videos.
"The level of competition we face is high and continues to increase," the company said in its Form S-1. "We might not be able to compete effectively in the future in the markets in which we operate."
Although prices vary by location, a monthly membership to a YogaWorks studio costs slightly more than $100 and a single class, roughly $20. Its members and visitors also must pay $2 to borrow a yoga mat, according to a review by Well+Good. Many yoga practitioners bring their own mats to the studio, however.
Citing a November report by IBISWorld in its Form S-1, YogaWorks said 37 million Americans practiced yoga in 2016 compared to 20 million in 2012. And, according to the 2016 Yoga in America Study, awareness of the exercise practice among Americans was at 90% last year, compared to 75% in 2012.
These yoga-goers are possibly choosing cheaper alternatives over YogaWorks, such as in-home practice or full gyms with lower monthly fees, a wide array of classes, not just yoga, and the full complement of a locker room, sauna and steam room, among other amenities.
YogaWorks, backed by Boston private equity firm Great Hill Equity Partners V LP, operated 49 yoga studios at the end of calendar year 2016 in in New York, Los Angeles, Orange County, Calif., Boston, Baltimore, San Francisco and Washington, D.C.
The company planned to start publicly trading on Thursday, expecting to sell 5 million shares priced between $12 and $14 to raise about $65 million.
Great Hill, which has a 99.9% controlling stake in the company, had an interest in purchasing up to $10 million in shares. After the IPO, Great Hill's stake would have been cut to 64%, unless it bought the $10 million-worth of shares. If that happened, its stake would have stood at 70.3%.
Great Hill acquired YogaWorks for $45.6 million in cash on July 18, 2014, according to the S-1 form. The terms of the deal were not disclosed at the time.
Read More: