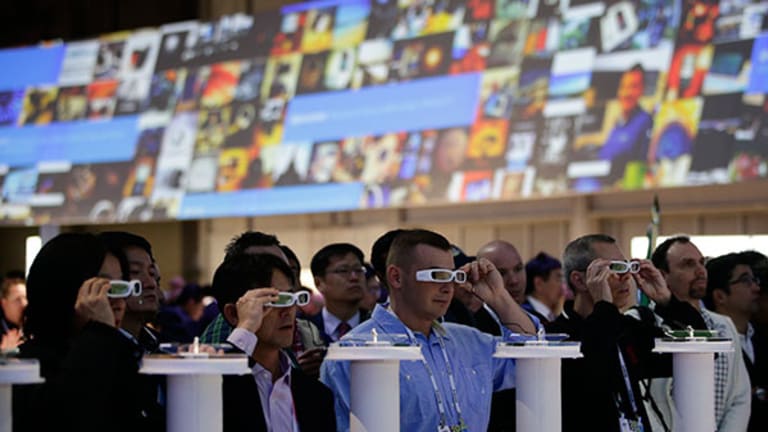 Here's Why This Stock May Crash Through the Smart Glasses Ceiling
The Internet is abuzz with rumors about Apple's upcoming product. However, there is a smaller company already quietly preparing to dominate the market.
This week, reports that technology titan Apple is developing so-called digital or smart glasses that use augmented and virtual reality technology with a potential release in 2018 have piqued the curiosity of the company's rabid fans.
However, there is a smaller company with several products like this already on the market, and its stock has been quietly climbing. 
Vuzix (VUZI) - Get Vuzix Corporation Report is a wearable technology companies and supplier of smart glasses that use AR and VR technology. The company holds about 40 patents and has 10 additional patents pending.
The AR market is in its early stages. Projections, however, suggest that it should reach the $120 billion mark by 2020.
With a relatively small market value of about $140 million, Vuzix carries stellar growth potential. The secret weapon in its arsenal is the Blade 3000 Smart Sunglasses, which received four International CES Innovation 2017 awards.
These sunglasses allow users to view and interact with digital and video content in high-resolution computer-generated AR and VR worlds.
In addition, Vuzix's expanding product portfolio offers regular glass lenses that are just 1.4 millimeters thick, placing the company at a solid technological advantage in this emerging sector.
Shares of Vuzix are undervalued, given that it boasts a series of successful products in the AR and VR arenas. Although the buzz is stronger around Facebook's Oculus VR headset and Sony's attempt to make in-roads into the sector, Vuzix is gradually garnering acclaim and making a dent in the market.
Apple and Facebook are holdings in Jim Cramer's Action Alerts PLUS Charitable Trust Portfolio. See how Cramer rates the stock here. Want to be alerted before Cramer buys or sells AAPL and FB? Learn more now.
The company is expected to ramp up production on its new M300 smart glasses, an upgrade to an earlier model, at a faster clip. These glasses are particularly intended for use in the business or enterprise arenas.
The planned 2017 launches of the M3000 and B3000 binocular waveguide products could be boons for Vuzix.
Reports suggest that enterprise customers could buy smart glasses in bulk of about 400,000 units this year, and that number could keep increasing to reach more than 14 million by 2025.
Vuzix's products are critical to the gradual development of the VR landscape as other bigger enterprises have tried to find a foothold and either failed or petered out.
Alphabet-owned Google Glass tried to employ augmented reality but didn't resonate with consumers. And while Apple Glass remains a work in progress, upon release the product may be limited to the Apple ecosystem.
Alphabet is a holding in Jim Cramer's Action Alerts PLUS Charitable Trust Portfolio. See how Cramer rates the stock here. Want to be alerted before Cramer buys or sells GOOGL? Learn more now.
Even as the giant, capital-heavy technology majors strive to combine and conjoin multiple applications and elements in their products, companies such as Vuzix, one of the key global vendors in the smart glass market, could become a partner.
Add to that almost zero debt, cutting-edge technology and a solid product portfolio, and Vuzix's stock warrants investor attention.
---
85% Accurate Trader gives his Personal Guarantee: "Give Me 9 Minutes a Week and I Guarantee You $67,548 a Year."
What if I told you I know a way you can see a $67,548 per year - or more - in profitable trades just by following this simple step-by-step process? The trader who is sharing this secret has been right more than 8 out of 10 times, turning $5,000 into more than $5 million for himself. Click here to see how easy it is to follow his lead and collect thousands of dollars in "Free Money" every month.
The author is an independent contributor who at the time of publication owned none of the stocks mentioned.