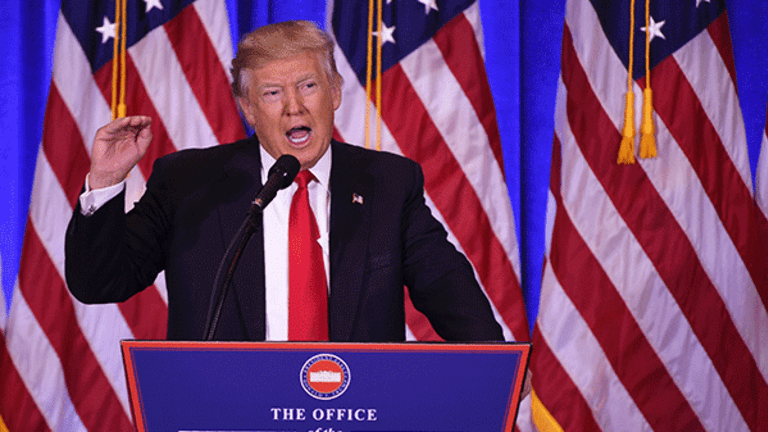 Here's Why These 2 Stocks Will Thrive in The New Era of Conflict
Aggression, military and otherwise, will be the byword of the new administration. These two mid-cap defense stocks stand to gain.
In the Trump Era, there is at least one thing on which investors can count: a perpetual state of conflict, both at home and overseas.
In his first press conference since winning the election, President-elect Donald Trump on Wednesday angrily belittled opponents, the press and even U.S. intelligence agencies. His foreign policy is likely to be highly contentious as well, as he appoints hawkish individuals to the Pentagon and agency posts.
One of the most reliable and proven ways to build wealth over the long haul is to place investment capital in high-momentum trends. Many analysts are predicting that an overdue stock market correction and recession will hit early in Trump's first term, but here is a way to make money, despite economic and market gyrations: buy select defense industry stocks.
Trump has promised to massively increase military spending and to also pursue a more aggressive foreign policy. That adds up to filled coffers for America's aerospace/defense firms.
The large-capitalization blue chips such as Boeing,Lockheed Martin and Raytheon are obvious choices that are richly valued, in large part because of the post-election Trump rally.
That is why investors should consider mid-cap defense plays Astronics (ATRO) - Get Free Report and Esterline Technologies (ESL) . Indeed, the market's smaller fry as a whole are poised for a breakout this year.
When overvalued blue-chip stocks finally take a tumble, the smaller innovators with unique products and proprietary technology should take the lead.
The iShares Russell 2000 Exchange-Traded Fund, a proxy for the Russell 2000 Index of mid- and small-cap stocks, has jumped 9.38% since the election on Nov. 8 and rose nearly 24% last year. That compares favorably with the S&P 500.
Mid-caps occupy a "Goldilocks" middle ground, and as such, they serve as superb growth plays with an extra factor of safety. The following duo of mid-cap defense stocks offer greater room for growth than the aerospace/defense behemoths that dominate the headlines, but they are big enough to survive a major downturn that could decimate their small-cap peers.
Although the intra-day headlines are dominated by Trump's Twitter wars with Boeing and Lockheed Martin and tit-for-tat arguments over the latter's F-35 Joint Strike Fighter, these two mid-cap stalwarts should continue.
You don't have to worry that controversies sparked by impulsive Trump tweets will suddenly crush their shares, as previously happened with Boeing and Lockheed Martin.
With a market cap of $1.07 billion, Astronics designs and manufactures products for the aerospace and defense industries around the world. It operates through two divisions, Aerospace and Test Systems.
The Aerospace division offers aircraft structures, avionics products, electrical-power generation, lighting and safety systems, and other products. The Test Systems division provides automatic test systems, such as communications and weapons test systems, and simulation and training devices to aircraft original equipment manufacturers.
As demand increases for the sophisticated electronics that guide and power military aircraft, Astronics should prosper in a year that is expected to be turbulent for the broader markets but prosperous for defense contractors.
The average analyst estimate is that the company's earnings will grow by 17.8% next year from a year earlier. For the next five years, average earnings growth is pegged at 17.8% on an annualized basis.
And yet, shares are reasonably valued. The stock's trailing 12-month price-earnings ratio is 18.9, about in line with the trailing P/E for the aerospace/defense industry.
With a market cap of $2.51 billion, Esterline Technologies designs, manufactures and markets engineered aerospace products for commercial and defense customers in the U.S. and internationally.
The company's products include control and data communication devices, electrical-power switching, electronic flight bags, global positioning systems, head-up pilot displays, and pressure, speed and temperature sensors.
Reflecting the movement toward lightweight electronics is the growing popularity of EFBs, which are increasingly replacing anything made of paper in the cockpit. The Federal Aviation Administration has ruled that EFBs may serve as substitutes for the paperwork that pilots are required to carry with them into the cockpit.
Esterline Technologies is a play not only on EFBs but also on the intensifying need for miniaturized aircraft electronics.
EFBs are greatly in demand among business jet OEMs, which grapple with the imperative to reduce space and weight for fuel efficiency. In the cockpits of luxury "bizjets," EFB data presentations such as airport approach charts and weather forecasts can be integrated into the glass panel displays.
Leading bizjet makers such as Canada's Bombardier and Brazil's Embraer are loyal clients of Esterline Technologies.
Meanwhile, the increasing use of Apple's iPad and other tablet devices in cockpits is leading to the emergence of new aviation applications that complement EFBs.
Apple is a holding in Jim Cramer's Action Alerts PLUS Charitable Trust Portfolio. See how Cramer rates the stock here. Want to be alerted before Cramer buys or sells AAPL? Learn more now.
Esterline Technologies' trailing P/E is a bit pricey at 52.44, so investors may want to wait for pullbacks before buying shares. But rest assured, robust earnings momentum is in the cards.
The average analyst estimate is that the company's earnings will grow by 11% next year from a year earlier. For the next five years, average earnings growth is pegged at 11.58% on an annualized basis.
---
Trump's shocking election as president has turned the investment world upside down. If you're looking for new (and safe) growth opportunities in these uncertain times, we've found a genius trader who turned $50,000 into $5 million by using his proprietary trading method. He's now guaranteeing you $67,548 per year in profitable trades if you follow his simple step-by-step process. Click here for all the details.
John Persinos is an analyst with Investing Daily.
He is also an aerospace/defense expert who serves as an analyst with Teal Group, a consulting firm that specializes in military matters.
At the time of publication, Persinos owned stock in AAPL, BA and RTN.