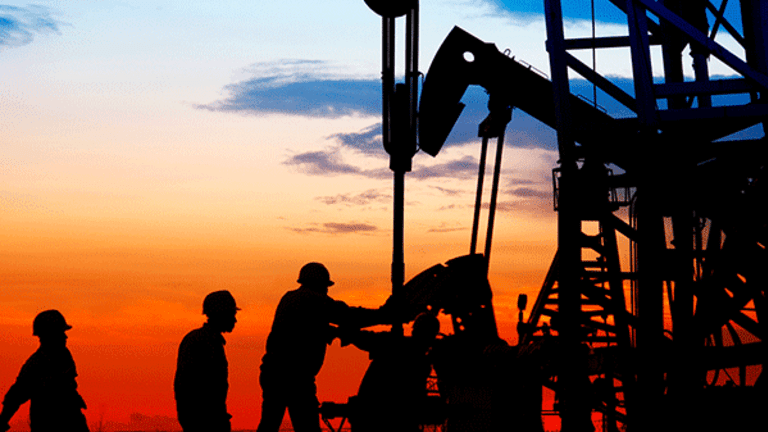 Here's Why These 2 Oil Stocks Don't Care Much if OPEC Is Cheating
Saudi Arabia finagled a production cut, but it appears that some members already aren't playing fair. Shares of these two energy companies will prosper regardless.
Saudi Arabia finagled a production cut, but it appears that some members already aren't playing fair. Shares of these two energy companies will prosper regardless.
Looks like the cheating already has started.
Saudi Arabia cheered investors late last month when it managed to get fractious members of the Organization of the Petroleum Exporting Countries to agree to a major production cut. The Saudis leveraged that cut by bringing non-OPEC member Russia aboard.
Well, not to rain on the energy parade, but oil's go-go days are over. Although oil prices are rebounding, they will probably never see anything close to the all-time highs of about $110 per barrel again.
That is especially true as signs emerge that OPEC members are weaseling out of the production accord.
However, two high-quality energy stocks are strong enough to thumb their noses at OPEC: Devon Energy (DVN) - Get Report  and Phillips 66 (PSX) - Get Report .
After a year of enormous oil price volatility, crude has finally broken through the $50 a barrel threshold in a sustained way.
West Texas Intermediate, the U.S. benchmark, gained 0.41% on Thursday to close at $51.11. Brent North Sea crude, the benchmark on which international oil is priced, rose 0.67% to close at $54.38.
The price of $50 is widely considered to be the level at which energy companies can break even.
Rising oil prices over the past few months have lifted energy equities as a whole, with the broad market indices rising about in tandem. Energy is a compelling growth investment.
But consider this: Recent data show that oil production in recent weeks has been much higher than expected, with gains coming from the revenue-starved nations of Angola, Gabon, Indonesia, Iran, Iraq, Libya and Nigeria.
Some energy analysts contend that the cheating is inevitable and will cap the price of oil at $52 a barrel.
Consequently, it is more imperative than ever for energy investors to pick their spots wisely. Devon Energy and Phillips 66 are well-suited to exploit the new era of oil and richly reward investors.
Based in Oklahoma City, Okla., Devon Energy is getting rid of under-performing assets to focus on its most efficient shale assets in North America. With operations in Canada, Oklahoma and Texas, Devon Energy is one of the largest energy producers in the prolific Barnett Shale in Texas, where it controls 600,000 acres.
As part of its campaign to shed inferior assets, Devon Energy surpassed a recent divestiture target by announcing sales of $3.2 billion. Devon Energy also has racked up significant general and administrative cost savings in recent quarters.
Shale driller Devon Energy boasts a robust backlog of un-drilled but proven leases, and it can quickly obtain rigs and other equipment to exploit them. Consequently, even if OPEC's production deal falls apart, as so many have in the past, the company can jump in and drill new wells for a windfall.
Management expects G&A expenses to decline to a range of $600 million to $650 million this year. Combined with reductions in capitalized G&A, Devon Energy expects its total overhead costs to decline by about $400 million from last year.
Devon Energy's price-sales ratio is 1.9, low compared with the ratio of 4.2 for its industry. The average analyst consensus is that Devon Energy will rack up earnings growth over the next five years of 9.4% on an annualized basis.
Meanwhile, oil could easily resume its downward path, but Warren E. Buffett, the world's greatest value investor, knows that Phillips 66 is resistant to these uncertainties.
Diversification combined with low costs is the key to Phillips 66's strength. Phillips 66 operates through four segments: chemicals; marketing and specialties; midstream; and refining. This diversification allows Phillips to weather oil price gyrations and unfavorable conditions in any one market.
A major holding of Buffett's Berkshire Hathaway, Phillips 66 also reaps high margins from its value-added chemicals and refining activities, which benefit from economic growth and are less susceptible to oil price swings.
Phillips 66's debt-equity ratio is just 36.44, one of the lowest in the energy patch. Phillips 66's price-sales ratio is 0.5, which is about in line with its industry and lower than the S&P 500's of 1.9.
As Phillips 66 gets ready to launch several new large-scale projects next year, the average analyst consensus on earnings growth is bullish, with a projected gain next year of 60.7%.
---
No one likes to be vulnerable to the whims of OPEC. As an individual investor, you want to be in control of your own destiny. That means being able to predict in advance how much money your investment portfolio will generate. Think it can't be done? Our top analyst has a system that ensures you'll make a profit on more than 80% of your trades. To find out the secret, just click here!
John Persinos is an investment analyst at Investing Daily.
At the time of publication, he owned none of the stocks mentioned.
Persinos appears as a regular commentator on the financial television show Small Cap Nation. Follow him on Twitter.