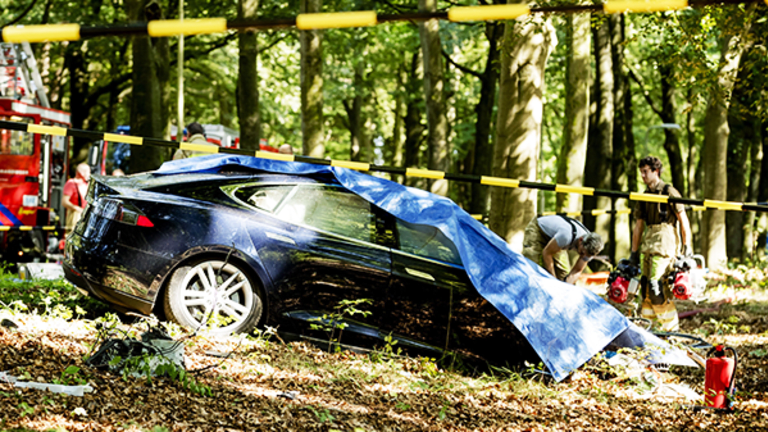 Tesla Is Under a Surprise Attack From the Bears This Month
Tesla is still on track to being 'one of the most impactful companies,' Gene Munster said.
Teflon-coated Tesla  (TSLA) - Get Tesla Inc Report  has finally taken a beating this month.
The electric car company's stock has fallen nearly 10% to $327.78 as of Friday, July 14 after missing delivery expectations (again), getting a slew of bearish estimates, and performing worse-than-expected on a vehicle safety test. 
But the Bulls are charging forward, still holding onto Tesla CEO Elon Musk's vision for a company that makes electric cars go mainstream with its reasonably priced $35,000 Model 3 vehicle. 
"I think this is still going to be one of the most impactful tech companies," Loup Ventures founder Gene Munster said. 
The drop in Tesla shares is simply due to short investors getting nervous and selling it off, Munster explained. Loup Ventures doesn't recommend specific stocks but Munster said they have an optimistic view of Tesla's story. 
On July 3, Tesla announced that it delivered 22,000 vehicles in the second quarter, which represented a 53% year-over-year increase, but a drop from the 25,000 delivered in the previous quarter. Tesla said the quarter-over-quarter drop in deliveries was due to supply issues of 100 kilowatt-hour battery packs. Following the news, Goldman Sachs lowered its price target on Tesla shares to $180 from $190 due to what it sees as plateauing demand.
Seabreeze Partners Management president Doug Kass, a contributor to Real Money, said he doesn't think Tesla was being truthful when it blamed the delivery shortfall on batteries. "If so, why did they produce upwards of 3,000 more cars than were delivered?" he wondered. 
But Munster said he's not bothered by Tesla's delivery numbers. "A big paradigm shift takes time," he claimed. Munster previously told CNBC that Tesla could be the next Amazon (AMZN) - Get Amazon.com, Inc. Report
Munster said he's unsure if Tesla will hit other delivery expectations this year but remains confident that it will eventually get on track. "It might be a bumpy ride for a bit, but long term it will show an inflection point," he said. 
Visit here for the latest business headlines.