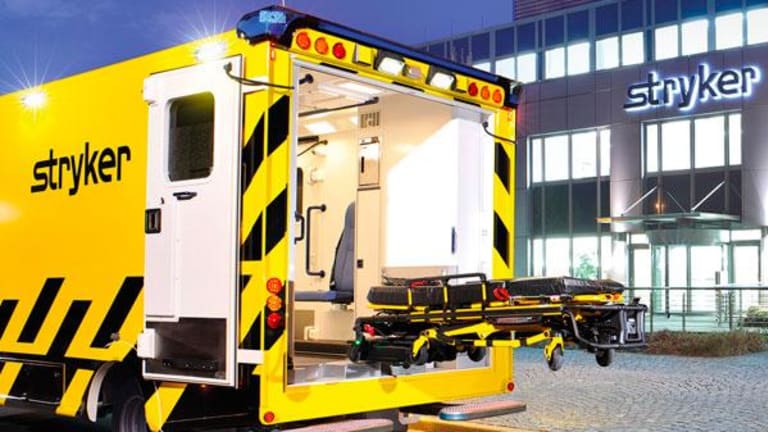 Here's Why Stryker Stock Will Continue to Rise
This medical technology firm has been increasing its market share with its widely used medical devices.
This medical technology firm has been increasing its market share with its widely used medical devices.
The business world is constantly evolving, and as an investor, you need to evolve as well. If you can see tomorrow's opportunities today and adapt quickly, you'll have advantage when it comes to guaranteeing your long-term profits.
One company that has consistently stayed on the cutting edge of technological change in recent years is Stryker (SYK) - Get Report . The Michigan-based company has been increasing its market share for several kinds of widely used medical devices. It has also shown a keen eye for making smart acquisitions in its field.
Shares of Stryker were roughly flat in Monday trading. 
Stryker has operations in more than two dozen countries, although about 70% of its revenue still comes from sales in the U.S. It has been increasing its presence in China and India as those countries develop more sophisticated markets for advanced medical devices.
People are living longer than ever, and that has increased demand for therapies and devices to ensure they have a high quality of life. In addition, physicians, especially surgeons, are using equipment and techniques that no one had thought of 20 years ago. Stryker makes many of the leading devices, which it typically markets directly to doctors, hospitals and other health care facilities.
Stryker's product lines are in three major business segments: Reconstructive, Medical & Surgical, and Neurotechnology & Spine. Reconstructive products consist primarily of implants used in hip and knee joint replacements and trauma and extremities surgeries.
Medical/Surgical products include surgical equipment and surgical navigation systems (instruments); endoscopic and communications systems (endoscopy). The Neurotechnology and Spine division makes products used for minimally invasive endovascular techniques, as well as a line of products for traditional brain and open skull base surgical procedures.
As its cash flow has increased, Stryker has absorbed some smaller, potential rivals, which is one way it has stayed ahead of such larger competitors as Abbott Laboratories and Becton Dickinson.
Two years ago, Stryker acquired MAKO Surgical Corporation, a company in South Florida that manufactured and marketed surgical robotic arm assistance platforms, most notably the RIO (Robotic Arm Interactive Orthopedic System) as well as orthopedic implants used by orthopedic surgeons in partial knee and total hip reconstructions.
Stryker has also acquired Trauson, a company that specialized in the treatment of spinal trauma. Just recently, it picked up the assets of Instratek, a Texas-based firm that makes widely used implants for people recovering from ankle and foot injuries.
The stock has a price-to-earnings ratio of around 25, which is on the high side for the industry. Also, although the share price has dipped a little recently, it is still toward the higher end of its 52-week range.
That said, with its expanding product range plus its already strong revenue growth, it is still an excellent choice for long-term growth.
---
Growth is what it's all about. If you can consistently pick winners in the stock market, you can harness the power of compound investing and radically increase your wealth at retirement. We've got a system that will guarantee profits at least 85% of the time, and you can try it right now at no risk to you at all. To get our special report, just click here!
This article is commentary by an independent contributor. At the time of publication, the author held no positions in the stocks mentioned.