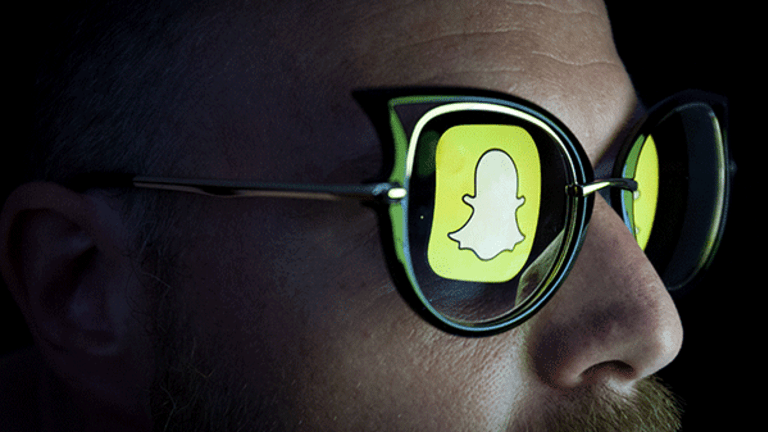 Snap Employees Might Dump Their Shares Today
Snap employees can sell their stock for the first time beginning Monday.
Just when Snap Inc. (SNAP) - Get Snap, Inc. Class A Report got over one headwind, its stock may be in for another bumpy ride this week.
Beginning on Monday, current Snap employees will be able to sell their shares on the public markets for the first time. Employees were subject to a pre-earnings blackout period, but that blackout was lifted after the second-quarter earnings report on Thursday. 
On Monday morning, shares of Snap were trading up 3.2% to $12.23 after initially falling close to 4%.
JPMorgan analyst Doug Anmuth estimates that up to 782 million shares of Snap could become available for the first time starting on Monday. Of the 782 million shares, about 600 million are likely owned by directors, executive officers and other affiliates, while the remaining 182 million are from employees, according to Anmuth. After that, another 20 million could be up for grabs when the 180-day lockup period expires on Aug. 31.
Lockup periods are a standard part of the initial public offering process, with most ending after 180 days, although they can last anywhere from 90 days to more than a year. Once the lockup expires, company insiders such as company employees, directors and venture capitalists who bought into the stock early on (usually at a discount to the IPO price) are allowed to sell their shares. A lockup period exists to prevent a flood of shares from hitting the market after an IPO, as well as to support the price of a stock, reducing volatility.
Representatives from Snap weren't immediately available for comment on Monday's lockup expiration.
Watch More with TheStreet:
Say Hello to the Next Gold Rush: Cryptocurrency Miners Are Showing Off Insane Rigs on Instagram
The company already underwent its 150-day lockup on July 31, and shares fell 4.1% during the first day of trading on Aug. 1. The stock is likely to come under similar pressure on Monday and through the end of the week.
"My guess is that there could be more pressure," said FBN Securities analyst Shebly Seyrafi. "Typically that pressure will happen in that first week and, based on where the stock is at now, it won't take much now to get a double-digit decline in the price."
Snap's final lockup period will expire on March 3, 2018, (one year after the IPO date), at which point about 50 million shares will flood the market. Anmuth expects that about 30 million of those shares are held by Comcast Corp.'s (CMCSA) - Get Comcast Corporation Class A Report NBCUniversal.
Employees might be inclined to sell their shares on Monday, given that it's the first time they'll be able to do so since Snap's IPO. Snap shares have lost almost half their value over the past six months, after popping 44% in their first day of trading and hitting an all-time high of $29.44 a piece. 
Snap shares fell 14%, to $11.83 per share, on Friday and are down 51.6% so far this year. 
The downward spiral in Snap's stock has largely been driven by the fact that it hasn't grown as fast as Wall Street would've liked. From Snap's early days, the company has constantly had to live up to comparisons with Facebook Inc. (FB) - Get Facebook, Inc. Class A Report and Twitter (TWTR) - Get Twitter, Inc. Report . The conversation quickly shifted, however, from whether Snap would be the next Facebook to whether Facebook would be the end of Snap. 
Based on Snap's second-quarter earnings, it's not looking good. Facebook rolled out Instagram Stories last August, and ever since then, Snap has seen a steady deceleration in its user growth. For the latest quarter, Snap had 173 million daily active users, while Facebook's Instagram Stories just reached 250 million users. 
The company is also having trouble courting advertisers on Snapchat, despite its efforts to make it easier for them to create vertical video ad campaigns. Analysts have said that brands continue to prefer Facebook and Instagram, due in part to lower return on investment and measurement data available on Snap. On top of that, it's unclear whether users are actually viewing video ads on the app. 
Snap Co-Founders Evan Spiegel and Bobby Murphy Have Lost Billions Since the IPO
Among all the headwinds, there is one bright spot, however. During Thursday's call with investors, Spiegel said neither he nor co-founder Bobby Murphy will be selling any shares this year.
It's not surprising that Spiegel committed to hold onto his shares, Seyrafi said, but it should mitigate some of the overhang related to the coming lockup expirations.
"I think that's less of an overhang, which is incrementally positive," he added. "But I thought that if he were to sell any shares, that would be sending a horrible signal to the marketplace. So he's committing to something he would've done either way."
More of What's Trending on TheStreet: