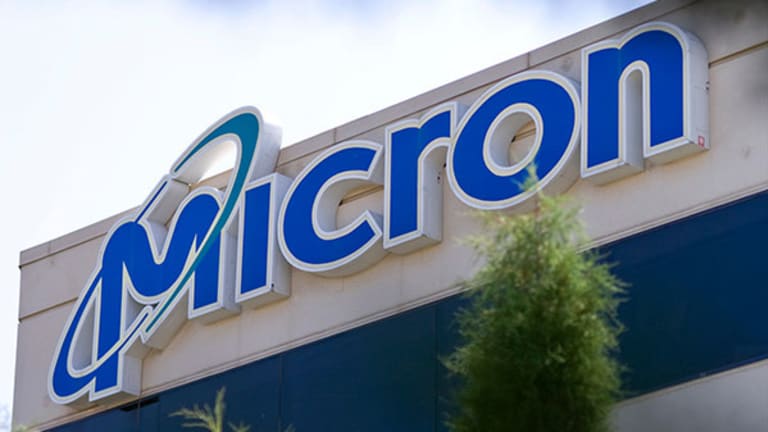 Here's Why Red-Hot Micron Technology's Stock Should Keep Rallying
Shares of this chip maker are on a roll, up nearly 42% this year. Is it too late to jump aboard to enjoy the gains?
Memory chip maker Micron Technology (MU) - Get Report  looks like it is on the road to recovery.
Six to eight months ago, shares of the silicon-to-semiconductor-solutions-provider were on a downswing, affected by a number of factors. These included softer trends in DRAM (inside a laptop or personal computer) and NAND (inside a USB drive or a mobile flash card), and the untimely debt increase associated with the $4 billion acquisition of Inotera.
However, rising DRAM prices and operational cost reductions have not only helped the stock recoup it losses but also deliver solid gains.
After reporting multiple quarters of revenue losses due to weak memory prices, Micron Technology is finally regaining its mojo.
The company's October guidance suggested substantial revenue growth and a return to profitability during the fiscal first quarter, for which results will be reported on Wednesday.
As the only U.S.-based DRAM manufacturer, Micron Technology competes in a market dominated by Samsung Electronics and SK Hynix.
In the NAND business, Micron Technology has spent a ton of resources to remain powerful among top companies such as Toshiba and Western Digital.
Micron Technology bought Inotera by adding debt, which stands at nearly $10 billion, about 50% of the company's market value of $21 billion.
DRAM and NAND are driven by the commoditized nature of the business. Although manufacturers try to optimize cost synergies, earnings are largely dictated by demand, supply and the use of technology.
Rising optimism that Micron Technology's results will dramatically improve powered the stock's rise last month when it gained 14%, after a string of losses in the past year.
Unlike semiconductor stocks such as Intel and Qualcomm, Micron Technology doesn't pay any dividends.
In addition, Micron Technology's gains don't stack up to those made by its competitors, even if the nearly 70% rise in the past six months sounds impressive. For instance, beaten-down Advanced Micro Devices shot up 140% during the same period, while NVIDIA gained nearly 95%.
So can Micron Technology keep surging?
Analysts think that it is a distinct possibility. The 19 analysts with 12-month price forecasts for Micron Technology have a median target of $22, which would represent about a 9% gain.
As long as earnings expectations are met or exceeded, Micron Technology investors should be richly rewarded.
Analysts expect the company to post fiscal first-quarter earnings of 28 cents a share, up 16.7% from a year earlier on revenue of $3.98 billion, up 18.7%.
And DRAM market conditions should remain solid, helping Micron Technology propel its march forward.
At less than 10 times forward earnings, Micron Technology is a bargain proposition.
Semiconductor equipment maker stocks such as Applied Materials (12.5 times), KLA-Tencor (13.5 times) and Texas Instruments (about 21 times) are more expensive.
Unless Chinese players such as Changjiang Storage flood the memory chip market, the possibility of a massive negative trigger for Micron Technology seems minimal.
---
Worried about a bear market? We've found a genius trader who makes this bold promise: "If I don't deliver 24 triple-digit winners in the next year...I'll give up $1,950." His top-tier trading service reeled off twenty-four triple-digit winners in less than a year, along with more than thirty double-digit winners thrown in for good measure. And he racks up these profits in up or down markets. Get the details here.
The author is an independent contributor who at the time of publication owned none of the stocks mentioned.