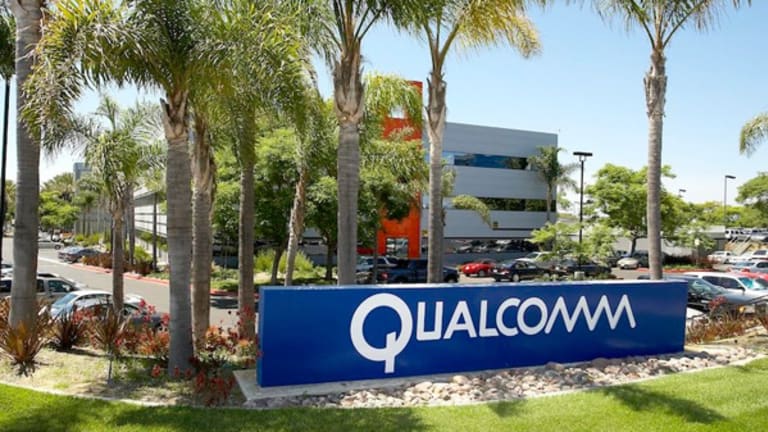 Publish date:
Here's Why Qualcomm Shares Will Soar, Despite Apple's iPhone Snub
The chipmaker's timely R&D investments position it for strong long-term gains.
The chipmaker's timely R&D investments position it for strong long-term gains.
The rumors are true.
According to an early teardown of the just-launched iPhone 7 and 7 Plus, the devices include modems made by Intel, which is a blowto Qualcomm (QCOM) - Get QUALCOMM Incorporated Report , which had supplied them.
The question for investors is, given that about one of every five smartphones sold around the world is an iPhone, is it time to sell Qualcomm shares and look for better investment opportunities?
Just, um, hold the phone, because another iPhone teardown, by phone-repair website iFixit, changes the picture again: a Qualcomm modem in a device meant for sale in Europe and Japan. That confirms that Apple is, for the first time, going with two different modem suppliers for the iPhone.
Apple is a holding in Jim Cramer's Action Alerts PLUS Charitable Trust Portfolio. See how Cramer rates the stock here. Want to be alerted before Cramer buys or sells AAPL? Learn more now.
The twin teardowns also show that devices sporting the Intel modem will only work on networks using the GSM wireless standard and not CDMA, which Qualcomm's modems support. That means that customers of AT&T and T-Mobile US will have iPhones that likely carry Intel modems, while Sprint and Verizon subscribers will get the Qualcomm model.
The upside for Qualcomm is that CDMA is more common in the U.S., as well as among major carriers in China, Europe and Japan. That means that Intel has snatched only a fairly limited slice of the iPhone market.
How this all plays out is worth watching, but investors should also note that Qualcomm goes well beyond the iPhone, counting other major smartphone makers such as HTC, LG, Lenovo and Samsung as clients.
The technology giant also pours a hefty 22% of its revenue into research and development, and that has resulted in several initiatives that make Qualcomm a solid long-term investment.
One of the most exciting is in the drone market, which is exploding, thanks in part to looser regulations. Under new rules from the Federal Aviation Administration, drone operators can now fly their aircraft legally as long as they register them with the agency.
The rolls opened nine months ago, and the FAA now says that applications are coming in at a rate of about 2,000 per day.
Qualcomm sees wireless networks as a natural way for drones to be controlled beyond the pilot's line of sight, handing the company's existing mobile technology an easy entry into the drone market, and it has teamed with AT&T to run some tests.
Beyond-line-of-sight control is the holy grail of the drone business because it opens the door for applications such as remote inspections and, yes, package delivery. It is still a no-no under the FAA's rules, but the companies hope that their testing will help change that.
At the same time, Qualcomm is pumping part of its R&D spending into another kind of technology poised for rapid growth: virtual reality.
VR and its cousin, augmented reality, will be an $80 billion business by 2020, according to a February report from Goldman Sachs. 
The chipmaker already makes the Snapdragon 820 processor, which powers high-end smartphones such as the Samsung Galaxy S7. The 820 also lends itself to VR through its support of 4K Ultra HD video and "foveated" rendering, which tracks eye movement and renders only the spot where the user is looking in full resolution, mimicking human eyesight.
This month, Qualcomm unveiled its own VR headset, the Snapdragon 820VR.
The company isn't aiming to take on other headset sellers. Instead, it plans to let developers use its model as a reference design, which would help proliferate the technology and, of course, demonstrate the Snapdragon processor's adeptness at handling VR.
In the meantime, investors can pick up shares of this undervalued investment for just 13.6 times forward earnings, the same as Intel but well below other major chipmakers such as Nvidia at 33.1 and Texas Instruments at 20.7.
Moreover, Qualcomm tops all three of these competitors in the dividend department, with a 3.37% yield and a payout that has grown at an 11.2% annualized rate over the past decade.
So investors shouldn't let the Apple kerfuffle keep them away from Qualcomm. It is a well-diversified dividend stalwart that is set to cash in on some of the fastest-growing trends in technology, even if it has to share some of the iPhone pie with Intel.
---
Qualcomm is a great way to play the rise of groundbreaking technologies like virtual reality, drones and the Internet of Things, and you'll pocket a fast-growing dividend while you do so. But even reliable dividend-growers like this don't come close to what you can earn using the simple system we've found. It throws off a guaranteed $67,548 a year! One trader used it to turn $5,000 into a $5 million fortune! Click right here to get all the details now.
This article is commentary by an independent contributor. At the time of publication, the author held no positions in the stocks mentioned.