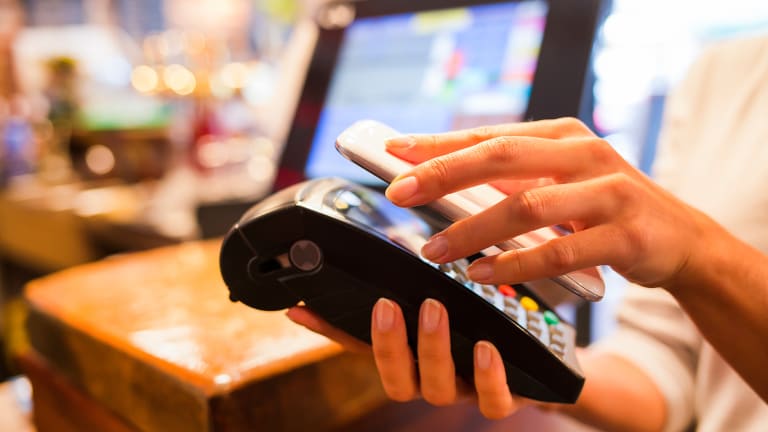 Here's Why More Banks Are Expected to Team With Fintech Companies
As the competition gets fiercer, financial services players are betting on financial technology firms to give them an edge.
Global financial technology investments are expected to continue, propelled partly by financial services companies that want in on the trend, according to consulting firm Accenture.
During the first quarter, global investments in fintech companies soared 67% from a year earlier to $5.3 billion, with more than 60% of investments going toward fintech companies in Asia and Europe. 
There have been many deals in the sector, indicating that the fintech industry is maturing.
Last year alone, there were nearly 100 fintech deals that exceed $50 million, which includes mega-deals such as SoftBank's $1 billion bet on Social Finance. Last year, Social Finance received $1 billion of primary capital in a funding, which was led by SoftBank.
The industry may seem a bit overvalued at first glance, but these large deals are justified.
The total transaction value in the fintech sector is expected to grow to $1.57 trillion by 2020, according to Statista. 
Consequently, there is a lot of potential for earnings and revenue growth in the fintech sector, and some banks and other financial companies don't want to miss out on this unique opportunity.
Chart courtesy of Statista
There is also a large potential growth in users of fintech.
The expected number total users of personal finance, business finance and small to medium enterprises is more than 400 million, worldwide, by 2020. In the fintech sector, the more users there are, the higher the potential revenue.
Chart courtesy of Statista
Six of 10 banks would partner with a fintech company.
Now, 34% of those banks would collaborate, and 25% would consider acquiring a fintech company, according to IDC and SAP.
It makes more sense for banks to collaborate or acquire a fintech company, rather than spending money and building a fintech platform.
There were some notable deals between banks and financial service companies in 2015 and this year.
Ally Financial signed an agreement to acquireTradeKing for about $275 million, which is a $250 million premium to the acquired net assets. TradeKing is a broker-dealer but offers some fintech for its clients.
BlackRock, the world's largest asset management company, acquired FutureAdvisor, an innovative robo-advisory company, last year for more than $100 million. BlackRock was the first major financial company to acquire a robo-adviser company.
This acquisition allowed BlackRock to increase its presence in the fintech sector because Charles Schwab launched a robo-advisory platform last year. Additionally, Vanguard offers a hybrid service that uses technology to connect its clients to advisers.
LPL Financial collaborated with BlackRock and FutureAdvisor to provide a robo-advisory platform to its 14,000 advisers. This is a large potential revenue generator.
If banks and financial services companies purchase fintech companies for their platforms, they could charge clients and other firms to use their fintech services. This has the potential of generating high revenue over the long term.
Goldman Sachs' investment management division said in March that it would acquire Honest Dollar, a fintech company focused on retirement savings, for an undisclosed amount. The fintech company caters to small- and medium-sized companies, and it aims to provide an affordable 401(k) alternative.
More than 40 million Americans don;t have access to an employer-sponsored retirement plans, according to Goldman Sachs.
There were fintech 94 deals last year, and we will most likely see more deals close by the year end. Fintech is here to stay, and banks want in.
It is no surprise that some of the largest financial services companies are bridging the gap between fintech and the traditional financial system. Banks know that there is a large potential in the fintech industry, and collaborating or acquiring these companies are great investment opportunities.
This article is commentary by an independent contributor. At the time of publication, the author held no positions in the stocks mentioned.