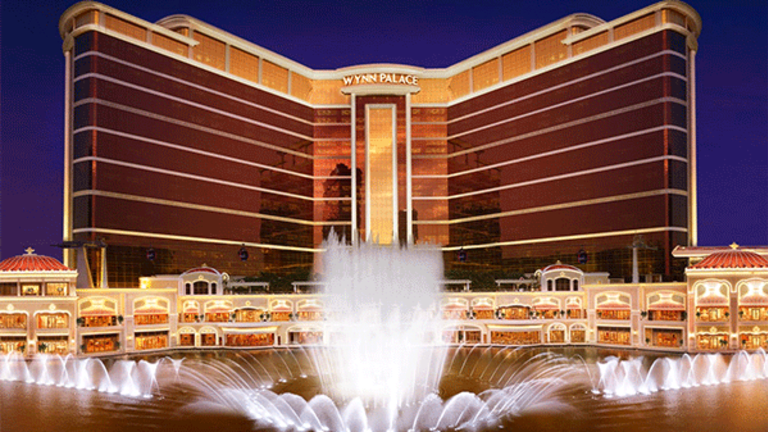 Here's Why Macau Exposure Could Help U.S. Casino Stocks Today
December visits to Macau casinos rose 7% to nearly 3 million, and increased overall for the year.
The Macau gaming region experienced an 6.8% increase in December visits, sending Hong Kong-traded casino stocks higher on Monday. That may affect casino stocks trading in the U.S. as well. 
Wynn Resorts (WYNN) - Get Free Report , Las Vegas Sands (LVS) - Get Free Report , MGM Resorts Int'l (MGM) - Get Free Report  and Melco Crown Entertainmentundefined all have exposure to Macau. 
Wynn Resorts shares were up 2% to $92.63, Las Vegas Sands climbed 0.23% to $55.87, and Melco Crown rose 1.5% to $16.80 in early morning trading. However, MGM shares were down 0.4% to $28.63. 
Information from the region's Statistics and Census Service indicated that more than 2.8 million people visited Macau in December, with overnight visitations increasing 16.5% to 1.55 million. 
Overnight visitations are important for the region as the Chinese government has attempted to shift the focus of the region towards the resort attractions in Macau as opposed to just gambling. 
For the year, 30.95 million people visited Macau, an 0.8% increase over 2015 visitation, while overnight visitation was up 9.8% to 15.7 million, accounting for 50.7% of total visitors. 
The average length of a visit to the region rose by 0.1 day year over year to 1.2 days. 
Macau ended the year on a high note, reporting five consecutive months of year over year revenue growth after reporting 26 consecutive months of losses before that. However, for the full year, gambling revenue fell 3.3% to $28 billion, the third consecutive year of declines. 
The majority of visitors to the region came from mainland China, though long-term visitation from the U.S. and Canada were up in December. Outside of mainland China, visitors mostly came from Hong Kong, Korea and Taiwan. 
Macau has invested heavily in infrastructure projects designed to attract more visitors to the region while also improving the modes of travel once visitors arrive. 
Macau expanded the capacity of its airport resulting in a 4% increase in passengers from mainland China and visitation increases from the Taiwan and Southeast Asia markets of 15% and 20%, respectively. 
The opening of The 13 Holdings and MGM Cotai in 2017 are also expected to bolster the region's fortunes, but MGM Cotai has experienced delays and MGM has said that it expects the resort to open in the second half of 2017 as opposed to a previous opening date in the first quarter 2017.