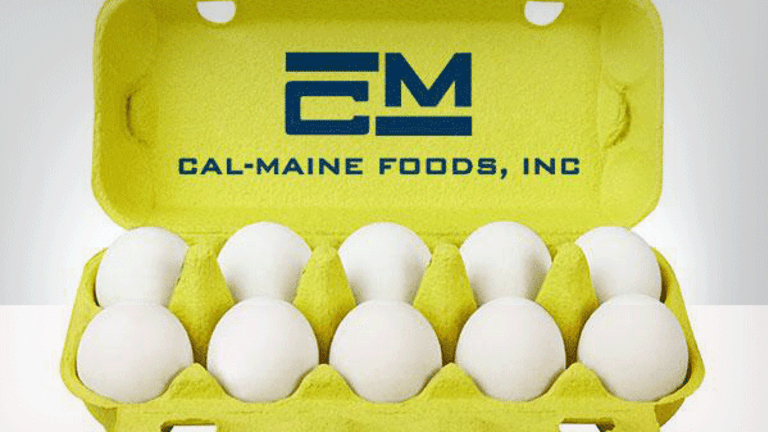 Here's Why It Is Time to Short Farm Producer Cal-Maine Foods Now
This company's quarterly earnings may remain under pressure because of the shell egg market, which faces challenges.
Cal-Maine Foods (CALM) - Get Report is already among the most-shorted stocks, with more than one-third of its tradeable securities sold short by a growing number of investors.
After five years of nearly double-digit stock returns, the $2.1 billion farm producer has had a tough spell in 2016. Shares are down more than 6%, despite a sharp rise in the past month.
Despite that recent rise, however, there are better investments.
Fiscal second-quarter earnings, which are slated for release on Thursday, aren't expected to be super, but any positive news could help the stock.
After all, fiscal first-quarter earnings were dismal, with sales plummeting as much as nearly 61% from a year earlier, dragging profits into the red.
Analysts expect a loss of 48 cents a share for the latest quarter, narrower than the loss of 64 cents a share in the fiscal first quarter. Revenue, meanwhile, is projected at $262.83 million, 51.9% lower than the nearly $546 million a year earlier but still a significant improvement over the fiscal first quarter.
The company's earnings are wholly dependent on the shell egg market, which faces changes and challenges. Shell egg market prices have been lower, with Cal-Maine Foods not even netting a dollar for a dozen of its eggs, compared with more than $2.243 last year.
But investors should also consider feed cost trends, which are an impediment to Cal-Maine Foods becoming profitable.
All these things will put pressure on earnings for the full fiscal year. Analysts expect a 40%-plus drop in full-year revenue and earnings that are 94 cents a share lower than a year earlier.
It looks like a full-fledged recovery is only possible in fiscal 2018.
Of course, Cal-Maine Foods is well-managed, with the company always paying dividends.
But the egg market has distinctly transformed the landscape. After the 2015 price boom, there has been a steady and unstoppable downward spiral, and oversupply always heralds falling prices.
For farm producers such as Cal-Maine Foods or peers such as Calavo Growers, which produces avocados; Fresh Del Monte Produce, a producer of fruits and vegetables; and Marine Harvest, a salmon producer, an impact on a primary product can hurt earnings.
Cal Maine Foods' stock has taken a beating for a while, and while any positive in the fiscal second-quarter earnings report could change the sentiment, falling revenue and losses can't keep investors satisfied.
With a strong recovery at least six to 12 months away, the stock will likely continue to disappoint.
The seven analysts with 12-month price forecasts for Cal-Maine Foods have a median target of $37, which would represent a 14% decrease.
Unlike farm-linked agribusiness stocks such as Alico,Andersons and Limoneira, consumer food producers such as Cal-Maine Foods will always fluctuate amid the market's vagaries.
---
As we've just explained, Cal-Maine Foods is a bad bet now. If you're looking for better growth opportunities, we've found a genius trader who turned $50,000 into $5 million by using his proprietary trading method. For a limited time, he's guaranteeing you $67,548 per year in profitable trades if you follow his simple step-by-step process. Click here now for details.
The author is an independent contributor who at the time of publication owned none of the stocks mentioned.