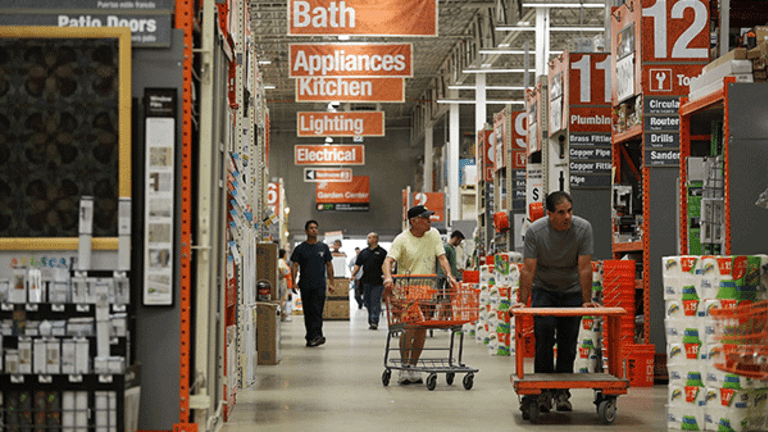 Publish date:
Why Home Depot Should Laugh at Amazon
There is one big reason.
Can't order lumber and specialized bolts from Amazon (AMZN) - Get Amazon.com, Inc. Report and have it delivered to a job site. That's one of many reasons to like Home Depot (HD) - Get Home Depot, Inc. (HD) Report shares. 
Consumer confidence may have gotten a bump post-election, but so far, at least, that hasn't sent shoppers streaming back to the nation's department stores.
According to figures released by the Commerce Department on Friday, overall U.S. retail sales advanced 4.1% in December from a year earlier. But that was cold comfort to department store operators, who saw their combined top lines plunge 8.4%.
Behind that number is an industry reeling from layoffs and asset sales. Who's to blame? Amazon and its online kin are major culprits. According to the Commerce Department report, they're pinching customers at a rapid clip: Non-store retailers saw a 13.2% year-over-year sales surge in December.
But it's not all doom and gloom for the bricks-and-mortar crowd. Some areas, like home-improvement stores, are still posting steady gains: The sub-sector's sales rose 2.6% year-over-year last month.
The leader in the space, Home Depot (HD) - Get Home Depot, Inc. (HD) Report , is taking on the online competition with gusto. Its third-quarter sales jumped 6.1% from a year ago, to $23.2 billion, while same-store sales gained 5.5%. Earnings per share (EPS) came in at $1.60, up from $1.35. Home Depot shares fell slightly in Friday trading. 
All three figures topped consensus forecasts, and the retailer bumped up its full-year adjusted EPS guidance modestly, to $6.33 from $6.31. (Home Depot is slated to report fourth-quarter results on Feb. 21.)
There are plenty of reasons for investors to be optimistic that Home Depot will continue its run. 
For one, the company believes that only about 25% of its sales are vulnerable to online competition, as consumers still like to check out things like paint and bathroom fixtures in person, and zip to their local store for items like lumber, nails, screws and tape.
The company is no slouch in pitching its wares over the web, either. Here's what CEO Craig Menear said on Home Depot's latest post-earnings conference call:
"We continue to see double-digit sales growth from our online business. This quarter, online sales grew over 17% and represented 5.6% of overall sales [up from 5.1% in the third quarter of 2015]. Over 40% of our online orders are picked up in the store, which we view as a positive sign of our physical stores' continued relevance with our customers."
In the background: rising home prices, which are encouraging owners to buff up their abode's curb appeal. Borrowing costs have jumped post-election, which could weigh on future price gains, but inventory is tight, job creation remained healthy in December, and average hourly earnings increased 2.9% from a year ago -- the biggest jump since the financial crisis.
"Our customer is looking at his or her home and saying it's worth more today than it was yesterday," Home Depot Chief Financial Officer Carol Tome toldTheStreet in November. "Since 2011, homeowners have had a 95% increase in the value of their equity either through rising home prices or the fact they have paid down a good bit of their mortgage -- so their home has more value, there is a wealth effect, and they are using that to spend in our stores," Tome added.
Those factors should help Home Depot keep growing earnings (analysts forecast EPS of $7.16 a share in 2017, on average, up from a forecast $6.34 for full-year 2016). The average 12-month price target from analysts covering the stock-$147.50-would represent roughly 9% upside from today's levels.
So don't lump Home Depot in with the retail industry's laggards. It's got everything it needs to hold off its web-based rivals and deliver steady gains and rising dividend payouts for years to come.
---
As we've just explained, Home Depot looks like a great buy now. And if you're looking for other growth opportunities, we've found a genius trader who turned $50,000 into $5 million using a strategy he spent years perfecting. For a limited time, he's guaranteeing you $67,548 per year in profitable trades if you follow his simple step-by-step process. Go right here to get full details now.
The author is an independent contributor who at the time of publication owned none of the stocks mentioned.