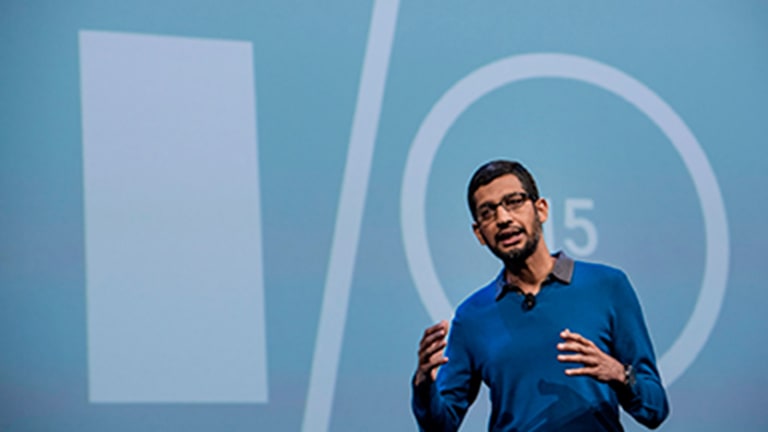 Why Google's Swift Firing of the Diversity Memo Writer Could Make Things Even Worse
The decisive move by Google's CEO may have some unintended consequences, experts say.
When a Google engineer's manifesto against the company's diversity efforts went viral over the weekend, CEO Sundar Pichai quickly denounced the memo's main idea that female employees were less suited to be engineers than male ones, and fired the employee for violating the company's code of conduct.
Interestingly, though, some employees of the Alphabet Inc. (GOOGL) - Get Alphabet Inc. Class A Report unit had a markedly different response. Several Google employees came out in support of the fired engineer, whom Google did not name but who has been identified as James Damore, who argued in his memo that women are underrepresented at the company due to biological differences, rather than sexism or discrimination. According to Motherboard, which first reported on the manifesto, some Google employees have defended Damore, saying his firing represents censorship and indicates that Google has "created a politically correct monoculture" that "shames dissenters into silence."  
Similar viewpoints trickled out onto Twitter on Tuesday, including one by Eric Weinstein, the managing director of Peter Thiel's investment fund Thiel Capital, who said Google is teaching women that their "path to financial freedom" lies not in coding but in complaining to human resources, seemingly asserting that Google sent the wrong message by firing Damore. 
At the same time, Google's move to fire Damore also garnered its fair share of support from current and former employees. Former Google executive Yonatan Zunger said the manifesto has caused "significant harm" to people at the company and has threatened Google's "entire ability to function." 
"I can't even imagine how much time and emotional energy has been sunk into this, not to mention reputational harm more broadly," Zunger wrote in a blog post. 
Current Google Chrome developer Jake Archibald took to Twitter to denounce the memo. Archibald said supporters of the memo seemed to be couching their opposition to Google's diversity programs as conservative opinions, when in fact they should be labeled as sexist. 
Alphabet is a holding in Jim Cramer'sAction Alerts PLUS Charitable Trust Portfolio. Want to be alerted before Cramer buys or sells GOOGL? Learn more now.
More of What's Trending on TheStreet:
Geopolitical Risk Is So Hot Investors Can Now Feel It: Market Recon Disney Goes to War With Netflix, Google Hurt Make These Wednesday's Hot Tickers: DIS, NFLX, GOOGL Amazon's Stock Price Will Be Here By the Year 2021 These 13 Cool Cars From the 1980s And 1990s Are Absolutely Worthless Collectibles
"Those who biologically discriminate cannot be trusted to manage a team," Archibald tweeted. "Cannot be trusted to review peers. Cannot conduct reviews."
While Google's top ranks appear to clearly support of diversity initiatives, the fact that some employees do not is significant, said Rob Enderle, principal analyst at Enderle Group. Google took a strong stance on the issue by firing Damore, but the action could have some negative consequences, he noted. 
"Firing [Damore has] made him into a martyr," Enderle said. "It's liable to drive the behavior further underground, which makes it look like people aren't discussing it, but they are -- it's just underground. It creates the impression that things are safe when they really aren't." 
Enderle likened the situation to when the U.S. military passed "Don't Ask, Don't Tell" policies, which made it seem like the environment was safer for LGBTQ individuals, when, in some cases, environments became more hostile. 
Vivek Wadhwa, a professor at Carnegie Mellon University, said he was "torn" about Google's response to the issue, noting that he would have preferred for the engineer to be put on probation and told to undergo diversity training. But he acknowledged that Pichai was probably forced to make a difficult decision, given the negative publicity.
"On the one hand, he brought important issues to the surface, that were the root cause of the problem," Wadhwa said. "On the other, he broke the ethics rules of his employer. I would rather have seen him go through an education process and become a voice for diversity."
Instead of pushing differing opinions out of the workplace, companies should work to include diverse viewpoints, while putting in place training mechanisms to educate those that may be in the wrong, Enderle argued. In the case of Google, some of the individuals who disagree with diversity initiatives are white, male engineers. Those folks live and die by numbers, Enderle said, and might just need to be shown hard data that disproves their theories surrounding diversity, he added. 
"There are studies that show this manifesto to be poorly founded," Enderle explained. "If [Google makes] an effort to disprove it, there's a much better chance that opinions will be changed." 
Google has good reason to make sure its employees are well-educated on topics like these, given the potential impact of the memo and the surrounding publicity on its hiring and retention efforts. The company just brought on Danielle Brown as its new vice president of diversity, and she'll likely be tasked with handling some facets of the issue. Brown said previously that she'll be in a listening phase for the next few months, as she tries to evaluate the internal environment at the company, according to Jan Dawson, chief analyst at Jackdaw Research. 
It likely won't be long before Brown implements some programs to address Google employees' doubts about the company's diversity efforts.
Watch More with TheStreet:
5 Cool Facts About The Dollar Bill - Happy National Dollar Day