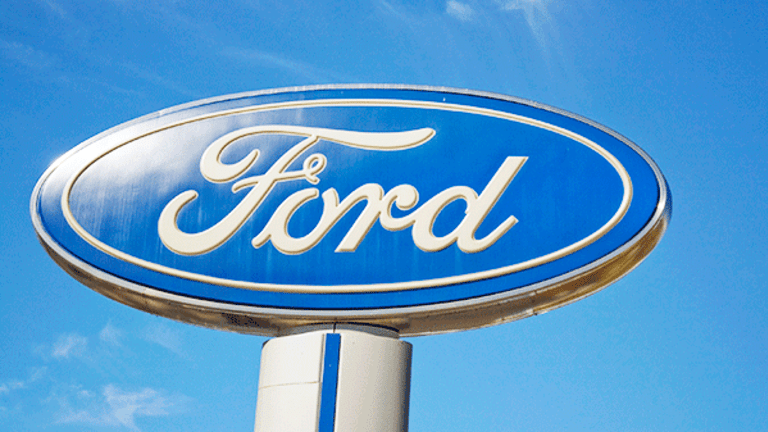 Those who are looking for an automaker that can ride out any new border taxes that may come out of Washington should consider Ford Motor (F) - Get Ford Motor Company Report .
That might seem like a strange thing to say about a global colossus such as Ford Motor, which has taken criticism from President Donald Trump more than once, including over its planned $1.6 billion plant in Mexico, which it ended up canceling last month.
But even if the new administration puts border taxes on tariffs on imported vehicles, Ford Motor will have a big advantage over its rivals, according to two analysts.
Barclays analyst Brian Johnson, for example, raised his price target on Ford Motor to $15 on Friday and bumped up his rating to overweight from equal weight. Ford Motor shares gained 2.3% during Friday's session, though they slipped 0.2% on Monday, closing at $12.52.
One reason for Johnson's move is that 77% of the vehicles that Ford Motor sells in the U.S. are assembled in the country. To put that in context, Honda Motorsells about 70% of its U.S.-made vehicles within America's borders, and Toyota Motor is at about 50%.
And Ford Motor's annual imports have a value of $3.6 billion, below $18.4 billion at Fiat Chrysler Automobiles and $10.4 billion at General Motors,according to Barclays.
Johnson isn't alone in his optimism.
Joseph Spak of RBC Capital Markets struck a similar chord on Jan. 27.
"We believe Ford is in a better relative position for tax reform," he wrote in a note quoted by Barron's.
"Considering border adjustability, along with other factors such as a lower corporate rate and [capital expenditure] deductibility, Ford believes it comes out neutral to positive and better than the competition," he wrote. "We agree."
To be sure, any investment in the car industry involves risks. Aside from trade spats, there is the global auto market itself, which is starting to look tired after years of surging sales following the financial crisis.
Globally, car sales hit a record 88.1 million units last year, but they are expected to slow this year, in part due to lower government tax incentives in China. North American car sales will also likely moderate, after hitting 17.7 million units last year, just enough to edge out 2015's record total.
Nonetheless, for those looking for exposure to the sector, Ford Motor has investment appeal beyond its production mix.
For one thing, investors have overlooked it. The stock has trailed major competitors in the past year, gaining just 9.3%, compared with 63.6% for Fiat Chrysler Automobiles, 29.1% for GM and 18.7% for Honda Motor. 
Other analysts see upside ahead, too, with the average 12-month price target on Ford Motor shares sitting at $14, which would represent about an 11.8% increase.
Finally, there is the dividend.
With a 4.8% yield, Ford Motor tops GM at 4.1%, Honda Motor at 2.7% and Toyota Motor at 3.3%. Fiat Chrysler Automobiles doesn't pay a dividend.
The quarterly payout has also jumped 300% since Ford Motor resumed its dividend in 2012.
So investors shouldn't let the trade hysteria keep them away from Ford Motor. The stock could very well turn out to be a surprise winner under Trump.
---
If you're looking for auto-sector exposure, Ford is a great bet. But as we just pointed out, there's political and economic uncertainty swirling around the sector. If you want steadier gains, we've found a genius trader who turned $50,000 into $5 million using a strategy he spent years perfecting. Now he's guaranteeing you $67,548 per year in profitable trades if you follow his simple step-by-step process. Go right here to get full details now.
The author is an independent contributor who at the time of publication owned none of the stocks mentioned.