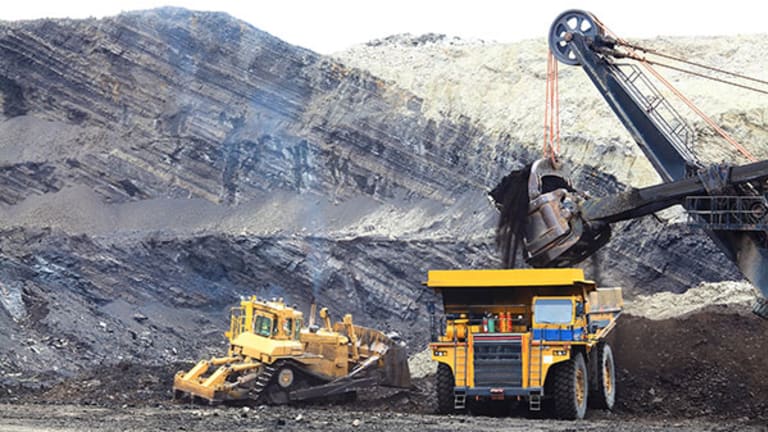 Here's Why Fast-Rising Mining Stock Teck Resources Has Topped Out
The company has amazed investors with huge gains this year, but don't get suckered. The momentum has just about run its course.
The company has amazed investors with huge gains this year, but don't get suckered. The momentum has just about run its course.
Canadian miner Teck Resources (TCK) has generated a whopping gain of more than 374.35% in less than a year, making investors who haven't bought it yet salivate.
However, with an earnings recovery largely priced in, there is a high chance of a decline related to profit-taking in Teck Resources over the next few months. 
And considering its five-year earnings potential of 20%, the company's shares are fairly valued at nearly 19 times forward earnings. 
After getting massively punished in the commodity downturn, Teck Resources, which was heavily dependent on China, is now in the midst of a boom.
After three consecutive years of negative total returns from 2013 to 2015, the stock's sharp rise on hopes of earnings-per-share growth of 60% this year and 80% in 2017 has been largely discounted.
Meanwhile, sales haven't improved and are on track to fall more than 26% this year from 2015 and only climb by about 7% next year. With revenue and profitability nowhere close to the peaks hit in 2011, there are a number of unanswered questions.
From a valuation point of view, Teck Resources has a price-earnings-growth ratio of 2.26, a huge premium to giant miners such as Rio Tinto (0.89 PEG ratio). Clearly, this doesn't make a lot of sense.
Although Teck Resources has managed to contain its debt from the sky-high levels of $9.6 billion last year and is planning to offload assets, there is still a lot left to be addressed.
Yes, Teck Resources wants to regain its investment-grade credit rating, but that would happen only when it can cut debt by about $2 billion.
Morgan Stanleyupgraded Teck Resources to equal weight from underweight this month and set an $18 price target, but the stock is above that target.
The 22 analysts offering 12-month price forecasts for Teck Resources have a median target of $16.32. The stock is trading more than 10% higher.
Although Teck Resources, with exposure to just three commodities, can expand and do a lot of things that mining companies such as BHP Billiton can't, with $6.8 billion in debt, investors should take a pragmatic view.
As Moody's pointed out in its May rating action, cash flow for the company will continue to be problematic until at least next year.
RBC recently downgraded the stock to sector perform from outperform, mostly based on valuation.
Merely upbeat zinc price outlooks aren't enough to lift the stock from here. Buyer beware.
---
How many times have you heard someone on CNBC say, "I actually think the economy is fine here in the United States. Buy stocks!"? If you're like many Americans, you've probably heard it more than once. But just because they're saying it, doesn't make it true. Because I can tell you with absolute certainty it's not. America is in deep trouble. And the crisis looming on the horizon has the potential to make 2008-2009 look like child's play. The window to protect yourself is rapidly closing. I'll show you how here.
This article is commentary by an independent contributor. At the time of publication, the author held no positions in the stocks mentioned.