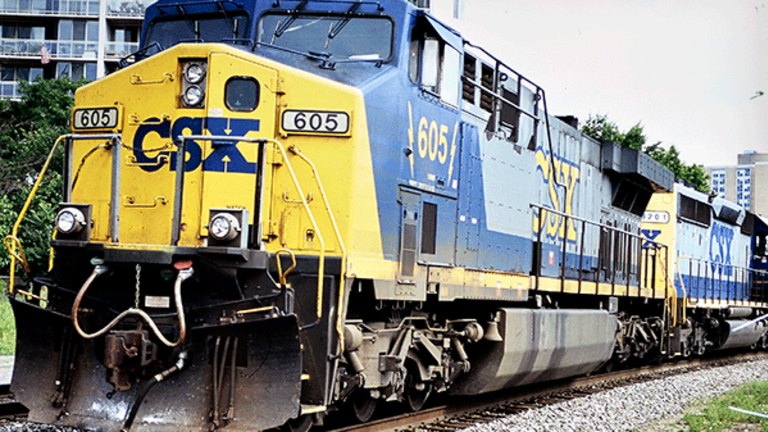 This One Legendary Executive Makes CSX Shares a Must Watch for 2017
A shake-up could be coming.
The ground shifted beneath the railroad sector last week, when Canadian Pacific Railway (CP) - Get Free Reportannounced that CEO Hunter Harrison would step down from the top job, effective Jan. 31.

But the 72-year-old railroader, who was chief executive at CP's main rival, Canadian National Railway, before taking over at CP in June 2012, doesn't look like he'll be retiring just yet.
That's more than hinted at in CP's announcement, which reads that Harrison's discussions with CP's board included "modifications to his employment arrangements that would allow him to pursue opportunities involving other Class 1 railroads."
Another big hint: Harrison was already slated to stand down as CP's chief executive on July 1, and he's giving up a lot just to bump up the date: some C$118 million in stock options and other benefits, according to CBC.ca.
Reuters says says Harrison could be headed to Florida-based CSX (CSX) - Get Free Report .
The news agency says Harrison is in talks with activist investor Paul Hilal, who has reportedly raised more than $1 billion for an investment in the carrier. As part of the arrangement, Harrison would become CSX's new chief executive.
Investors sent CSX shares up 23%, to $45.51, on Jan. 19, the day after the news broke. The stock increased again slightly on Tuesday to $46.75.
Hunter Harrison
Who is Hunter Harrison and can he turn CSX into a winning proposition for investors?
CP shareholders would undoubtedly say yes.
Since he took over nearly five years ago, The Canadian carrier's stock has roughly doubled on the New York Stock Exchange and jumped 169% on its home Toronto Stock Exchange. Earnings per share have surged from C$3.34 in 2011 to C$10.63 in 2016.
If you've researched railroad stocks, you likely know the importance of the operating ratio. It's a key industry metric that compares operating costs with revenue (the lower the ratio, the more efficient the railway).
It's also one of the clearest indicators of Harrison's performance at CP: in the first quarter of 2012, the last full quarter before he took over, the company's ratio stood at 80.1%. By the fourth quarter of 2016, it had been whittled down to 56.2%.
CP credits that success to Harrison's "precision railroading" philosophy, under which the company smooths out connections, cuts the number of stops and generally keeps the trains rolling more and idling less.
And according to Canada's BNN.ca, that's exactly what's happened, with CP's average train speeds rising 40% since 2011, to 23.5 miles per hour.
Could Harrison repeat that success with CSX?
Some analysts think so, but there is at least one key difference: CSX is already more efficient than CP was when Harrison came aboard, with an operating ratio of 69.4% (as of the end of the fourth quarter). However, the gap between CP's current ratio and CSX's is still wide, and BMO Capital Markets analyst Fadi Chamoun thinks it's closable.
According to the Financial Post, Chamoun says if he takes over, Harrison could aim for an operating ratio in the 58% to 60% range in three to five years. In light of that, BMO has upped its price target on the shares.
"We are upgrading CSX shares to outperform from market perform and raising our target price to $55 from $38," Chamoun and fellow analyst Tarun Jochi wrote in a note quoted byBarron's. "We see upside to around $80 in the medium term."
Of course, there's no guarantee Harrison will be successfully installed as CSX's new chief exec. But if he is, it would be a big plus for investors over the long run. So put the stock on your watch list now-and keep a close eye on it as this corner-office saga plays out.
---
Despite its upside potential, CSX could easily get sideswiped if US exports take a hit under President Trump. You won't have to worry about nasty surprises like that if you try our new investing system. A genius trader used it to turn $50,000 into $5 million, and for a limited time, he's guaranteeing you $67,548 per year in profitable trades if you follow his simple step-by-step process. Go right here to get full details now.
The author is an independent contributor who at the time of publication owned none of the stocks mentioned.