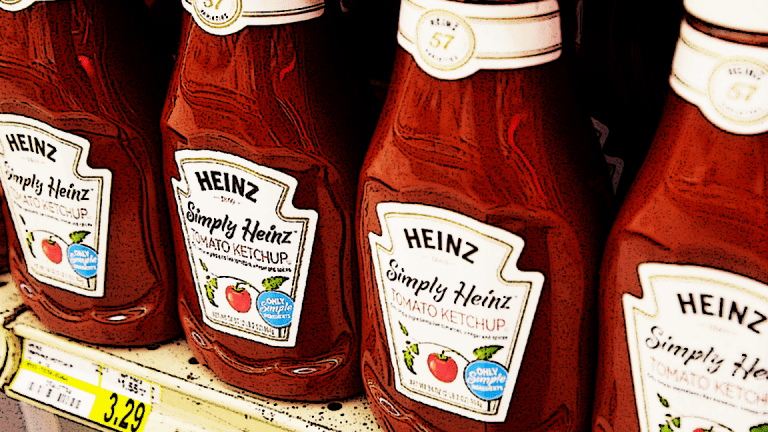 Here's Why Credit Suisse Says Packaged Food Stocks Are Going to Spoil
Retailers now have all the power, Credit Suisse says.
Analysts at Credit Suisse lowered their price targets and estimates for packaged food stocks below consensus Monday, April 16, saying that the producers are losing negotiating power with their big retail customers. 
The packaged food industry has been in a state of flux in recent years, according to Credit Suisse analyst Robert Moskow, as companies like J.M. Smucker Co. (SJM) - Get J.M. Smucker Company (The) Report , Kraft Heinz Co. (KHC) - Get The Kraft Heinz Company Report , and others increased their trade spending and made high-priced acquisitions to improve growth rates. 
As a result, the firm lowered the ratings on Kraft Heinz and Smucker to "underperform," while also lowering estimates for Smucker, Kraft Heinz, Hershey Co. (HSY) - Get The Hershey Company Report , Kellogg Co. (K) - Get Kellogg Company Report and TreeHouse Foods Inc. (THC) - Get Tenet Healthcare Corporation Report to below consensus for 2019.
The firm now expects average operating margins for the entire sector to decline from a peak of 18.7% in 2017 to 18% by 2019. 
Part of the reason for the shifting sands is millennials, who tend to have a taste for more organic and "real food" and generally stay away from mainstream brands. 
"The big food companies tried to adapt to this trend by reformulating their legacy brands with fewer artificial ingredients but they found it difficult to change preconceived notions about what their brands stand for," Moskow wrote. 
The numbers beared this theory out. 
The top 20 food and beverage companies lost 400 basis points of market share over the past six years at a pace of 65 bps per year. Meanwhile, organic sales growth for big food companies has steadily deteriorated since 2012.
Start-up brands have stepped in to fill the void. Credit Suisse's analysis shows that more than 70% of the best-selling Amazon grocery and food products were created by start-ups. 
The industry has relied on cost-cutting to improve margins, but Credit Suisse said there isn't much more fat to trim as the big 10 packaged food brands have averaged cost reductions of 12.4% in 2014, 12.7% in 2015, 12.5% in 2016 and 11.8% in 2017. 
At the same time this happened, the industry' biggest customers, Kroger Co.  (KR) - Get Kroger Company (The) Report and Walmart Inc.  (WMT) - Get Walmart Inc. Report , pushed the companies to lower their prices.
Walmart, for example, pushed for 15% price concessions from vendors during a meeting in January 2017. Kroger began fining suppliers $500 for every order that was more than two days late to any of its warehouses, while Walmart started charging fines of 3% for deliveries that arrived too late or too early. 
Industry consolidation also played a part in the toxic environment, with Action Alerts PLUS holding Amazon Inc.'s (AMZN) - Get Amazon.com Inc. Report acquisition of Whole Foods accelerating an already competitive marketplace, Moskow wrote.