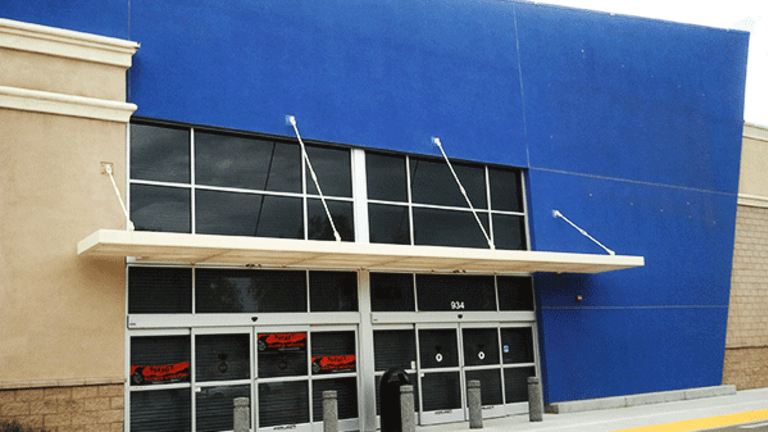 Here's Why Best Buy Shares Are Getting Thrashed After Monster Earnings Beat
Best Buy, as expected, missed 2017 fourth-quarter and full-year revenue predictions.
Best Buy, as expected, missed 2017 fourth-quarter and full-year revenue predictions.
Best Buy (BBY) - Get Report came up light in the pants in some areas of its latest earnings report, and Wall Street is pummeling the red-hot stock. 
The electronics retailer posted fourth quarter revenue of $13.48 billion, coming up short of the $13.61 billion Wall Street expected. Earnings of $1.95 a share did come in much higher higher than analysts' estimations for $1.67. But Best Buy has beaten earnings estimates for 17 consecutive quarters now.
Comparable store sales in the fourth quarter fell 0.7%, versus the 1% increase analysts expected. Further, same-store sales in North America dropped 0.9%, with CEO Hubert Joly calling out "considerably weaker-than-expected demand" in the gaming category.
On a conference call, Joly also blamed tepid sales on declines in the phones, tablets, wearables, computing and drones categories.
Jim Cramer sat down Wednesday with four market experts to talk about how to play the Trump tax plan. Click here to check out their recommendations.
Plus, "from a top line perspective, our revenue was hindered by constrained product availability across multiple vendors and categories, only some of which was anticipated," Joly said, noting that the Samsung Electronics recall of its Galaxy 7 phone earlier in 2016 resulted in "$200 million in top line pressure." Samsung recalled the Galaxy 7 last year worldwide after its battery was found to be prone to catching on fire.
For the full year, Best Buy reported earnings of $3.56 a share on revenue of $39.4 billion, compared to Wall Street's expectations of earnings of $3.28 on $39.55 billion in revenue.
Best Buy said it will be axing its "Renew Blue" program that launched in 2012 to boost declining same-store sales and profit margins and will replace it with "Building the New Blue." The program is aimed at accelerating revenue growth, continuing to cut costs and driving its goal of being "the leading technology expert who makes it easy for (customers) to learn about and confidently enjoy the best technology," Joly said.
"We've achieved $350 million of our current $400 million cost reduction target," Joly said. "We're working on the next phase of cost savings and will update you on the next goal once we complete our current program."
Best Buy Chief Financial Officer Corie Barry said it expects meager 1.5% revenue growth this year. Domestic same-store sales in the first quarter are seen declining in a range of 1.5% to 2.5%. Earnings are seen coming in at 35 cents a share to 40 cents a share, well below analyst estimates for 49 cents a share. 
Shares of the electronics retailer crashed by 9.31% to $40.02 after the company first reported its results. The stock recovered a bit with shares closing down 4.51% to $42.14 on Wednesday.