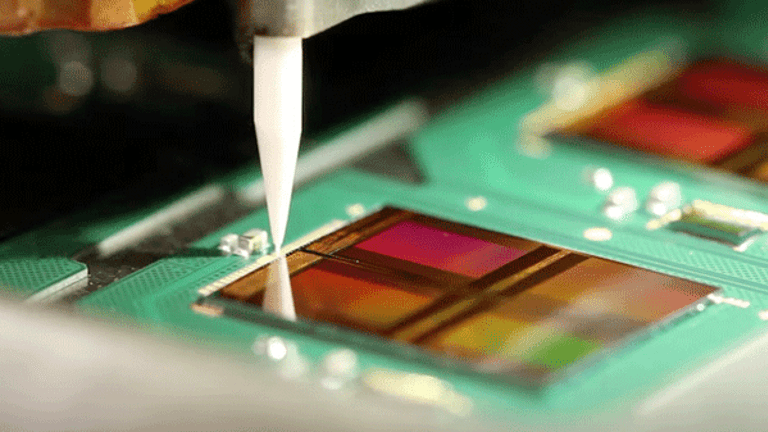 Here's Why Avery Dennison's Stock May Offer a 'Fantastic Voyage'
This leading maker of ultra-miniature tracking tags is positioned to break out after it releases earnings next week.
Many people have never heard of Avery Dennison (AVY) - Get Free Report , but its products are all around us and even inside some of us.
The company is the world's biggest manufacturer of radio frequency identification tags, which are miniaturized devices straight out of the science fiction movie Fantastic Voyage. And RFID is one of the biggest investment opportunities.
In medicine, RFID tags can be injected into the body and tracked by physicians to gauge a host of ailments and bodily functions.
They are also used on automaker factory floors, on farms to keep track of animals, at the gas pump, in retail stores and at tollbooths. In aviation, they are used to track aircraft parts and passenger bags.
RFID technology uses tiny transponders or tags to pinpoint an object's location. Each miniaturized tag, some weighing as little as a grain of rice or 0.0725 ounces, sports an embedded antenna that receives and transmits radio waves from an RFID transceiver.
With a market capitalization of $6.54 billion and operations in more than 50 countries, Avery Dennison also manufactures and sells office supplies, packing products and pressure-sensitive labels for a wide variety of industries.
The company's RFID tags dovetail with its supply chain-oriented products and services.
Avery Dennison's RFID division includes a research and development segment that is separate from the rest of the company's other operating divisions. Management considers RFID Avery Dennison's most promising long-term growth opportunity and a vehicle for the company to remain technologically innovative in an otherwise "stodgy" packaging industry, and it is right.
Research firm IDTechEx forecasts that worldwide RFID sales will reach $13.2 billion in 2020, up from $10.1 billion in 2015.
That is a powerful tailwind for Avery Dennison, regardless of any temporary speed bump that the company may encounter because of softening in the overall retail sector. Meanwhile, RFID competitors such as Motorola Solutions and Zebra Technologies lack Avery Dennison's pervasive entrenchment in a diverse variety of industries, especially in retail.
Avery Dennison is scheduled to report fourth-quarter operating results, before the opening bell on Wednesday. The average analyst expectation is for earnings of 93 cents a share, compared with 85 cents a share a year earlier.
Also keep in mind that the company posted a positive earnings surprise of 1% in the third quarter. In fact, Avery Dennison has exceeded analyst estimates in each of the trailing four quarters, with an average positive earnings surprise of 6.8%.
Avery Dennison's stock has zoomed higher in tandem with the explosion in RFID. Avery Dennison shares have gained 157.42% over the past five years and 20.74% over the past 12 months, with lots of room left for capital appreciation.
Shares trade at a trailing 12-month price-earnings ratio of 21.35, compared with the industry's 23.4. Analysts peg earnings growth for the next five years at a robust 10.78% on an annualized basis.
The share price hovers at about $73. The average analyst one-year price target is $82, which would represent a gain of more than 12%.
These combined factors make Avery Dennison an attractive defensive growth play ahead of its earnings release on Wednesday. There is ample historical precedent for an earnings surprise, which would trigger a pop in the stock.
---
In these volatile times, you need to focus on safe growth plays like Avery Dennison. The Trump Era promises to be unpredictable, but as an investor you want to be in control of your own destiny. That means being able to predict in advance how much money your investment portfolio will generate. Think it can't be done? Our top analyst has a system that can ensure you will make a profit on more than 80% of your trades. To find out the secret, just click here now!
John Persinos is an analyst with Investing Daily. At the time of publication, he owned none of the stocks mentioned.