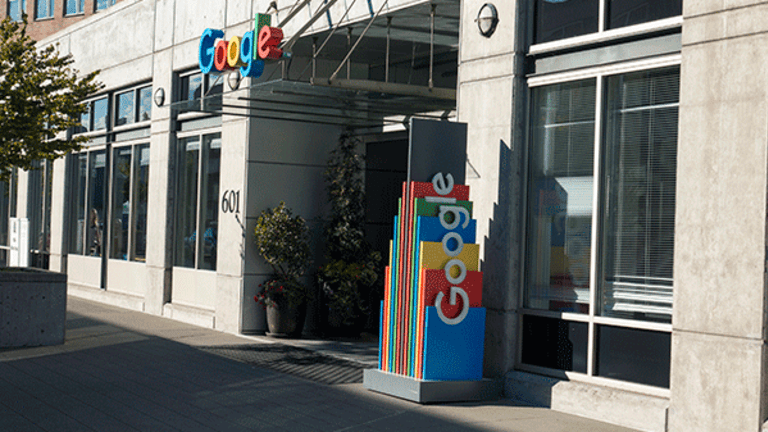 Publish date:
Here's Why Alphabet May Be the Best FANG Stock to Own
Google parent Alphabet has the strongest and most diversified long-term growth prospects.
Google parent Alphabet has the strongest and most diversified long-term growth prospects.
There's good reason to stay with Alphabet (GOOGL) - Get Report and expect its impressive growth trajectory to continue.
Recently, Alphabet was upgraded to an AA-plus corporate credit rating at S&P Global.
The company's rock-solid balance sheet, its stranglehold over a lion's share of the digital advertising market, the possibility of rapid growth in the smartphone space, and the ever-widening Google ecosystem, makes Alphabet an unbeatable proposition.
Without a doubt, Alphabet's real cash-cow is its all-encompassing Internet search engine, Google. Together with Facebook (FB) - Get Report , Google controls over half of all digital ads globally.
Google's influence bleeds into multiple areas such as the e-commerce space where even giants like Amazon (AMZN) - Get Report leverage the platform to fortify their positions.
While Apple's (AAPL) - Get Report iOS and Facebook's mobile facility have carved a specific niche, it is difficult to side-step Google when it comes to internet access and applications.
Alphabet's recent promotion from AA to AA-plus is a bullish signal to FANG investors. And for a company as innovative and cutting-edge as Alphabet is, the upgrade in credit rating really goes to show how the company is in a league of its own among the FANG stocks.
The AA-plus rating is just one step beneath Standard & Poor's coveted AAA rating -- a stature that's maintained only by Microsoft (MSFT) - Get Report and Johnson & Johnson (JNJ) - Get Report .
In just six years, Alphabet has tripled its annual sales to $90 billion, maintained gross margins at over 60% and more than doubled its annual profits.
Further, the company's $86.3 billion pile of cash and short-term investments gives it the ammunition to easily overwhelm Baidu (BIDU) - Get Report , Twitter (TWTR) - Get Report , Yandex (YNDX) - Get Report , and Go Daddy (GDDY) - Get Report all at once.
Beyond its web arm, Alphabet has exposure to exciting growth opportunities in the smartphone space and the self-driving arena.
BMO Capital Markets estimates that Alphabet sold 900,000 Pixel smartphones in Q4 2016 and expects to ship 6 million units in 2017.
In the automobile market, Alphabet's self-driving car unit, Waymo, is far more developed than its rivals with 30 times more miles tested, according to recent numbers from the California DMV.
Experts project Alphabet to report over 19% earnings per share growth annually for the next 5 years. Trading at 20.5 times forward earnings, Alphabet comes at a massive bargain to the internet service and software peer group average of 48 times, which is heavily skewed by Amazon's astronomical forward price-to-earnings ratio of 117.
Clearly, Alphabet is in a class of its own. With fantastic financials and diverse long-term capabilities, it's the FANG stock that's leading the pack.
---
As we've just explained, Alphabet is an excellent growth opportunity. If you're looking for other growth opportunities, we've found a genius trader who turned $50,000 into $5 million by using his proprietary trading method. For a limited time, he's guaranteeing you $67,548 per year in profitable trades if you follow his simple step-by-step process.Click here now for details.
The author is an independent contributor who at the time of publication owned none of the stocks mentioned.