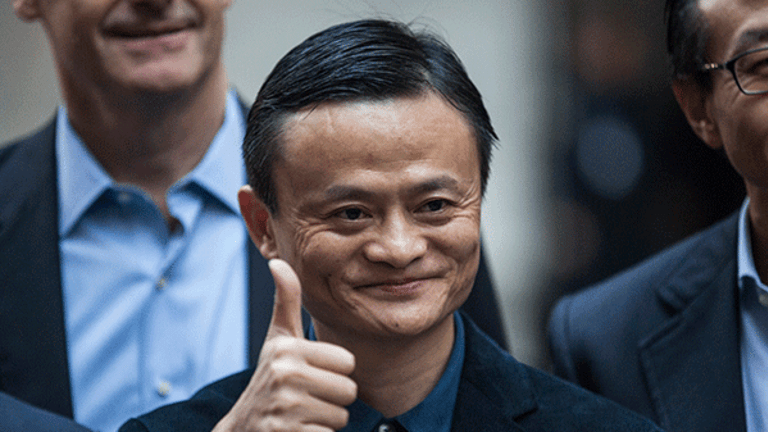 Here's Why Alibaba's Results Trumped Rival JD.com
Alibaba is having a banner year with shares up nearly 90% year-to-date.
Alibaba (BABA)  kept a firm footing on its place as the dominant e-commerce player in China with its 2018 first quarter results. 
The company reported 56% year-over-year growth in revenue to $7.4 billion, topping estimates for $7.1 billion. Earnings came in at $1.17 per share, also beating estimates for 93 cents per share. Meanwhile, JD.com reported a net loss of $73 million for the past quarter on revenue of $14 billion. 
But the real reason Alibaba stands out from rival JD.com (JD)  is its gross margins, according to Maybank Kim Eng head of Asia Internet and telecom equity research Mitchell Kim. While JD.com reported declining gross margins, Alibaba's gross margins expanded 540 bps from the past quarter. "We did not expect such a strong expansion," Kim said. 
JD.com, China's second largest e-commerce player, saw its margins come in at 13.6%, which was about 240 bps lower than estimates. JD is investing heavily in expanding its logistics operations with plans to build 500 warehouses in the next three years. JD.com CEO Richard Liu told CNBC on Monday that he believes the company will be profitable for the full year due to the payoff of these long term investments. 
"You can have your logistics (be) more efficient," he said. "You save some money. With your growth of a large base, you have more negotiation power, so you can get better items and terms from the suppliers," Liu said. "You can improve your gross margin, so you can help us to be profitable." 
Kim said it was an overall blowout quarter for Alibaba and pointed out two other figures that indicated a healthy future for the company. Alibaba's cost of revenue in the quarter came in at 35% of revenue, showing a slight improvement from the 37% of revenue in the same period last year. In addition, Free cash flow grew 74% year-over-year to $3.3 billion. 
Shares of Alibaba are rising 3.3% to $164.84 in late morning trading on Thursday, while shares of JD.com were down 3.87% to $41.96.