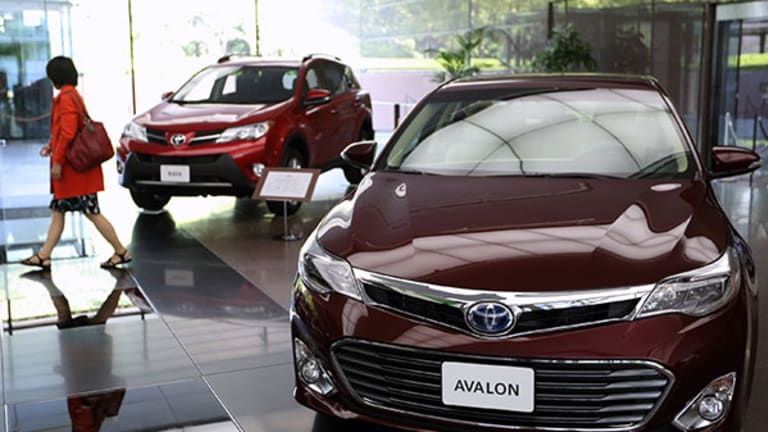 Despite a strong December that pushed 2016 U.S. auto sales to record highs a cloud of worry still hangs over automakers. UBS analyst Colin Langan argues that there is still room for further upside going into 2017.
Automakers sold about 17.55 million units in the U.S. in 2016, edging out 2015 by about 50,000 vehicles to become the best sales year on record. A combination of low gas prices, rising employment, and low interest rates kept the showrooms busy in 2016.
If sales hold up expect General Motors (GM) - Get General Motors Company (GM) Report and Ford (F) - Get Ford Motor Company Report to be among the primary beneficiaries. The analyst notes that both are trading at valuations (3.3 times 2017 estimated Ebitda and 3.0 times, respectively) below their long-term average of 4.6.
While those trends figure to continue into 2017, fears about subprime lending in the industry and concerns that consumers looking for a deal might focus not on new cars but rather on used vehicles coming off lease has led to many industry watchers to warn that a plateau or slight decline could be in the works for 2017.
The National Automobile Dealers Association expects U.S. sales to drop to 17.1 million vehicles in 2017 on factors including interest rates and vehicle price hikes, and political uncertainty due to a new administration and refreshed scrutiny on vehicle imports also adds to near-term uncertainty.
Langan in a note Monday argues that those concerns are overblown, forecasting 2017 sales of 17.8 million new vehicles. He notes the consumer remains optimistic, historically one of the best leading indicators of sales, and says that with the average age of a vehicle on the road still 11.6 years there is still pent-up demand for replacements.
With lease penetration rising to 30%, a glut of slightly-used vehicles flooding the market and undercutting new vehicle sales is a risk. But Langan notes that the return rate on leases in 2017, at 10% to 13%, figures to be below 2016's 20%, and says that lease returns drives just a small portion of the overall used market.
"While we expect some used pricing pressure in 2017, we don't think it will offset the benefit of improved GDP and positive consumer sentiment," the analyst wrote.
A decline in used car prices over the long-term can help auto demand by pushing used vehicle holders to scrap a higher proportion of their portfolio, eventually creating a need for replacement vehicles.
Financing has been a topic of heavy scrutiny, with stories aplenty of dealerships extending terms or stretching assumptions to allow buyers to afford ever more expensive new vehicles. But Langan notes that according to Equifax subprime loans represented 21% of originations in the third quarter of 2016, below the historical average of 24%, and prime loans have performed well.