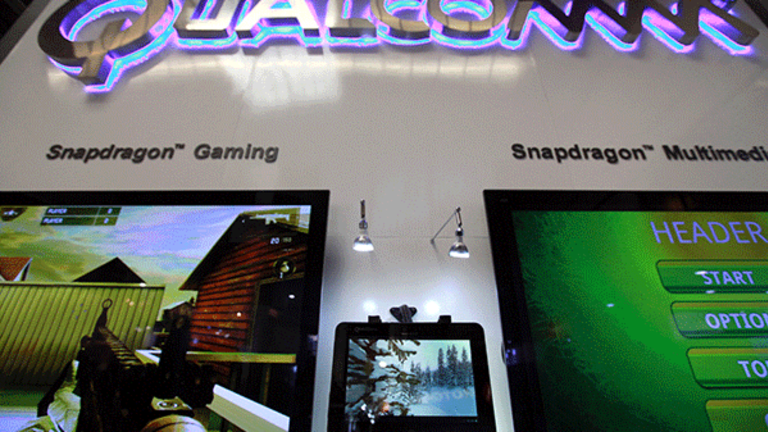 Here's Who Else Qualcomm Could Seek to Acquire, Apart From NXP
The chip sector has been undergoing a huge wave of consolidation in the last year, and Qualcomm has several other attractive targets aside from NXP.
As Qualcomm  (QCOM) looks to break its M&A silence by potentially acquiring NXP Semiconductors  (NXPI) , the chip giant has a host of other attractive acquisition targets, including Cavium  (CAVM) and Xilinx  (XLNX) . 
Qualcomm is holding talks to acquire NXP Semiconductors in a deal that could come in the next two to three months and cost over $30 billion, The Wall Street Journal reported Thursday. Adding NXP would significantly boost Qualcomm's presence in the fast-growing automotive, industrial and Internet of Things markets, and also be an efficient use of its overseas cash.
For the mobile chip king, the acquisition would take place after Qualcomm largely remained on the sidelines as its peers busily rushed to do deals over the last 12 months. Among the largest transactions include Avago Technologies' undefined $37 billion buy of Broadcom in February, Intel's  (INTC) $16.7 billion acquisition of Altera in December and NXP's own $11.8 billion buy of Freescale, also in December. 
Last year, Qualcomm explored strategic alternatives following pressure from activist investor Jana Partners, which urged Qualcomm to explore a break-up. Qualcomm finished its strategic review without splitting its chip business from its patent licensing division. 
The acquisition of NXP Semiconductors would be Qualcomm's largest transaction ever. The chipmaker's biggest buy to date has been its $3.1 billion purchase of Atheros Communications and last purchase took place in 2014 when it paid $2.2 billion for CSR. 
"The writing has been on the wall for a while for Qualcomm to go out and acquire someone," Morningstar analyst Abhinav Davuluri said by phone, adding that Qualcomm needs to minimize reliance on the maturing handset market and M&A is one of the ways to do so. NXP gained significant exposure to the automotive end-market through its $11.8 billion acquisition of Freescale Semiconductor in 2015. 
According to Davuluri, Qualcomm likely stayed on the M&A sidelines to wait until it was well-positioned to pursue a transformative transaction, rather than simply doing a deal as a knee-jerk reaction. He added that the chipmaker had to focus on getting its house in order, particularly with all the activist pressure.
He said Qualcomm has plenty of targets it could look at if its talks with NXP don't come to fruition, pointing specifically to Xilinx and Cavium. Xilinx has been seen as a takeover target after its rival Altera was acquired by Intel (INTC) for $16.7 billion last year. In addition to having attractive communications-focused offerings, Xilinx serves a diverse range of end-markets including industrial, aerospace and consumer. Meanwhile, Cavium would help expand Qualcomm's ARM server chip business.
But Jim Cramer and Jack Mohr, who co-manage Action Alerts PLUS as a charitable trust, said the fact that QualComm has gained some 8% since the Journal story broke means that shareholders "are telling management to get the [NXP] deal done."
In a note to subscribers Friday, Mohr and Cramer wrote that "although Qualcomm's management team would likely come in at a low offer -- we have heard reports of $95 -- the reality is Qualcomm needs NXP more than NXP needs Qualcomm ... We expect $115-$120 to be the potential takeover target, minimum." 
Elsewhere in the chip universe, Cypress Semiconductor (CY) and ON Semiconductor (ON) have significant exposure to the automotive and industrial end-markets. 
Still, both of those chipmakers are digesting their respective acquisitions and may emerge as acquisition candidates after a bit of a waiting period, according to Davuluri. Cypress, which appointed Hassane El-Khoury as its new CEO and president in August, completed its $550 million buy of the IoT business from Broadcom in July,while ON closed its $2.4 billion buy of Fairchild Semiconductor earlier this month.
NXP Semiconductors would likely be valued at about $40 billion, or $120 per share, in a transaction, wrote Needham & Co. analyst Raj Gill in a Friday note, adding that the transaction would make strategic sense and create the second-largest chip supplier in terms of revenue.
Semiconductors have been undergoing an intense wave of consolidation over the past year or so.
In the capital-intensive, maturing industry, M&A has proven to be a major source of growth and revenue diversification, especially as borrowing remains relatively cheap for buyers. Fueling even more deal-making has been fear of missing out as rivals rushed to link up with their peers. 
The NXP purchase would stack up among the largest transactions ever in the sector. 
Elsewhere in the sector, Microsemi Technology (MCHP) beat out Dialog Semiconductor to win Atmel for $3.6 billion. Aliso Viejo, Calif.-based Microsemi also emerged as the winner in a bidding war for PMC-Sierra with a $2.5 billion offer, leaving the target's former merger partner Skyworks Solutions (SWKS) at the altar. 
In addition, Japan's Renesas Electronics agreed earlier this month to buy Intersil  (ISIL) for $3.2 billion while Analog Devices  (ADI) agreed in July to pay $15 billion to buy Linear Technology  (LLTC) .