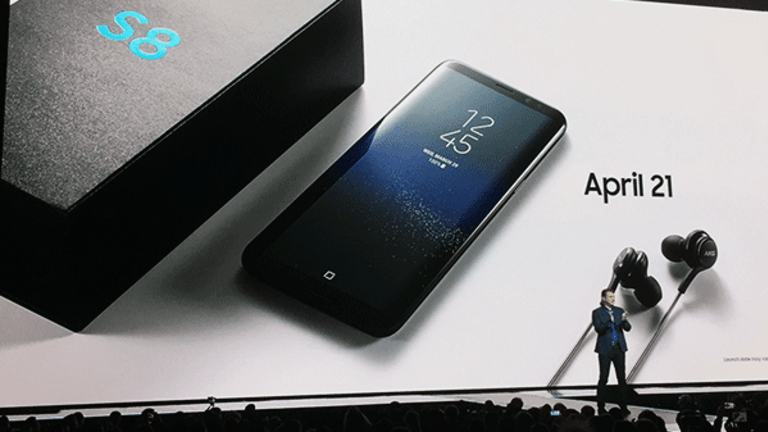 Publish date:
Samsung's New Smartphone Has Some Stunning Features, But Apple Shouldn't Be Frightened
The S8 and S8 Plus feature cool new screens, the Bixby digital assistant and some promising new accessories, but analysts said the proof will be in the pudding.
The S8 and S8 Plus feature cool new screens, the Bixby digital assistant and some promising new accessories, but analysts said the proof will be in the pudding.
Updated from 1:11 p.m. with additional information.
All eyes were on Samsung (SSNLF)  Wednesday morning as it sought to redeem itself from the botched Note 7 release last August and compete anew with rival Apple (AAPL) - Get Report with the unveiling of the Galaxy S8 and the slightly larger S8 Plus. The packed event took place at Lincoln Center in New York City ahead of the product's official release on April 21. 
The S8's screen will measure 5.8 inches, while the S8 Plus's screen will be 6.2 inches, and both will be powered by speedy Snapdragon 835 processors.
One of the stand-out features was the "Infinity" end-to-end screen, which now features curved corners and spills over the sides in order to give as much viewable space as possible. To allow for the full front of the phone to be a screen, the physical home button was cut and replaced with an invisible home button beneath the screen. And the fingerprint scanner was moved to the back of the phone near the camera, leaving some concerned about fingerprints on the lens. 
While this newly designed screen was leaked before the event, there were still lots of questions about how it worked and felt, noted Jackdaw Research chief analyst Jan Dawson. According to Dawson, the newly designed screen was a lot nicer to hold with the curved edges than its predecessor, the S7 and S7 Edge that were released last March. "Last year the edges were sharp and not that comfortable," he said. 
The other standout feature was Samsung's new digital voice assistant Bixby, which is an answer to Apple's Siri but doesn't quite reach Siri's capabilities. Bixby was pre-announced by Samsung, perhaps as a way to temper expectations for the feature. "Bixby is a typical version one of a feature," Roger Entner, founder of Recon Analytics, said. "We haven't seen the true potential of it yet." 
Apple is a holding in Jim Cramer'sAction Alerts PLUS Charitable Trust Portfolio. Want to be alerted before Cramer buys or sells AAPL? Learn more now.
Bixby is meant to cut down on the number of swipes and taps it takes to complete a task via context awareness. The more you use Bixby, the more it will learn about how you use your phone. For example, if you use Uber every morning to get to work, it will start pulling up the Uber app in the morning for you. In addition, if you point your camera at a landmark like the Empire State Building and then press the Bixby button on the side, it will give you information on the building, as well as a list of restaurants nearby. And if it recognizes a product, it can automatically tell you where to buy it from one of Samsung's partners.
While Bixby looked impressive in demos, Dawson said that its success all comes down to how well it can do what Samsung claims it can do. 
Samsung didn't release pricing for the new phones yet, but some reports said that an unlocked S8 would cost between $720 to $750 from major U.S. carriers, and $840 to $850 for the S8Plus.
Another highlight announced on Wednesday was a new docking accessory with accompanying software called the Samsung Desktop Experience (DeX). The device, which will retail for $150, allows users to interact with information and apps on their phone on a larger desktop computer. The phone connects to the DeX via a USB Type C cable.
Gartner research director Goertz Werner said that DeX is a very useful addition for the average user that he expects to be well-adopted, particularly for the traveling workforce that can now leave their laptops at home. However, the jury is still out on how whether this will prove to be an adequate substitute for PC power users.
"For the corporate or enterprise power user that works with large scale Excel spreadsheets, the processing power that the Samsung Galaxy S8 provides may not be adequate," he explained. "But it's a good addition for most people."
Samsung also added two new biometric features to unlock its phones -- iris scanning and facial recognition -- and released a new version of the Gear 360 remote camera with higher resolution display and support for live streaming via social networks.
One disappointing feature could be the S8's battery capacity, which is the same as was seen in last year's S7 series, despite the more powerful processor and bigger screen size on today's releases. Unless Samsung has figured out a way for a bigger phone to use less battery, then people will complain, Entner said. 
The higher price is is also risky move for Samsung, Dawson said. "They're out there on an island by themselves for now with that price but we'll see what Apple does this fall," he explained.
Overall, it was a "very good phone," according to Entner, and Dawson said it had "some good stuff going for it." On the other hand, Gartner's Werner said that while the new release solidifies Samsung's leadership in the industry, it's not good enough to move the needle for the company because it didn't have any game-changing innovations or features.
While people were maybe expecting too much from Samsung in order to replace the negative news story surrounding the Note 7, the phone did what it needed to do, according to Dawson. "They needed to produce something that was more than the same and I think they've done that," he concluded. 
To ensure that the new phones don't have the same disastrous battery issues as the Galaxy Note 7, Samsung has now implemented an eight-step safety check for its smartphone batteries. 
While Samsung had a lot to prove on Wednesday, Apple will be in a similar position this September, as it's expected to release a completely redesigned smartphone for the iPhone's 10th anniversary. 
Today's S8 release gives us a better picture of what the new iPhone will look like, as Apple will probably adopt similar design features, Entner noted. "I don't think today's release will have scared Apple," he said. "Apple wins not only on the device side, but also on the more integrated features seen on the iOS and a better user interface," Entner explained.