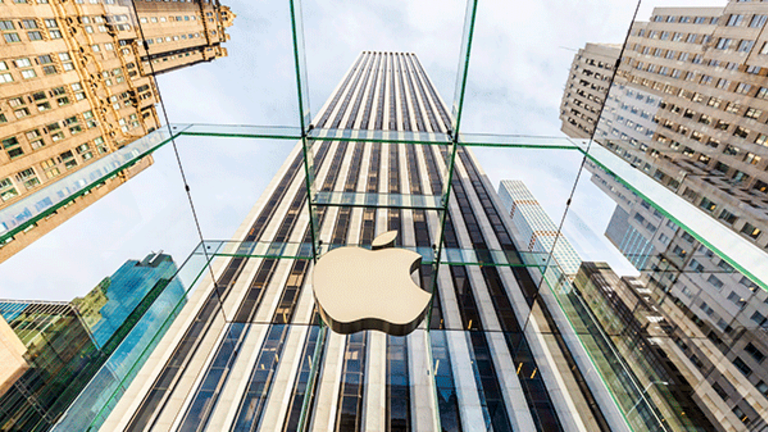 Publish date:
Here's What Will Decide How Apple Shares React to Its Earnings Report Today
With all signs indicating the iPhone 7 saw a strong debut, markets will be paying close attention to what Apple's outlook says about expectations for the holiday season.
With all signs indicating the iPhone 7 saw a strong debut, markets will be paying close attention to what Apple's outlook says about expectations for the holiday season.
This article originally appeared on Real Money on Oct. 24, 2016.
The iPhone 7 and 7-Plus sold better than expected during their first weeks of availability in September. That's a widely held view at this point, and one that seems priced into Apple's (AAPL) - Get Reportshares.
On the other hand, just how well Apple's latest flagship phones will sell during the current quarter, which features the crucial holiday season, is still the subject of some debate. The outlook Apple provides here will likely have the biggest impact on how the company's shares, as well as those of its suppliers, react following its fiscal fourth-quarter earnings report.
Apple is set to report at 4:30 p.m. Eastern time on Tuesday afternoon, and host a conference call at 5 p.m. Based on a consensus of 30-plus analysts polled by Thomson Reuters, the company is expected to post fourth-quarter (September quarter) revenue of $46.89 billion (down 9% annually) and EPS of $1.65 (down 16%). First-quarter consensus estimates call for revenue of $74.65 billion (down 2%) and EPS of $3.17 (down 3%).
TheStreet's Eric Jhonsa and Jack Mohr will be live blogging Apple's earnings starting around 4 p.m. Eastern time on Tuesday. Check out our home page for details.
There's a good chance Apple will top the fourth-quarter estimates. Data from Sprint (S) - Get Report , T-Mobile (PCS) and others has pointed to strong early iPhone order activity, and figures from research firms suggest the iPhone 7-Plus, which features a starting price ($769) that's $120 higher than that of the standard iPhone 7 ($649), fared particularly well. A late-September report from Taiwanese site Digitimes stated Apple had upped its iPhone 7 component orders.
Apple is a holding in Jim Cramer'sAction Alerts PLUS Charitable Trust Portfolio. Want to be alerted before Cramer buys or sells AAPL? Learn more now.
In addition, Taiwan Semiconductor (TSM) - Get Report, which manufactures the A10 processor powering the iPhone 7 and also handles manufacturing for many Apple chip suppliers, beat its third-quarter estimates and raised its full-year guidance two weeks ago.
And on Monday afternoon, iPhone microphone supplier Knowles (KN) - Get Report, posted a third-quarter beat it attributed to "stronger than anticipated demand from a North American OEM and continued strength from Chinese OEMs." The "North American OEM" is undoubtedly Apple.
But Taiwan Semiconductor sold off in spite of its strong numbers, and -- with the caveat that the company disclosed some problems unrelated to Apple -- Knowles has moved lower following its earnings report. And Apple's shares are up 14% since the first reports of strong iPhone 7 orders came in on Sept. 12.
Markets now consider healthy initial iPhone 7 demand a given. To move higher post-earnings, Apple will need to show it expects the momentum to continue into the holidays.
A recent report from mobile analytics firm Localytics found the iPhone 7 and 7-Plus accounted for 5.1% of the iPhone installed base a month after they became available. That's better than the 4.3% claimed by the iPhone 6S and 6S-Plus at a similar point in time, albeit below the 7% claimed by the iPhone 6 and 6-Plus.
In addition to the iPhone 7's performance, markets will be paying attention to whether the iPad was able to add to the turnaround it saw in the fiscal third quarter, when the tablet's revenue (though not its unit shipments) rose annually for the first time in years on the back of strong iPad Pro sales.
Apple's services revenue, which rose 19% in the third quarter to $6 billion thanks to App Store growth and Apple Music's uptake, will also get attention. Mac sales are expected to be soft ahead of a major refresh due to be unveiled at a Thursday event.
Compared with the lead-up to Apple's July third-quarter report, there has definitely been a change in mood. Then, investors were bracing for the worst and were relieved when it didn't arrive. This time, it's safe to say expectations are higher, even if blowout numbers aren't necessarily forecast.
Ed Ponsi of Real Money Pro, our subscription-only site for investment professionals and active traders, writes that both Samsung's woes and Apple's chart indicates that investors should buy APPL if the stock dips following Tuesday's earnings report. Click here for a free 14-day Real Money Pro trial and read his full report.