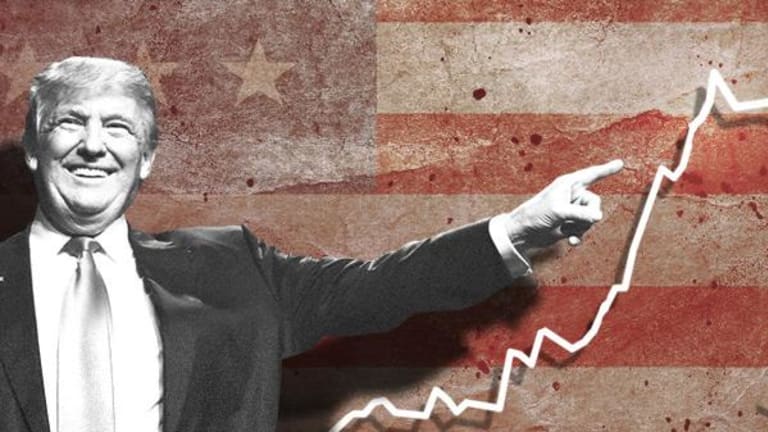 Publish date:
Here's What We Can Learn About Market Timing From the Trump Rally
The latest move drives home the risk of trying to guess about equities. In addition, here are five stocks that score highly based on our guru models.
The latest move drives home the risk of trying to guess about equities. In addition, here are five stocks that score highly based on our guru models.
No matter how often we hear that stock market timing is an ill-fated pursuit, there are still those among us who fall victim to elections, emotions or headlines.
More often than not, this can lead to the unfortunate scenario of buying high, selling low and missing out on returns.
The latest move in the market since Donald Trump's victory in the presidential election is a perfect example. Those investors with heavy cash positions or conservatively invested going into the election saw the market move dramatically in its wake.
Consider that from the beginning of this year until four days before the election, the S&P 500 was up 3.88% and Russell 2000 small-capitalization index was up 3.69%. Since that time, the S&P 500 has gained 5.36%, while the Russell 2000 has surged by an impressive 13.1%.
So investors, flush with cash, must decide whether to buy or wait for a pullback, which may or may not lead to pre-election valuations.
This kind of concentrated market movement isn't unusual. In fact, studies have shown that almost all big stock market gains and dips are concentrated in a small percentage of the year's trading days, so missing just a few good ones can dramatically affect investor gains.
Therefore, though some may think it wise to buy stocks when prices are rising and move to cash and sit it out when the market falls, this approach can ultimately prove detrimental to investing success.
One such study was conducted by H. Nejat Seyhun, professor of finance at the University of Michigan's Ross School of Business, who analyzed stock market returns for all trading days between 1963 and 2004. His data showed that by missing out on the 10 best trading days of the year, or those with the largest increases, returns would drop by a hefty 41%.
Seyhun's study determined that during the 42-year period analyzed, just 0.85% of trading days accounted for a whopping 96% of market gains.
"By being 'out of the market' for as few as even one or two of the best performing months or days over several decades, a portfolio's return is significantly diminished," he said.
Such a scenario is exacerbated by the fact that forgone gains can't compound during the rest of the holding period.
The loud-and-clear takeaway? Staying invested is a better idea than jumping in and out of the market due to knee-jerk, emotional reactions.
"Market lows often result in emotional decision making," according to JPMorgan Chase in its 2016 Guide to Retirement. "Investing for the long term while managing volatility can result in a better retirement outcome."
Every day on Wall Street, an analyst report or headline is viewed by some investors as a harbinger of things to come and a signal to act. But these sorts of emotional reactions can prove costly.
Staying the course is the better approach by buying shares of fundamentally sound businesses with sustainable, competitive operations and holding onto them through the ups and downs.
Using our stock screening models based on the philosophies of investing greats such as Warren E. Buffett, Benjamin Kenneth Fisher, Benjamin Graham, Joel Greenblatt, Peter Lynch and James O'Shaughnessy here are five stocks that score highly under several different strategies.
1. Fujifilm Holdings (FUJIY)
This company develops, produces, sells and services document, imaging and information solutions.
The price-earnings-growth ratio of 0.63 is considered favorable, according to our Lynch-inspired investment model as is the company's debt-equity ratio of 19.73%. Our Graham-based stock screen likes the company's robust top line, with trailing 12-month sales of $20.91 billion, and the current ratio of 2.89 is well above the minimum level required of 2.
Growth in earnings per share over the past 10 years of 103.6% is more than triple the level required by this model.
2. G-III Apparel  (GIII) - Get Report
This company designs, manufactures and markets a range of apparel products through big department stores.
Our Graham-based stock screen favors the company's current ratio of 3.08, well above the required level of 2, as well as its debt-free balance sheet. This model also gives high marks to GIII Apparel's moderate P/E ratio of 12.96 and its strong earnings-per-share growth, which has quadrupled over the past 10 years.
Our Lynch-inspired approach likes GIII Apparel's PEG ratio of 0.77, coupled with its stable level of inventory relative to sales.
3. Robert Half International (RHI) - Get Report
This company provides specialized risk consulting and staffing services.
Our Lynch-based strategy finds the company's PEG ratio to be strong at 0.54, and EPS growth of 30.6% based on three-, four- and five-year averages falls right within the preferred range of between 20% and 50%. The company's near-zero debt level is also a plus.
The price-sales ratio of 1.11 is considered attractive by our Fisher-based screen, with the preferred range between 0.75 and 1.5, and long-term EPS growth of an inflation-adjusted 28.25% well exceeds the minimum required level of 15%. Our Greenblatt-based model gives high marks for the stock's earnings yield of 10.15%, coupled with return-on-total capital of 61.72%.
4. Thor Industries (THO) - Get Report
This manufacturer of recreational vehicles scores highly under our Lynch-based screen, due to the attractive PEG ratio, which is used to gauge fairness of price.
Thor Industries earns a perfect score under our O'Shaughnessy-inspired model due to its persistence in earnings per share and attractive price-sales ratio, used to gauge value under this methodology.
Our Martin Zweig-inspired investment strategy likes the company's P/E ratio of 18.95 relative to the market P/E of 17 as well as the pace of sales growth of 65.8% for the recent quarter-over-quarter period. Long-term EPS growth of 22.61% based on three-, four- and five-year averages well exceeds this model's minimum requirement of 15%.
5. Tyson Foods  (TSN) - Get Report
This food company boasts brands such as Hillshire Farms, Jimmy Dean, Sara Lee and Tyson.
Our Greenblatt-based investment model favors the stock's earnings yield of 10.82% and return on total capital of 36.05%, while our O'Shaughnessy-inspired model gives high marks for persistence in earnings per share and a price-sales ratio of 0.55 versus the maximum level allowed of 1.5. Our Lynch-based screen finds the PEG ratio of 0.52 attractive.
At the time of publication, John Reese and his private clients were long GIII, RHI and and THO.