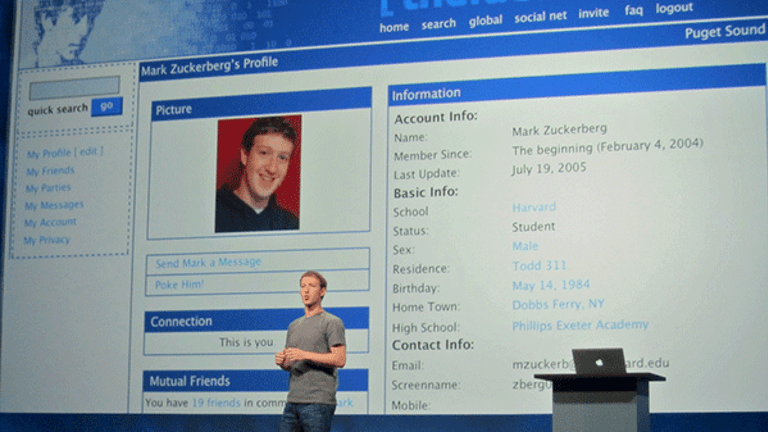 What Wall Street Was Saying About Facebook When It Went Public Five Years Ago
Before Facebook became one of the world's most highly valued companies, the social media giant endured a disastrous IPO, an SEC investigation and a crowd of critics on Wall Street.
Five years ago today, an upstart social media company went public under disastrous conditions: The stock debuted on the Nasdaq later than expected, its CEO largely failed to sell his business plan to Wall Street and, despite raising $16 billion in the IPO process, shares had struggled to stay above the opening price of $38. Even worse, the company was struggling to convince investors that it could make the shift from desktop to mobile. 
That turbulent story was just the beginning of  Facebook's  (FB) meteoric rise to fame -- an ascension that has put the Menlo Park, Calif., based company among the top 10 most valuable companies in the world. Facebook has since established a near monopoly in the social media space, is carving out an ever-increasing hold on the digital advertising market and, if CEO Mark Zuckerberg has his way, wants to play a central role in connecting users all over the globe.
On May 18, 2012, Facebook debuted at $42.05 per share, up 11% from its initial offering price of $38. Those gains later disappeared when the stock finished out the first day of trading just above its IPO price at $38.23 per share. Its first day of trading was marked by a flurry of activity (Facebook's trading volume made up 21.4% of the Nasdaq composite), but that was largely due to issues with how Nasdaq handled the IPO. High-frequency trading robots flooded the system, delaying the IPO and causing concerns among investors who couldn't cancel their orders. As a result, underwriters like Morgan Stanley had to jump in and buy shares of Facebook to support the stock. 
The debacle resulted in the SEC fining the Nasdaq $10 million over its series of "ill-fated decisions" on the day of Facebook's IPO. In the days after the IPO, it was also disclosed that Facebook had cut its revenue projections during the IPO roadshow, but that Morgan Stanley hadn't advised its clients of that change. Once that fact became publicly known, it resulted in a major drop in the stock's value for the three months straight. 
Then 28-year-old Zuckerberg acknowledged at Facebook's first shareholder meeting that he understood "a lot of people" were disappointed in the stock performance. "We really are, too," Zuckerberg said at the time. 
Facebook is a holding in Jim Cramer's Action Alerts PLUS Charitable Trust Portfolio. Want to be alerted before Cramer buys or sells FB? Learn more now.
Wall Street wasn't very pleased with the stock, either. When a host of banks who underwrote the offering released their research, only eight of the 17 banks recommended investors buy Facebook shares, according to  Reuters. Eight firms assigned a Neutral rating, while one slapped a Sell rating on the stock. Morgan Stanley analyst Scott Devitt pointed to users' transition from desktop to mobile as a risk to Facebook's revenue growth, while a Bank of America/Merrill Lynch analyst believed its advertising revenue could also be hurt by that trend. 
"Slowing user growth is one of our primary concerns for Facebook's current valuation," BMO Capital Markets analyst Daniel Salmon said at the time. 
Those issues are now old news for Facebook, however. On Thursday afternoon, shares were trading at more than $146 a piece and Facebook has generated a solid return to investors of 256% since going public. Zuckerberg's net worth has rocketed just as high as his company's stock, with his $62 billion net worth handing him the title of the fifth-richest man in the world, according to the Bloomberg Billionaires Index. Rumors have also been swirling that his recent nationwide tour could be setting the stage for a future political campaign. 
Facebook has racked up close to 2 billion users on its site, up from the 482 million users it had in during the second quarter of 2010, according to slides from Facebook's first earnings report. In its five-year lifespan, Facebook has grown to play an integral part in people's lives -- a fact that has grown to become both a blessing and a curse for Zuckerberg. Many experts (and even Zuckerberg himself) have reasoned that the News Feed may be the impetus for Facebook's problems with fake news, as well as in creating a political echo chamber among users on the website. Facebook has since made several alterations to its algorithms, in addition to rolling out a slew of features meant to make users aware of false information being spread on the site.
The social media giant successfully navigated concerns about new mobile viewing habits, with mobile advertising comprising 85% of Facebook's total $8 billion ad revenue stream. Facebook and  Alphabet's (GOOGL) Google practically dominate the digital advertising market, with Facebook display ad business capturing 39.1% of the U.S. display market, according to eMarketer.
Alphabet is a holding in Jim Cramer's Action Alerts PLUS Charitable Trust Portfolio. Want to be alerted before Cramer buys or sells GOOGL? Learn more now.
And Facebook is exploring numerous other technologies beyond just its core product. At the time of its IPO, Facebook was in the process of closing its $1 billion acquisition of photo sharing platform Instagram -- that business has since reached at least 700 million users and is being closely watched by Wall Street as a major threat to fledgling social media company  Snap (SNAP) . Albeit being in just the early days, Facebook is also dabbling with virtual and augmented reality, most notably through its $2 billion purchase of Oculus. 
Facebook's growth story has been marked by outsized statistics like the fact that annual revenue has grown 422% in just a five-year period. If those numbers, and the stock's post-IPO performance are any indicator, the Silicon Valley giant has proved its doubters wrong. 
Related stories on TheStreet:
Amazon Should Be Terrified by What Walmart Is Quietly Testing in China
If Apple, Facebook and Netflix Keep Diving, the Ugly Trump Stock Market Correction Could Be a Thing
Editors' pick: Originally published May 18.