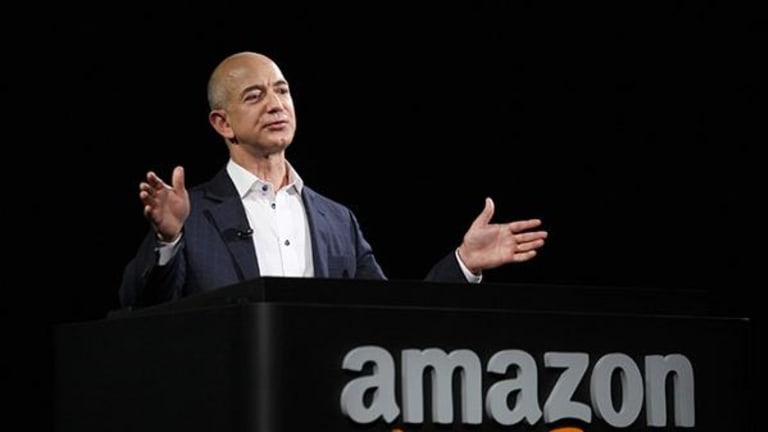 Here's What Wall Street Was Saying About Amazon When It First Went Public 20 Years Ago
Amazon's incredible growth story was once considered to be threatened by the likes of Barnes & Noble and Borders.
It's been a wild ride for Amazon (AMZN) since the Silicon Valley giant first went public 20 years ago this week. 
On May 16, 1997, Amazon debuted on the Nasdaq at $18 per share, with the goal of raising $54 million in its initial public offering. Just three years old at the time, the Seattle-based company had yet to make a profit, but Amazon's stock still managed to finish out its first day of trading having surged 31% above its IPO price.
Since then, Amazon shares have skyrocketed about 49,000% from its split-adjusted stock price close of $1.96 on day one, marking an absurd return for shareholders who were lucky enough to buy in early enough. 
At the time of its IPO, Amazon's sales had soared to $15.7 million, up from $511,000 in 1995 -- setting the stage for the double-digit annual revenue growth that's become customary in Amazon's quarterly earnings reports since then. Despite that, Amazon's profit remained elusive, as it reported a $5.8 million loss in 1996, up from a $303 million loss one year earlier, according to the company's S-1 filing with the SEC. 
Even so, Wall Street wasn't completely distracted by Amazon's profit-bare balance sheet, instead believing that the company's vision of becoming "Earth's Biggest Bookstore" would come to fruition. Critics were still quick to point out Amazon's growing list of competitors, however, which included brick-and-mortar book sellers Barnes & Noble (BKS) , the now-defunct Borders and Viacom's (VIAB) Simon & Schuster, according to the Wall Street Journal. All three had taken steps to attack Amazon's leading position as an online retailer of books, saying at the time that they had opened rival book-selling sites. 
"There aren't a lot of barriers to entrance," Needham analyst Joan Bogucki told the L.A. Times at the time of Amazon's IPO. "This business is going to come down to prices, and it's going to come down to speed." 
But as the subsequent years would show, none of Amazon's bookselling competitors were able to match its rapidly expanding library (it offered at least 2.5 million titles online by 1997), and competitive pricing and delivery methods. 
"By offering customers an authoritative selection of more than 2.5 million titles, as well as competitive pricing and outstanding customer service, Amazon.com believes it has achieved a preeminent position among online retailers," the company said in its S-1 filing. 
CEO Jeff Bezos signaled that he had much larger ambitions for the company early on, saying in a 1997 interview with the  Journal that he hoped to venture into videos and music. Amazon has now cast its net even wider than that -- getting into almost every conceivable retail e-commerce category, all but creating the cloud computing category with Amazon Web Services, developing a huge fulfillment and delivery service for third-party sellers, and creating the hugely successful Alexa-powered Amazon Echo devices. Needless to say, Amazon is more than just an online bookseller nowadays. 
In Bezos' 1997 letter to shareholders, which he republishes every year as part of Amazon's annual report, the chief executive talked about how Amazon already passed "many milestones" in just a handful of years, but was poised to expand even further. 
"This is Day 1 for the Internet and, if we execute well, for Amazon.com," Bezos wrote in the 1997 letter. "Today, online commerce saves customers money and precious time. Tomorrow, through personalization, online commerce will accelerate the very process of discovery. Amazon.com uses the internet to create real value for its customers and, by doing so, hopes to create an enduring franchise, even in established and large markets."
Read More Trending Articles:
Sears Stock Crashes After Its Unhinged CEO Goes on a Bizarre Rant Against the Media, Vendor
Why Snap Is Now One of the Most Hated Companies on All of Wall Street
Jim Cramer and the AAP team are discussing fallout from first-quarter earnings from Apple (AAPL) and Facebook (FB) and how to play the big tech names. Get his insights or analysis with a free trial subscription to Action Alerts Plus.
Editors' pick: Originally published May 15.