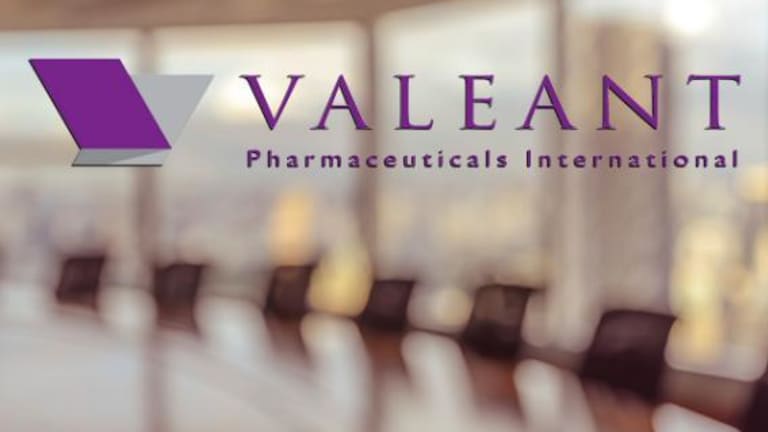 Here's What Valeant Could Still Divest
Hint: Salix is still up for grabs.
Embattled Valeant (VRX) saw shares climb Tuesday on news that it had divested two more assets in hopes of finally turning the company around.
Valeant's shares hit $16.28 apiece midday, up 5.5% from market open. Upward moves typically happen when the pharmaceutical company announces divestitures. The question is, though, how much more can Valeant sell?
On Jan. 10, as a part of the J.P. Morgan Healthcare Conference, Valeant announced that it would sell skincare assets, including CeraVe, AcneFree and AMBI to L'Oreal (OR) - Get Free Report for $1.3 billion in cash.
The company also announced that it would sell its Dendreon Pharmaceuticals division to Sanpower for $819.9 million.
According to analyst Umer Raffat of Evercore, Valeant's sale price for both assets commanded a multiple of 13 times earnings before interest, taxes, depreciation and amortization, on average.
Valeant has been divesting assets since early 2016. In January of last year, Valeant began a string of divestitures by selling its Valeant Group Cosmederme to Intega Skin Sciences, a subsidiary of Knight Therapeutics and Bloom Burton for undisclosed terms.
This was before the company's major problems came to light. In March, Valeant pinned the blame on its former CFO and former controller, Howard Schiller, for misstatements of earnings.
The drugmaker has been under the microscope for its alleged accounting problems and steep price hikes on drugs the company acquired during years of acquisitions fueled by debt.
Meanwhile, problems with its relationship with mail-order pharmacy Philidor Rx Services and its customer R&O Pharmacy, as well as its legal but questionable accounting gamesmanship, caused Valeant's valuation to plunge.
As a result, Joseph Papa, the company's newly appointed CEO, announced plans to divest assets to make up for valuation loss. In May, Papa discussed plans to reduce the company's roughly $30 billion debt load, pointing to the company's initiative to pay down more than $1.5 billion in 2016.
Valeant had been in talks with bankers to consider the sale of Salix, a move it confirmed at the beginning of November. However, buyers for that division have yet to surface.
A distraction from deal-making arose on Nov. 17, when the U.S. Department of Justice announced charges against former Valeant and Philidor executives for engaging in "a multi-million dollar fraud and kickback scheme." Gary Tanner, a former executive at Valeant, and Andrew Davenport, the former CEO of Philidor were charged.
So Salix likely is still considered a takeover target.
What else is likely available for takeover?
Evercore analyst Umer Raffat noted that technically, Valeant's IDP-118, a drug in phase III trials for psoriasis treatment, could be divested. Valeant executives, though, seem keen on how that drug will contribute to the company's bottom line.
Other potential divestitures? Valeant's assets abroad.
Mizuho analyst Irina Koffler wrote in a note that she expects Valeant to divest its dental business as well as its interests in "select geographies."