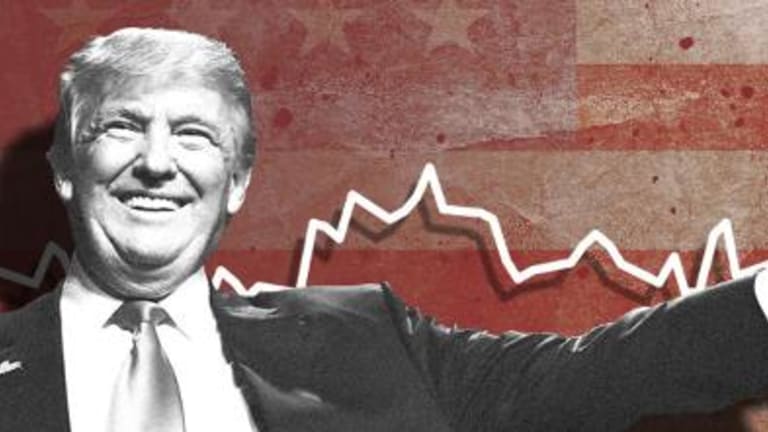 Here's What Trump's Presidential Victory Means for Technology Stocks
The new administration could free up overseas cash, but would cost Silicon Valley companies in other ways.
Editors' pick: Originally published Nov. 8.
As the dramatic presidential election neared its close on Tuesday, prominent tech investor Shervin Pishevar tweeted that he is starting a campaign for Silicon Valley's home state to secede from the union. While others in the Valley may share that sentiment, the new president's overall impact on the tech sector will likely be more of a mixed bag. 
While president-elect Donald Trump has lined up against the tech sector on a number of significant issues, from net neutrality to international trade agreements and looser immigration policies for skilled tech workers, his stance on overseas cash would be a boon for many big technology firms. 
The technology-heavy Nasdaq index was down 0.5% on Wednesday morning, while the broader S&P was down 0.3%.
Mizuho technology analyst Abhey Lamba suggested in a note that the election would have a negative impact on stocks he covers, which span Apple (AAPL) - Get Apple Inc. Report to VMWare (VMW) - Get VMware, Inc. Report , but could also create buying opportunities.
Salesforce (CRM) - Get Salesforce Inc. Report and ServiceNow (NOW) - Get ServiceNow Inc. Report , he suggested, are attractive names that are "not expensive," and Lamba also noted that Apple's price "does not reflect [the] true value of its large and loyal customer base."
All three stocks were down more than 1.2% in early trading on Wednesday. 
One of the President-elect's policies could help the tech sector, however. Trump has said he would allow companies with offshore cash to repatriate funds at a one-time discounted tax rate of 10%.
"Given  the  Republican control, there is a possibility of some tax relief to incent companies to bring foreign  cash  back  to  the  U.S.,  offering  an  opportunity  for  them  to  invest, buy back stock and acquire assets," Lamba wrote. "We expect the pace of M&A to accelerate and more buybacks in case there is a broader meltdown impacting stocks in our coverage and management teams are able to access cash in foreign locations."
Of corporate America's projected $1.3 trillion in offshore cash at year end, according to an estimate by Moody's, Apple, Microsoft (MSFT) - Get Microsoft Corporation Report , Alphabet (GOOGL) - Get Alphabet Inc. Report , Cisco (CSCO) - Get Cisco Systems Inc. Report and Oracle (ORCL) - Get Oracle Corporation Report will collectively hold more than $500 billion.
Apple, Alphabet and Cisco are holdings in Jim Cramer's Action Alerts PLUS Charitable Trust Portfolio. Want to be alerted before Cramer buys or sells AAPL, GOOGL or CSCO? Learn more now.
Trump is also against net neutrality, which is negative for tech companies that depend on the free flow of vast amounts of data across the Internet, such as Netflix (NFLX) - Get Netflix Inc. Report and Google.
While the sector is eager for looser visa rules for tech savvy foreign workers who could take unfilled positions, Trump has proposed policies that promote hiring U.S. workers.
Trump has also proposed reworking international trade deals and is opposed to the Trans-Pacific Partnership with Asian nations. Manufacturing of iPhones and other devices involves a complicated international production network that could face disruptions if trade agreements are torn up.
If the dollar tanks because of the uncertainty, Mizuho's Lamba suggested tech stocks could benefit. "Since companies in our coverage generate 25-50% of revenue outside of the U.S., any weakness in the U.S. dollar should help offset some of the macro impact," he wrote.