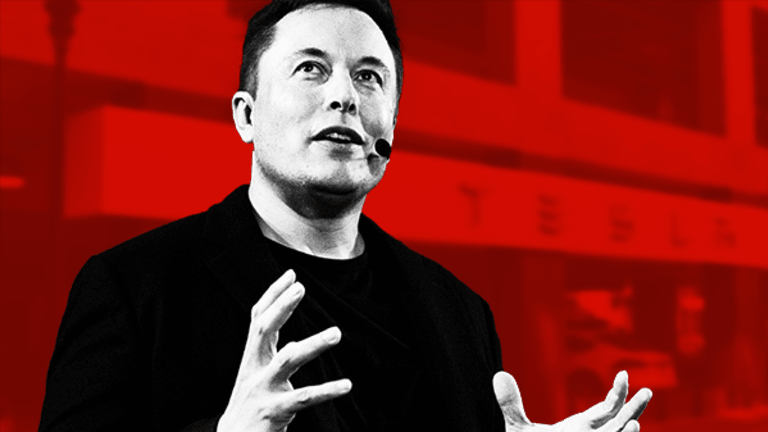 Here's What the Vicious Tesla Bears Are Missing
Tesla's biggest asset may be its employees who are driven by a mission to change the world.
Tesla (TSLA) - Get Free Report  bears and bulls are divided on whether the Model 3 vehicle will be a game changer for Elon Musk's electric car and solar company. 
But what the bears are missing is that the bulls aren't just looking at one car model from Tesla, they're focusing on the company's overarching mission to change the world by curtailing fossil fuel emissions. Tesla is hoping that it can make a dent in the demand for fossil fuel with its Model 3 because it will be the first reasonably priced electric car with a starting price of $35,000. A number of analysts are comparing its potential to Apple's (AAPL) - Get Free Report iPhone, which made smartphones go mainstream when it came out in 2007.
Apple is a holding in Jim Cramer's Action Alerts PLUS Charitable Trust Portfolio. Want to be alerted before Cramer buys or sells AAPL? Learn more now.
Last Friday, Loup Ventures founder Gene Munster attended Tesla's extravagant Model 3 launch event in Fremont, Calif. and said that he walked away struck by "the incredible power of a shared mission." 
While test riding the Model S, Munster had the chance to talk to a number of Tesla employees and chose to ask each of them the simple question, "What's on your mind?" Each employee instantly lit up as they explained their part in helping to launch the Model 3 and why they thought it could change the world, he said. 
Apple CEO Tim Cook Is No Steve Jobs, and That's Totally Fine
This potential to disrupt the auto industry is why some investors aren't concerned about bears' jeers about the company's lack of profitability, he said. "Investors I spoke to were not concerned about the central bear case on the Tesla story, that the company will never make money and run out of cash," he said. "Instead, they talked about the importance of EV, Tesla's head start in battery production, and Tesla's mission to accelerate the world's transition to sustainable energy."
Tesla has reported only one profitable quarter in the past ten quarters. After Wednesday's market close, Wall Street is expecting the electric car company to report a second-quarter adjusted loss of $1.88 per share, which is a wider loss than the adjusted loss of $1.06 per share the company reported in the same quarter last year.
Jeff Bezos' Amazon (AMZN) - Get Free Report is another company that was focused on the long-term results that would come with disrupting the retail industry. Last week, Amazon turned a profit for the ninth straight quarter after years of being criticized for spending money while staying in the red. 
Amazon has gone mainstream even though it went through years with no profits. Now Tesla is closer to going mainstream than ever before. On Friday, Musk announced that Tesla was up to 500,000 reservations for the Model 3, up from the 373,000 the company reported in the spring of 2016. To put that figure in perspective, it's already more than the total annual sales of any current entry-level luxury car, Bernstein analyst Toni Sacconaghi wrote in a note to investors on Monday. 
More of What's Trending on TheStreet:
While bears will point out that Tesla still has to be able to manufacture those 500,000 cars, Tesla said that its production has been "strong" since it fixed a battery issue in June. Musk himself admitted that the company is willing to enter "production hell" over the next six months in order to meet deadlines, something the company has struggled with in the past. 
While Munster's background as an analyst has taught him to evaluate companies based on unit forecasts, product road maps, competition, profitability, and management teams, he has had to shift his evaluation methods since becoming a venture capitalist. Now, he also considers culture and "the level of shared mission." Munster said that he went to the event just hoping to check out the new Model 3, but he instead met a group of Tesla stakeholders that were passionate about changing the world together. 
Munster noted that the event brought to mind the anecdote of President John F. Kennedy asking a custodian at the NASA space center "What are you doing?" The custodian famously replied, "I'm helping put a man on the moon." 
"Tesla has this same stealth advantage: a shared mission at a scale greater than I've seen in my 20 years in tech," Munster said. 
As Snap Shares Dip to an All-Time Low, Should It Consider Selling Itself?
Since Tesla was founded in 2003, Musk has been clear that the company's mission has always been bigger than a traditional car company's mission to make cars that turn a profit. During the company's 10-year anniversary in 2013, he reiterated the mission in a blog post: "Our goal when we created Tesla a decade ago was the same as it is today: to accelerate the advent of sustainable transport by bringing compelling mass market electric cars to market as soon as possible."
For 14 long years, Tesla critics could point out that the company still hadn't figured out a way to help electric cars go mainstream. But now that the first Model 3s have been delivered, maybe the bears should give Tesla a chance. Investors' ears will be perked up during the company's second-quarter earnings call for any hints about how many Model 3 cars the company expects to manufacture in the second half of 2017. 
In early July Tesla pre-announced deliveries of the Model S and Model X for the second quarter, which covered the April through June period. Tesla said it delivered just over 22,000 vehicles, including 10,000 of the family-style SUV Model X vehicles and 12,000 of the premium and highly customizable sedan Model S vehicles. Tesla delivered 25,051 vehicles in the first quarter, meaning it delivered a total of 47,051 in the first half of 2017. Previously, Tesla said it was expecting to deliver 47,000 to 50,000 vehicles in the first half of the year. After the first quarter results, it revised its estimate to "approximately 47,100."
Tesla shares rose 6% to $338.69 postmarket on Wednesday.
Watch More with TheStreet:
Looking for a Job? Amazon Wants to Hire You Today