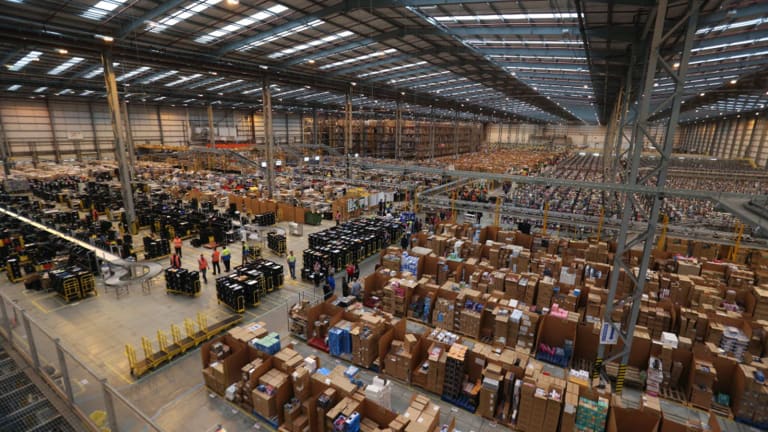 Here's What Prospective Amazon Employees Had to Say About Baltimore Jobs Day
Potential job seekers line up in droves for on-the-spot interviews and offers.
Amazon.com Inc. (AMZN) - Get Amazon.com, Inc. Report went on its largest hiring spree ever, offering jobs to an estimated 1,200 people in Baltimore and another 48,800 at facilities around the country. 
From 8 am to noon ET, the electronic commerce and cloud-computing company offered tours, conducted interviews and hired staff as a part of its effort to hire 100,000 people in the U.S. by 2018.
Amazon guaranteed 30% higher wages than standard retail pay for all of Wednesday's on-the-spot hires, differentiating it from past hires who were paid based on skill level. The new employees also were offered prepaid tuition, health benefits, and 20 weeks of paid maternity and paternity leave.
More of What's Trending on TheStreet:
"A big part of the push for more workers today is to enhance the way we pick, pack and ship customer orders on time," said Baltimore Fulfillment Center spokeswoman Lauryn Lynch. She said the employees will complement "the Amazon robotic technology and vision systems at our fulfillment center." 
New Yorker Joseph Lespier wanted to check on what the hiring spree might do to his Amazon holdings.
"I love Amazon, especially as a stockholder. I check on my investment daily. It makes me proud to see so many people seeking jobs, especially in this tough economy," Lespier said. "I feel more confident that after today's job fair, Amazon can now give Walmart (WMT) - Get Walmart Inc. Report a run for its money over the next year."
Nicole Palmer of Hanover, Pennsylvania, drove 90 minutes from her home to Baltimore to land a job.
Amazon the Next RadioShack?
"Pennsylvania is a great place to work but Maryland has a better minimum wage. I made the commute between both states for nine years before going back to school. It's worth it," Palmer said.
"I would like to get hired and work my way up to operations manager or products manager," Palmer said. "My application salary calculator estimated that I could earn up to $55,000 per year."
The staff increase's effect on Amazon profits is not yet known, but some speculation has focused on the idea that Jeff Bezos, Amazon's chief employee who briefly topped the list of the world's wealthiest last week, might be hoping to boost the company's public perception and increase retail market share.
Amazon shares fell 0.1% to $985.63 early Friday afternoon.
This article was written by Katanga Johnson, a guest contributor. Johnson writes about the impact of policy in the lives of people across the U.S. He is pursuing a Masters of Science in Journalism from Medill at Northwestern University and hails from the Islands of The Bahamas.
Watch More with TheStreet:
5 Ways Companies Are Using AI to Secretly Change Your Life
Around the World in 5 Insane Pizza Hut Pizzas
Tesla's Elon Musk Is All Jokes as the Model 3 Accelerates into "Production Hell"