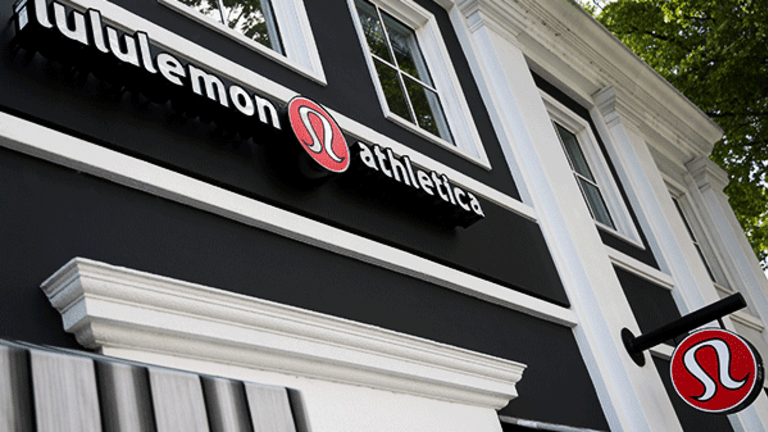 Here's What May Have Just Sent Lululemon's Stock Up: Board Member Glenn Murphy Bought a Ton of Stock
Glenn Murphy, who joined the Lululemon board in April, is a seasoned retail executive.
Now here's a wager.
The former CEO of Gap, Inc. (GPS) - Get Report and newly appointed co-chairman of the board at Lululemon Inc. (LULU) - Get Report , Glenn Murphy, has bought 100,000 of the athleisure-maker's stock in two separate transactions on Monday, June 26, and Tuesday, June 27, according to a filling of the Securities and Exchange Commission on Wednesday. 
Could that move have sent Lululemon's stock upward?
The stock was up 6.9% to $58.82 on Thursday morning. On Aug. 19, 2016, the stock had a high of $80.65.
The rise in the stock on Wednesday fueled speculation on a long-simmering rumor that the struggling yoga wear company may be on the block to go private, at a price of $70 per share, according to analyst Joshua Rodriguez of CNA Finance. Rodriguez told TheStreet Wednesday that he'd heard speculation that the sale price could go at high as $80 a share, but reiterated that it couldn't be confirmed yet.
Murphy, who could not be reached for comment on Wednesday, is the founder and CEO FIS Holdings, was the CEO and chairman of Gap for seven years and CEO of Shoppers Mart Drug Corporation.
In the last year, the company has dealt with a slowdown in customer interest and change in fashion trends, both of which have impacted sales. And it has also closed stores, like many mall-based retailers. The company plans to shut down approximately 40 of its 55 ivivva stores geared to girls by Aug. 20 and convert about half of the remaining locations to lululemon stores this year. All affected employees will work until Sept. 1 and, if possible, be placed in other jobs within the company. Lululemon said that because the ivivva stores have been operating at a slight loss, it made the decision to close the bulk of them, while eight will remain in key communities and seven stores will be converted into Lululemon stores, where sales have been stronger.
But the company has rebounded. In the last quarter, Lululemon reported earnings of 32 cents a share on revenue of $520.31 million. Analysts polled by FactSect were projecting earnings of 28 cents a share on revenue of $514 million.
It has also spent heavily to upgrade its digital operations, which Barclays expects to grow after a bigger platform release this year, and has been introducing and selling one new product well -- a $68 bra.
Visit here for the latest business headlines.
Read More Trending Articles
Walgreens and Rite-Aid Just Laughed in the Face of Regulators, Strike One Clever New Deal
Here's Why Amazon Could Feast on the Remaining Carcass of Rite Aid After Failed Walgreens Merger
Walgreens Punches One of Its Biggest Rivals in the Face With This Surprising New Deal