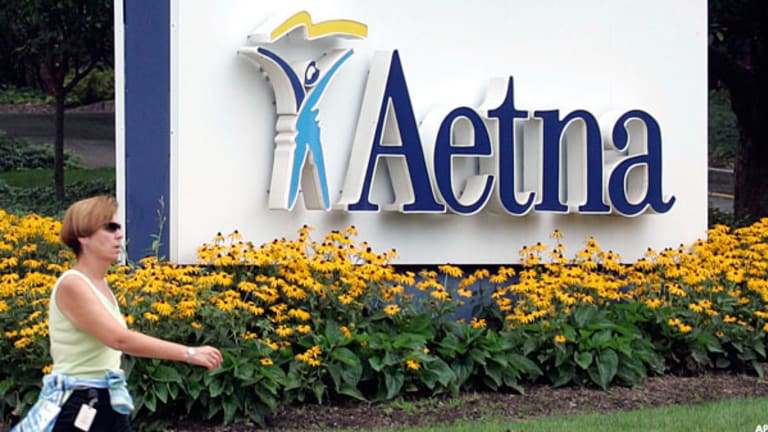 Here's What to Expect From Anthem, Cigna, Aetna, Humana Earnings
Analysts say to watch for 2017 guidance for signals on how insurers believe President Trump will handle the repeal of the Affordable Care Act.
As earnings season heats up, analysts say to watch the Big Five health insurers for guidance on how they will respond to impending changes to the Affordable Care Act ushered in by the Trump administration. 
President Donald Trump wants to repeal Obamacare, and has provided little guidance on how to replace it. How the future of the ACA plays out will likely factor into 2017 guidance.
"Most interestingly, you're going to see guidance for 2017 that would include the positive impacts of health insurance suspension," said Lance Wilkes, analyst at Sanford Bernstein, said in an interview Monday. He added that investors should watch for any signs of deterioration in the public exchange business of all insurers. 
UnitedHealth Group (UNH) - Get Free Report , the only mega-insurer not mired in antitrust lawsuits over acquisitions, already reported fourth-quarter earnings two weeks ago. On Jan. 17, UnitedHealth reported earnings of $2.11 per share for the fourth quarter of 2016, 4 cents more than street consensus estimates of $2.07 per share. The company's total revenue rose 9% to $47.52 billion, compared with consensus estimates of $47.26 billion.
Of note, the Congressional Budget Office released a report just days before UnitedHealth reported earnings that showed in the first year of Obamacare repeal, 18 million Americans could lose their coverage. Eventually, that number could balloon to 32 million. Those numbers, however, do not take into account whatever steps Republicans may take to replace Obamacare. The CBO also expects premiums to skyrocket between 20 and 25% higher than where they currently sit.
UnitedHealth shares closed Monday down nearly 1% at $162.09.
Up next will be Aetna (AET) , which reports Tuesday. Aetna attempted to buy Humana (HUM) - Get Free Report , but was blocked just this month for anti-trust reasons by the federal government. The analyst consensus for Aetna is $1.45 per share for the fourth quarter. 
The decision to block the company's proposed $37 billion acquisition of Humana will likely be discussed during Tuesday's earnings call. A federal district judge upheld the FTC's call to enjoin the merger but the company hasn't said whether it will appeal. Discussions of further plans for M&A will likely also be on tap. 
Meanwhile, Humana is expected to report on Feb. 8. The company is expected to earn $2.06 per share. Aetna closed down nearly 1% at $116.17 while Humana ended the day down 1.2% at $199.26.
Investors will await news of Anthem'sundefined acquisition of Cigna (CI) - Get Free Report  in light of the lawsuit to block the Aetna and Humana merger. Anthem previously agreed to pay $48.4 billion for its peer. The trial in the FTC challenge has wrapped up but the judge's ruling has not been issued.
Anthem is expected to report on Feb. 1. The Street expects Anthem earnings per share of $1.59. According to Wilkes, analysts should be watching for weakness in the Medicaid results. Still, Wilkes has an outperform rating on the stock. 
Anthem stock closed up a fraction at $154.18 while Cigna stock closed down 1% to $145.70.
Meanwhile, Cigna reports on Feb. 2. The company is expected to earn $1.74 per share.