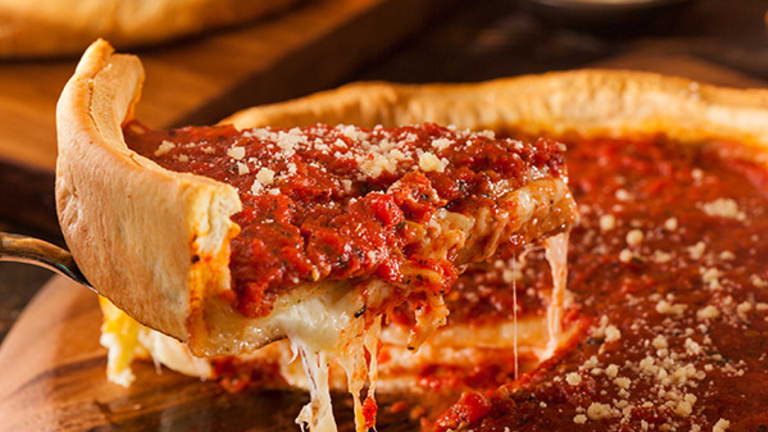 Here's What America's Pizza Kings Are Doing On the Insane Day That Is Super Bowl Sunday
All three --Domino's, Pizza Hut, Papa John's-- are leaving it all on the field, so to speak.
A Super Bowl party isn't a true bash without pizza boxes strewn across the kitchen and living room. 
The big game is the most hectic day of the year for pizza giants Domino's Pizza (DPZ) - Get Domino's Pizza, Inc. Report , Pizza Hut (owned by Yum! Brands (YUM) - Get Yum! Brands, Inc. Report ) and Papa John's (PZZA) - Get Papa John's International, Inc. Report . From pre-folding an absurd number of boxes to ensuring all of the staff is game on to monitoring social media, no detail is overlooked by store managers and senior leaders.
When we say it's a big day it's no exaggeration. Over 48 million households order takeout for the Super Bowl. And a large number of those orders are pizza: the number of pizza slices sold during the Super Bowl tends to spike 350%, according to data from Sports Interaction.
TheStreet runs through what each of the major players will be up to this Super Bowl Sunday.
Domino's is all about the tech this Super Bowl
Domino's Pizza
The digitally savvy Domino's is at it again, launching full ordering capabilities via Facebook Messenger on Feb. 5. Prior to the launch, a customer had to have a Domino's profile to place an order on Facebook Messenger. Now, anyone has the privilege.
Domino's anticipates it will sell more than 12 million slices of pizza nationwide this Super Bowl, almost five times a typical Sunday. It also expects to unload 4 million chicken wings on people across the country.  
Just don't expect Domino's to launch any surprising new foods on Super Bowl Sunday. Domino's CEO Patrick Doyle toldTheStreet recently the company remains focused on keeping its menu simple so its orders could be delivered to people super fast.
Pizza Hut's president will spend the Super Bowl making pizza
Pizza Hut
The home of the stuffed crust pizza wins this Super Bowl's goodwill award. New Pizza Hut president Artie Starrs created a contest centered around customer service whereby he would give his Super Bowl tickets to an exceptional worker from the field. In turn, Starrs would spend the day working in that person's Pizza Hut. 
In December, Starrs chose an area coach named Vickie Weaver to attend the Super Bowl with her husband. The seven restaurants that Weaver oversees excelled in the second half of 2016 in speed, friendliness and product quality, said Starrs in an interview with TheStreet.
Starrs, who constantly visits Pizza Hut restaurants across the country, will now go to work in Weaver's Pizza Hut in Alabama. "I am an OK pizza maker, but will also do some prep [work] and certainly be folding boxes," Starrs explained, adding that he will do whatever the store's team asks him to do. 
Papa John's
The official pizza sponsor of the NFL will spend the Super Bowl trying to sell even more pizzas. 
Papa John's is fresh off launching its new ad campaign called "Pizza Family", focusing on a fresh tagline "We're more than a pizza company, we're a Pizza Family." The spot features actual store employees for the first time, a new pizza box and a redesigned logo. And of course, Papa John's founder John Schnatter -- the long-time TV face of the company -- will be in the ad. 
"It's an absolutely insane day," Steve Ritchie, President and COO of Papa John's told TheStreet in an interview. Ritchie says that since Papa John's became an NFL sponsor back in 2010, each Super Bowl has become even bigger in terms of sales. Despite the NFL's sluggish TV ratings this year, Ritchie remains optimistic the Papa John's brand will be seen a fair amount during the Super Bowl. 
"Clearly, we would have liked the [Dallas] Cowboys to go all the way, but you have two teams that have very popular demographics and it will be an exciting game -- we expect the ratings will be really strong," Ritchie said.
Ritchie also confirmed that Schnatter will be at the game. Remember, it was one year ago that Schnatter lit up social media for running onto the field to kiss Denver Broncos QB (and Papa John's franchisee and spokesman) Peyton Manning for winning the Super Bowl. Somehow it wouldn't seem right if Schnatter tries to kiss New England Patriots QB Tom Brady if he wins -- the guy is a health freak, and unlikely goes anywhere near pizza.