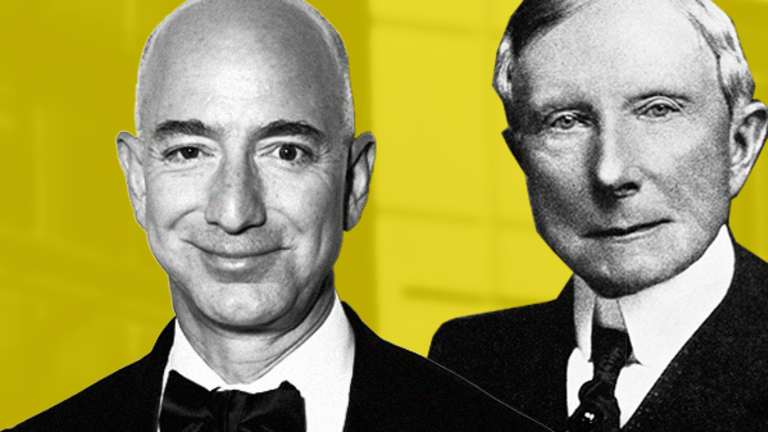 This Is What Amazon Billionaire Jeff Bezos Must Learn About Philanthropy From John D. Rockefeller
On his way to becoming the world's richest man and a disciplined philanthropist, Jeff Bezos need look no further than John D. Rockefeller Sr.
On his way to becoming the world's richest man and a disciplined philanthropist, Jeff Bezos, the founder of Amazon (AMZN) - Get Amazon.com, Inc. Report  , need look no further than the world's richest man of another era, John D. Rockefeller Sr.
Rockefeller began giving away his money when his eventual mega-richness was far from certain.
In the mid 1800's when earning $25 a month as a cashier and bookkeeper for the small produce commission firm Hewitt & Tuttle in Cleveland, Rockefeller squeezed out enough to donate to a German Sunday school and Catholic orphanage. Rockefeller himself was a strident Baptist who didn't drink or smoke and believed from childhood that he was "divinely sanctioned to earn as much as he could, as long as his gifts equaled his acquisitions," wrote Richard Norton Smith in On His Own Terms: A Life of Nelson Rockefeller, about Nelson's grandfather JDF Sr., or Senior, as he was known in the family.
Amazon Is Attracting Sizable Enemies and Its Stock Should Be Avoided, Doug Kass Reveals
Senior was indeed a controversial character for whom the term "robber baron" comes to mind in equal measure as "philanthropist." Biographer Ron Chernow, who wrote Titan about John D. Rockefeller, Sr., noted that thoughts about Rockefeller in the public mind are ambivalent, on one side the questioning his tendency "to run roughshod" over competitors, on the other applauding his willingness to spread the wealth, including doling out dimes to children he met in passing.
When Senior died in 1937, his charity centered on the wheel of the Rockefeller Foundation, which funds health, education and initiatives worldwide, with spokes leading in various directions. His grandsons, the five sons of John D. Rockefeller, Jr., started in 1940 the Rockefeller Brothers Fund, a grant-giving private foundation that addresses democratic process, peace-building, sustainable development, both in the U.S. and abroad. 
Senior's heirs carry on the family's largesse to this day. 
The Rockefellers have donated vast swaths of land that formed the national parks—the Great Smoky Mountains in Tennessee and North Carolina, Grand Tetons in Wyoming, Shenandoah in Virginia, Acadia in Maine and St. John's in the U.S. Virgin Islands—and the restoration of Williamsburg, Virginia, to establish Colonial Williamsburg. Among the educational institutions that benefited from Rockefeller money are Johns Hopkins University in Baltimore, the University of Chicago in Chicago and Spelman College in Atlanta. Medical schools and organizations throughout the world have reaped rewards from the family's funds.
The family has been deeply committed to the arts as well. Were it not for the Rockefellers, New York would not have the Museum of Modern Art. John D. Rockefeller Jr.'s wife, Abby, started it in 1929 with two other women by donating their own art collections.
Public service has also been a large part of the Rockefeller DNA. Among Senior's grandchildren, Nelson, who strived to become U.S. president, was governor or New York and later the U.S. vice president under Gerald Ford, and Winthrop, governor of Arkansas. Their nephew, John D. Rockefeller IV, who goes by Jay, was a long-serving U.S. Senator from West Virginia after being the state's governor. Jay came to West Virginia as a Vista volunteer in the 1960's.
All of this is to say, Jeff Bezos, you have very big shoes to fill, and with your vast wealth and intent, you have very big chances to do good.
Best Buy Has No Reason to Exist in the Age of Amazon, This Analyst Explains
We saw your tweet in June asking followers to suggest where and how to give. In it, you tweeted that you were interested projects that benefit the "right now," rather than focusing on the long term.
John D. Rockefeller Sr. did that, too, when he gave to religious charities in Cleveland in the 1800's. So, Jeff Bezos, use your contributions to Mary's Place in Seattle, a homeless shelter for women and children, as your own jumping-off point and study the Rockefellers through the years. You will find a lot of answers there.
More of What's Trending on TheStreet:
This Why President Trump Can Now Blame Apple for Atlantic's Reporting