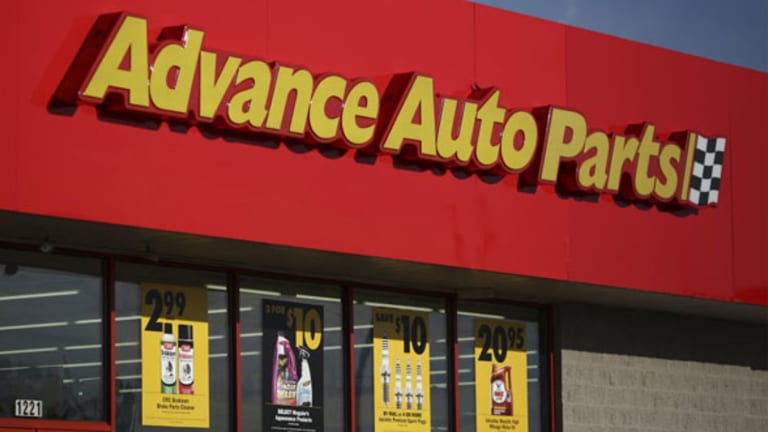 Here's How Walmart Could Hurt Amazon - Buy a 5,000-Store Auto Parts Retailer
Advance Auto Parts is ripe for the picking, and it would give Walmart an even bigger physical presence in a new arena.
Advance Auto Parts is ripe for the picking, and it would give Walmart an even bigger physical presence in a new arena.
Hey, Walmart (WMT) - Get Report , want to shake up a sector just as Amazon (AMZN) - Get Report did recently when it announced its bid for Whole Foods Market Inc. (WFM) ?
Then make a bold move that will enhance your reach, pump up your brand and widen your footprint with a fresh group of shoppers.
So here's a disruptive move. Consider buying auto parts retailer Advance Auto Parts (AAP) - Get Report , the weakest of the big three in the sector, which has 5,000-plus locations in the U.S. The other two players are O'Reilly Automotive, Inc. (ORLY) - Get Report , the fastest-growing of the three, and AutoZone, Inc. (AZO) - Get Report .
"In this sector, companies can exercise considerable pricing pressure over their vendors, which is what Walmart does well. If you have a competence in distribution like Walmart, it can be very successful," Brian Sponheimer, research analyst at Gabelli & Company told TheStreet in an interview.
"The automotive after-market [which sells vehicle parts, chemicals, equipment, and accessories after the owner buys the vehicle] is unique, and delivery is much more important than in other areas. People need their cars, so parts delivery has to not only be the same day, but within a matter of hours, and it requires bricks-and-mortar stores and distribution networks like Walmart."
Analyst John Birk of Morningstar told TheStreet, "I think it [the acquisition of Advance Auto Parts] makes sense first to continue to drive as much volume as they [Walmart] can through their system. They are trying to garner traffic and bring more to Jet.com. The auto parts [buy] would make sense."
Hot Shot Money Manager David Tepper Wants You to Keep Buying Stocks
Advance, which sells to both professionals and do-it-yourself mechanics, according to its website, has more than 5,200 stores, over 100 Worldpac branches and serves some 1,300 independently owned CARQUEST branded stores in the United States, Puerto Rico, the U.S. Virgin Islands and Canada. The company bought CARQUEST in 2014 for $2 billion, and noted Sponheimer, it has been tough meshing two entities that have different cultures and customer bases.
Wedbush analyst Seth Basham told TheStreet that such a purchase by Walmart has a "low probability," but noted that the mega-retailer has recently exhibited an appetite for the "hard parts" customer. It has beefed up its online offerings of vehicle-related merchandise by selling hard parts, essentially parts made of steel that go under the hood.
Walmart spokesman Lorenzo Lopez told TheStreet in an email, "We often get asked to speculate about possible acquisitions, and we simply don't comment on those kinds of questions."
Advance Auto Parts declined to respond to requests for comment.
Okay, Walmart, if you don't want more of those customers, maybe Amazon will.
More of What's Trending on TheStreet:
The Once Hot Trend of Wearing Yoga Pants All Day Has Died