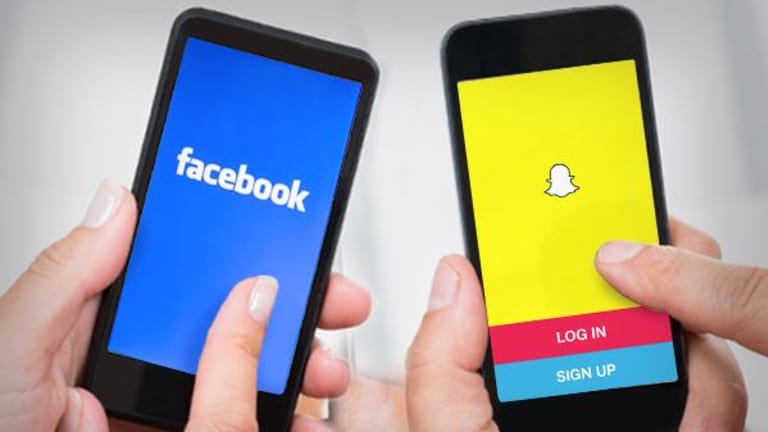 Here's the State of the Facebook and Snapchat Rivalry
Facebook has more users than Snapchat, but the disappearing message app may have a secret weapon.
Facebook (FB) - Get Meta Platforms Inc. Class A Report is still moving full speed ahead in its plans to crush Snap (SNAP) - Get Snap, Inc. Class A Report , the young social media company that remains Facebook's foremost opponent. 
The social networking giant gave some updated user figures as part of its fiscal first-quarter results reported late Wednesday, saying Facebook now has 1.94 billion monthly active users, while Instagram reached 700 million MAUs. Instagram Stories, recognized by many as a clone of Snapchat Stories, now counts 200 million daily active users. And WhatsApp Status, which also has Snapchat-like features, has more than 175 million DAUs. 
By comparison, Snap said prior to its initial public offering in March that it had 161 million DAUs at the end of 2016. Facebook's strong DAU/MAU growth didn't seem to make Snap investors nervous, however. 
Shares of Snap climbed 3.5% to a close of $22.59 on Thursday afternoon, while Facebook stock fell about 0.85% to $150.85. Both were trading up slightly in premarket trading Friday.
CFRA Research analyst Scott Kessler said Facebook's stronger-than-expected results may have given investors more enthusiasm about how Snap will perform when it issues fiscal first quarter results on May 10 -- its inaugural financial report since going public earlier this year. 
Wall Street will be closely watching the event as it's likely to provide a clearer picture into the status of Facebook and Snapchat's ongoing competition. The rivalry is something that both companies have seemingly avoided in public statements (aside from some not-solow keyshade), but Facebook CEO Mark Zuckerberg subtly touched upon it during the company's earnings call yesterday. 
When an analyst asked about Facebook's efforts to make itself more focused on camera-based communication, Zuckerberg said he thinks Facebook is doing something different than "any other app that has a camera has done before." It's unclear if he was referring to Snap, who calls itself a camera company, but he did acknowledge that Facebook was somewhat late to the game in this aspect.
"I think we're a little bit late to the trend initially around making cameras the center of how sharing works," Zuckerberg told investors on the call. "But I do think at this point, we're pretty much ahead in terms of the technology we're building...and I would expect us to continue leading the way forward on this from this point on." 
Zuckerberg's comment around camera innovation seems to signal that Facebook is firing on all cylinders to keep people from leaving its apps, which is something that analysts have continually pointed out as a major threat. 
"Despite rapid user growth, many of Facebook's customers may also belong to other social networks, such as Snapchat, so the firm will continually have to fight to capture a user's time and engagement with Facebook's properties," said Morningstar analyst Ali Mogharabi in a note to clients on Thursday. 
Mogharabi also pointed out that Facebook is a "one trick pony," as more than 90% of its revenue comes from advertising, and could feel a real impact if advertisers shift their spending to platforms like Snap or Alphabet's (GOOGL) - Get Alphabet Inc. Class A Report Google.
Jim Cramer and the AAP Team explain how to turn Alphabet/Google and Facebook pullbacks into buying opportunities. Get a free trial subscription to Action Alerts PLUS.
Don't miss these top stories on TheStreet:
Tesla Didn't Earn Any Money in the First Quarter, but Here Are 8 Awesome Things We Just Discovered
And Snapchat does have one area that it can use as ammunition for bringing more advertisers to its platform. Snapchat has built a uniquely loyal audience: About 35% of Snapchat users don't use Facebook "on any given day," while 46% of them aren't using Instagram, according to app analytics firm App Annie. Advertisers could soon take notice of that and decide that the disappearing message app is less of an experimental advertising platform, but rather a site that's worth shelling out the big bucks on. 
"Video and interactivity is a big component of [Snapchat's advertising] offering," Kessler said. "It's more likely to result in notable and greater engagement, but the question is whether they will hold onto that and pursue more mass market users. I think what Facebook has been doing definitely makes the latter proposition more challenging." 
Kessler was referring to the fact that Snapchat has been trying to attract older users amid concerns that it has already saturated the 18- to 24-year-old demographic and may not continue to see meaningful user growth as a result. 
"While you clearly have a growing market with users and engagement and advertising, it's unclear to me whether Facebook is negatively impacting Snapchat's future success," Kessler added. 
The story seems much clearer for Facebook, who despite facing newer, younger social media upstarts, still managed to see its revenue increase 49% year-over-year, making it that much harder for companies like Snap to catch up, Kessler explained. It certainly speaks to how embedded Facebook has become in people's everyday lives. Mogharabi noted that leaving Facebook would "create some friction for users," such as the loss of posts, pictures, video clips, contact information, their "nearly one hour per day interaction with other users" and more.
The social media company has committed to investing in new products and technologies that will support revenue and profit growth "for many years to come," said Wedbush analyst Michael Pachter. Instagram, perhaps one of its smartest investments, is poised to drive at least 15-20% of its revenue growth over the next three years, Pachter added. Very few Instagram users are likely to abandon the service in favor of just Snapchat, he said.
"We think Facebook's emulation of Snapchat will be repeated over and over again, and while we expect Snapchat's audience to remain loyal to the service, we don't expect much erosion of Facebook's Instagram user base," Pachter noted.
Don't miss these top stories on TheStreet:
Tesla Didn't Earn Any Money in the First Quarter, but Here Are 8 Awesome Things We Just Discovered