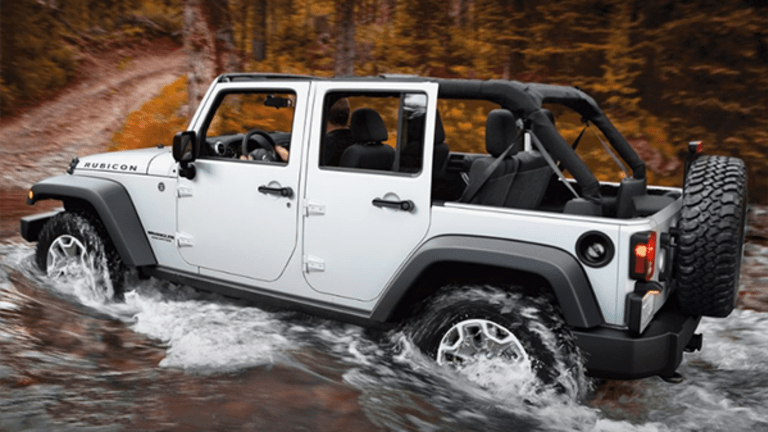 Publish date:
Here's the Shocking Amount Fiat Chrysler Could Fetch in a Deal With the Chinese
Fiat Chrysler takeover speculation is growing.
Fiat Chrysler takeover speculation is growing.
Fiat Chrysler (FCAU) - Get Fiat Chrysler Automobiles N.V. Report shares were up Monday morning, after another Chinese carmaker confirmed its interest in buying the company.
China's Great Wall Motor told Reuters Monday that it had interest in acquiring the company. "With respect to this case, we currently have an intention to acquire. We are interested in (FCA)," the company official in Great Wall's press relations department, who declined to give his name, told Reuters over phone.
Fiat shares were up 2.90% Monday at 11:43 am in Italy, changing hands at €11.01 extending a gain of more than 12% over the past five days since speculation of a buyer came to light.
Fiat Chrysler's U.S. listing was up 4.5% in morning trading Monday to $13.14. Shares closed at $12.57 Friday, after gaining 0.72%.
In a separate report Monday, Automotive News said the Chinese carmaker had expressed interest in buying the Jeep brand and has contacted Fiat to see whether a deal could be negotiated. Fiat also has the Fiat, Chrysler, Dodge and Ram brands.
Fiat on Monday issued a statement that it had not been approached by Great Wall about the Jeep brand. "Fiat confirmed that it has not been approached by Great Wall Motors in connection with the Jeep brand or any other matter relating to the business," the carmaker said.
Takeover speculation reach all-time highs last week after a report claimed the company had received and rejected at least one offer from a Chinese automaker sending shares to highs but Dongfeng Motor Group DNFGF and Geely Automobile Holdings GELYF -- Zhejiang Geely's Hong Kong-listed unit - said there were not interested in the car maker.
Fiat has effectively been up for sale for at least the last two years. CEO Sergio Marchionne, who sees Fiat-Chrysler as lacking scale, has frequently been cited as a key driver behind the company's push to sell itself. Marchionne tried previously to have the company merge with General Motors GM, but he and Fiat were rebuffed by their larger rival.
Even after that M&A kicker Fiat Chrysler looks cheap by most measures. Its core equity valuation weighs in at about 3 times its forecast Ebit of about €8 billion for this year, according to number crunched by Goldman Sachs.
Ford's New CEO Says While the Future Is Now, He Won't Forget Classic Cars
That leaves the Italian car maker's EV/EBIT below Renault SA (RNSDF) , France's biggest car maker, which trades at a 2017 EV/Ebit of 3.5 times and in line with Daimler AG (DDAIF) , Germany's No.2 carmaker. The only European carmaker with a lower EV/Eebit is Volkswagen AG (VLKAF) which trades at 1.8 times 2017 EBIT.
The valuation looks even cheaper next to the large U.S. manufacturers. General Motors Co. (GM) - Get General Motors Company (GM) Report and Ford Motor Co. (F) - Get Ford Motor Company Report trade at 2017 EV/Eebit ratios of about 7.3 times and 6.9 times, respectively.
On a price to earnings, or P/E, basis Fiat is worth about 4.6 times its estimated 2017 earnings. That is below VW's 5.0 times earnings and Daimler's 6.7 times earnings, and well shy of the European automotive sector average of closer to 11 times earnings. GM and Ford trade at P/E's of 5.9 and 6.1 based on current year estimates.
Chinese auto makers, meanwhile, trade at an average P/E of about 10.7 times forecast 2017 earnings.
Fiat's relatively low valuation hasn't gone unnoticed, and not just by the Chinese.
Italy's Mediobanca SpA earlier this week noted that the shares were lagging rivals by most measures and tipped that the M&A buzz surrounding the company would spark a re-rating.
Goldman Sachs has a 12-month price target of €19.20 on Fiat, suggesting that despite this week's gains the company could still add 80% over the next year. Goldman is forecasting Fiat's EBIT will grow at an annual compound rate of 25% out to 2018.
Morgan Stanley this week revisited a report first published in January, in which it claimed that there was "substantial hidden value" in several of Fiat's brands that could be unlocked by spin-offs or sales to rival car makers. The bank's analysts suggested that Fiat's Jeep sports utility unit could be worth €14.70 a share as a stand-alone division, making it more valuable than its parent. Fiat's Ram brand pickup trucks might be worth €6.10 a share, noted the analysts led by Adam Jonas.
More of What's Trending on TheStreet:
Why the World Isn't Ending: Market Recon
Today's Solar Eclipse Could Cost Companies a Mind-Blowing $694 Million