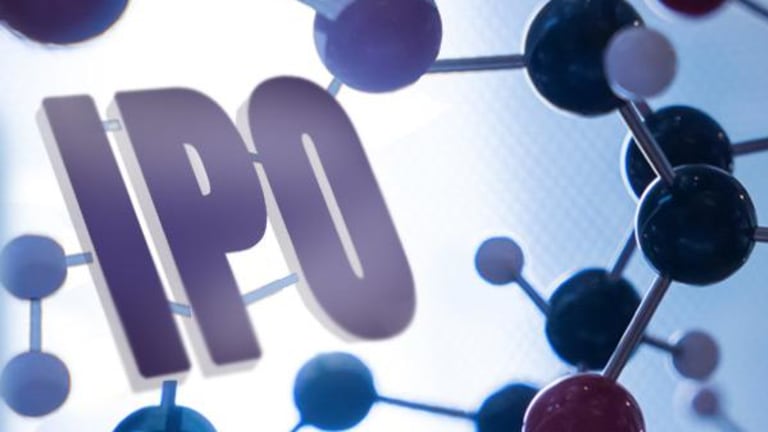 Here's the Latest on Four New Biotech IPOs
Four biotech companies recently joined the Nasdaq.
Four biotech companies recently joined the Nasdaq.
Biotech is leaving big tech in the dust.
The iShares Nasdaq Biotechnology ETF (IBB) - Get Report  hit almost 10% over the past month following an announcement from the New York Times that the Trump administration plans to ease regulatory red tape within the drug industry rather than lower drug prices.
And given the proliferation of IPO launches, it appears that biotech and pharmaceutical companies have caught whiff of the news.
The last four days of June launched IPOs for two micro-caps and two small-caps. Give a warm welcome to Avenue Therapeutics Inc. (ATXI) - Get Report , Mersana Therapeutics Inc. (MRSN) - Get Report , Dova Pharmaceuticals, Inc. (DOVA) - Get Report and Aileron Therapeutics Inc (ALRN) - Get Report .
Manhattan-based Avenue hit markets on June 27 at $6 per share, setting its market cap at $53 million. Avenue completed their initial public offering on June 30, trading at $7.97 during early afternoon on Monday, July 3.
Avenue's pipeline includes IV Tramadol, a synthesized opioid geared towards pain management, specifically with postoperative pain. Phase 3 trials for Tramadol begin in the third quarter of 2017, studying the effects patients undergoing bunionectomies will experience. Fortress Biotech (FBIO) - Get Report is the parent company of Avenue.
Mersana joined the index on June 28 at $15 a share, easing into a $380 million market cap. Mersana dropped since its launch, trading at $13.48 per share during early afternoon trading Monday.
Cambridge-based Mersana develops technologies enabling the company to design antibody drug conjugates, or ADCs. Their leading platform, Dolaflexin, is designed to increase the efficacy of ADCs and has various routes to target different forms of cancer. 
Dova launched on Thursday, June 29, at $17 per share, raking in about $75.1 million following their launch and establishing a $447 million valuation. The stock traded Monday at $23.12 a share.
Durham-based Dova is a clinical-stage pharma company dedicated to acquiring, developing, and commercializing drug candidates for rare diseases. The company recently completed two Phase 3 clinical trials for Avatrombopag, a drug aiming to treat thrombocytopenia, a deficiency of platelets in the blood.
Aileron's initial public offering also initiated on June 29 with 3.75 million shares offered at $15.00 each. Trading at $12.49 Monday, the total return since its offering is -16.7%. 
The Cambridge-based company focuses on stapled peptides, a novel class of therapeutics that enhances the pharmacologic performance of peptides. In 2013, Aileron became the first company to complete the first stapled peptide clinical trial and is continuing to concentrate on natural defense mechanisms within the human body to fight cancer.