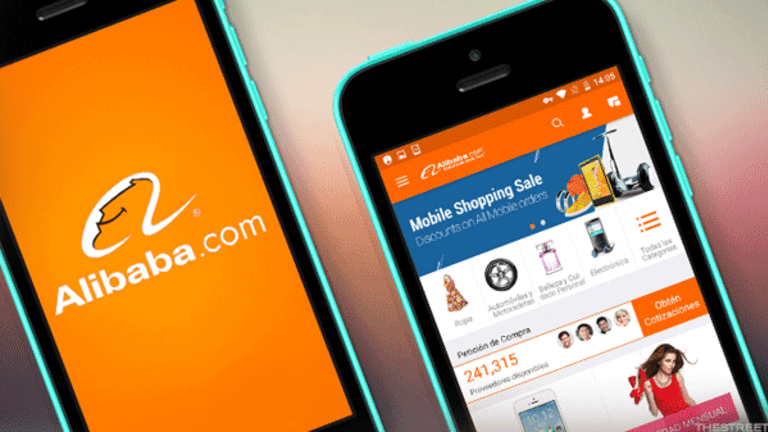 Here's the Biggest Surprise From Alibaba's Q1 Report
This number isn't often highlighted from Alibaba's report, but it should be.
Alibaba (BABA)  had a blowout quarter with overall revenue rising 56% year-over-year to $7.4 billion.
But the biggest surprise was the customer management revenue (or online marketing services revenue), according to Mitchell Kim, head of Asia Internet and telecom equity research at Maybank Kim Eng. Customer management revenue grew 65% year-over-year to $3.9 billion. That's 52% of the company's total $7.4 billion revenue for the quarter. 
This figure is not often highlighted but is important because it's driven primarily by clicks, which reflects more mobile users as well as Alibaba's ability to deliver content that users want to click on and engage with. A higher customer management revenue number driven up by clicks is also enticing for merchants, which has led to higher average spending by an increasing number of merchants, the company said in the report. 
"At the core of our broader value proposition to merchants is the consumer insights gathered from providing e-commerce and entertainment services to consumers within our ecosystem, which enable our merchants to target, engage and manage their customer assets along the entire consumer journey," the company wrote in its report. 
Alibaba CFO Maggie Wu said on the earnings call that the impressive growth in the customer management revenue is a result of the value of the personalized content it can provide to customers. 
Alibaba's Taobao platform has increasingly become a socially-driven shopping platform in China. The website includes webisodes and live-streams of makeup and cooking tutorials, as well as product reviews. The longer users spend on Alibaba's e-commerce platforms due to content, the more money they spend, Wu said on the earnings call. Mobile MAUs hit 529 million in June, up from 507 million in March. 
Alibaba's stock closed up 2.93% to $163.92 on Thursday. Shares of the company are up an incredible 87% year-to-date. 
What does Alibaba actually do? Natalie Walters explains
More of What's Trending on TheStreet:
Dow's Five-Day Win Streak in Jeopardy as Heavyweights Cisco, Walmart Lag
Nothing Is Stopping Alibaba From the $500 Billion Mark
Gary Cohn's Exit From Team Trump Would Be a Major Blow to Wall Street
Alibaba Just Delivered on Promise to Become an Online Colossus, Jim Cramer Says