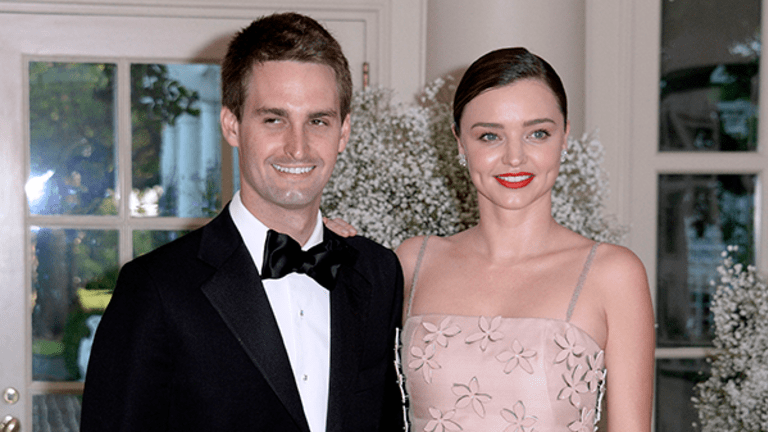 Here's One Positive That Came Out of Snap's Second-Quarter Earnings
Investors who are worried about Snap's coming lockup expiration might not be so nervous now.
Amid all the doom and gloom of Snap Inc.'s (SNAP) - Get Snap, Inc. Class A Report second-quarter earnings, there was one bright spot. 
CEO Evan Spiegel said on the company's earnings call late Thursday that neither he nor fellow co-founder Bobby Murphy will be selling any shares this year. It's an important point, as Snap's stock has come under growing pressure in recent months due to fears surrounding the expiration of its 150- and 180-day lockup periods.
Lockup periods are a standard part of the IPO process, with most ending after 180 days, although they can last from 90 days to more than a year. Once the lockup expires, company insiders who bought into the stock early (usually at a discount to the IPO price) are allowed to sell their shares. A lockup period exists to prevent a flood of shares from hitting the market right after an IPO, as well as to support the price of a stock, reducing volatility. 
More of What's Trending on TheStreet:
Fake Indie Beer: These 15 'Independent' Craft Brewers Have Deep-Pocketed Owners
"Given the amount of speculation around the lockup expiration, I feel it is important to note that Bobby and I will not sell any of our shares this year," Spiegel told investors on the call. "We believe deeply in the long-term success of Snap." 
Snap's 150-day lockup period expired on July 31, when as many as 400 million shares were eligible to be traded for the first time. The lockup expiration sent shares lower by 4.1% on Aug. 1, the first day of trading after the expiration. The first lock-up period includes stock owned by early investors and insiders, like Spiegel and Murphy, as well as venture capital firms like Lightspeed Ventures and Benchmark Capital. 
Another lockup expiration is looming on the horizon, though, as the 180-day lockup will end on Aug. 14. At that point, directors, executive officers and other employees will be able to sell their shares. Up to 782 million shares could become available, putting added pressure on the stock.
Some analysts were already expecting Spiegel to declare that he won't be selling any shares, but it should still serve as a vote of confidence. 
"I don't think he would really want to sell his shares at these prices at the current time because he'd basically be telegraphing -- after the large decline over the last few months -- that he thinks the stock is not undervalued," said FBN Securities analyst Shebly Seyrafi. "If he were to start selling, that would be a horrible signal to send to the marketplace." 

Watch More with TheStreet:
The comments are unlikely to keep any wary employees or early investors from selling their stock, but it at least safeguards a big chunk of shares from entering the marketplace. Murphy and Spiegel are the top two largest individual shareholders in the company, with 97 million shares (a 14.2% stake) and 91 million shares (a 13.3% stake), respectively. 
Facebook Inc. (FB) - Get Meta Platforms Inc. Class A Report CEO Mark Zuckerberg made a similar commitment a few months after the social media giant's IPO in 2012. At the time, it was welcome reassurance for Facebook investors, as the stock had undergone a bumpy ride on the public markets since its debut, not unlike Snap. 
Shares of Snap were tumbling 16.7%, to $11.47, in after-hours trading on Thursday.