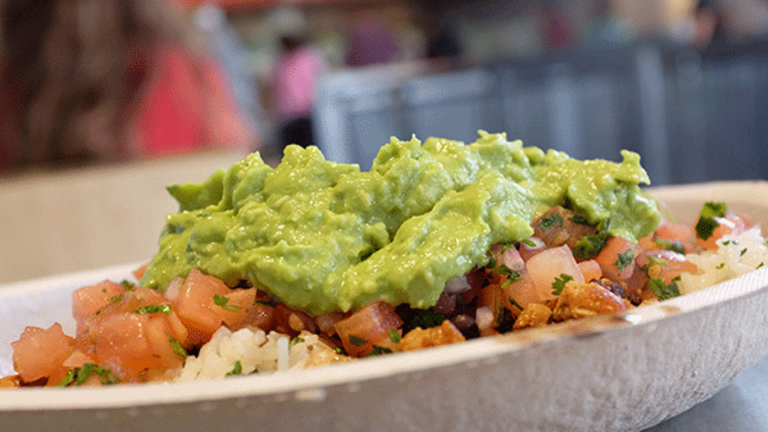 Chipotle Could Be Crushed by Trump's 20% Mexico Border Tax
The last thing Chipotle wants to see is this tax.
Editors' pick: Originally published Jan. 27.
Updated from 2:09 p.m. 
Chipotle (CMG) - Get Free Report could be an innocent casualty of the possible trade war between the Trump administration and Mexico. 
The 20% tax on imports from Mexico floated on Thursday by the Trump team to pay for a border wall would have a big impact on prices for a range of agricultural goods, chief among them being the avocados Chipotle uses in its trademark guacamole. About 93% of Hass avocados sold in the U.S. come from Mexico, according to the Hass Avocado Board. Just last week alone, the board estimated Mexico sent 53 million pounds of avocados to the U.S., significantly topping imports from other key growers such as the Dominican Republic and Chile.
Chipotle likely also would be walloped by an increase in the price of tomatoes as roughly 71% of tomatoes sold in the U.S. come from Mexico, according to the U.S. Department of Agriculture. 
Chipotle's guacamole operation is no joke. The company uses, on average, 97,000 pounds of avocados every day to make its guac  (which costs $1.95 for customers). That  adds up to 35.4 million pounds of avocados every year.  Chipotle estimated that every $10 per case price movement up or down in avocados will impact its earnings by a whopping 17 cents a share.
If Trump gets his way, Chipotle could be put in a rather tough spot. Either the company eats the cost of higher avocados and watches profit get whacked, or it passes along the higher prices to customers and watches them stop ordering guacamole (which will also hurt profit and the overall dining experience). It's indeed a lose-lose.
Unfortunately for the struggling Chipotle, even without Trump's Great Wall Tax, the next several months could prove rough when it comes to avocados. 
Avocado supply declined during the summer because of drought conditions in important growing regions like California, which sent prices higher. Chipotle said it paid an average of $30 per case for avocados during the the first half of 2016, but saw it skyrocket to $80 a case by late October. As a result, it expected food costs to remain elevated for the fourth quarter, with some relief beginning early this year.  
Adding insult to injury here is that Chipotle sells two of the most popular Mexican beers -- Corona and Modelo -- in its stores. Constellation (STZ) - Get Free Report , maker of Corona and Modelo beers, both brewed in Mexico, sold $3.44 billion worth of beer in the U.S. in 2016, according to the company's latest annual report. Should the beer maker be slapped with a 20% border tax, it would likely move fast to hike prices to customers such as Chipotle. And similar to avocados, Chipotle would probably be forced to raise prices on the beer it sells. Consumers may decide to trade down to cheaper soda or hell, even ask for free water with their dinner.
The minor good news for Chipotle is that the border tax with Mexico isn't a sure thing. White House press secretary, Sean Spicer, moved to temper Trump's remarks on Thursday, saying the plan was only "one idea" that may work to finance the wall.
Shares of Chipotle finished 0.5% lower at $416.60 on Friday's session.
And to think, Chipotle investors thought they only had to deal with continued poor sales and the involvement of activist investor Bill Ackman this year.
Cool Reads from Around the Web
Introducing the Dodge Demon: Basically, the Dodge Demon will be insane. Dodge, which is owned by Fiat Chrysler (FCAU) - Get Free Report  , said Thursday the Demon will be the first-ever factory production auto with street legal drag tires, TheStreetreported. The Demon -- and all its wonderful specs -- is scheduled to be unveiled at the New York International Auto Show in April. It likely will be the world's fastest production muscle car, topping Dodge's 707hp Hellcat. 
The Dodge Demon and its crazy wide tires
Adidas continues to impress: A great example as to why Adidas has become cool again are rumors of the sneaker maker working with noted designer Alexander Wang. The two have developed an all-white designer shoe made from mesh that boasts an upper made from a sock, reportedKicksonFire. Adidas has won major street cred (and has seen its sales catch fire) by collaborating with rapper and fashion mogul Kanye West, in case you have been out to lunch. 
Obama about to make it rain: So starts the speculation on President Obama's book deal. The newly departed prez's memoir could haul in more than $20 million, reportedThe Hollywood Reporter. By comparison, former presidents George W. Bush and Bill Clinton raked in $7 million and $15 million (the record for a president) for their memoirs, respectively.