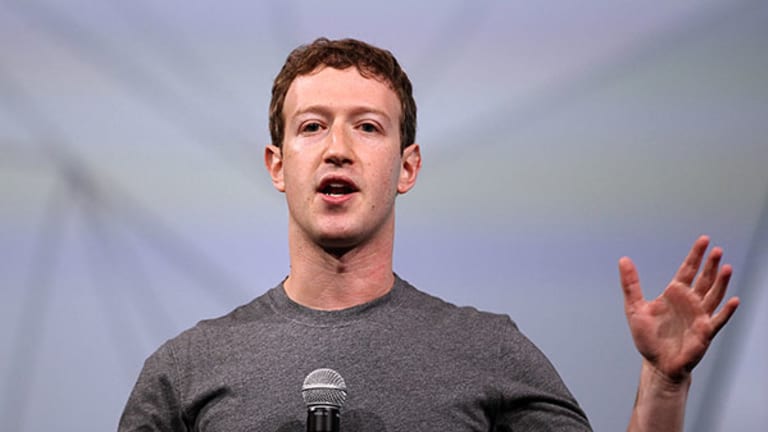 Here's What You Missed in Mark Zuckerberg's Harvard Commencement Speech
The Facebook CEO shared his thoughts on how millennials can find a purpose when 'we live in an unstable time.'
After dropping out from Harvard 12 years ago, Facebook (FB) CEO Mark Zuckerberg returned to his alma mater on Thursday to give the commencement address to Harvard's class of 2017. 
Zuckerberg began with some lighthearted anecdotes about his time at a student at Harvard, mentioning how Facebook's humble beginnings can be traced back to his dorm room at Harvard, where he coded and launched the original Facebook website, the facebook.com, before dropping out in his sophomore year to further his pursuits at the fledgling company. While riffing on the fact that he never graduated, Zuckerberg said that if he finished his commencement speech it'll be "the first time I finished anything [at Harvard]." As part of his commencement address, Zuckerberg finally got his degree from Harvard, albeit an honorary one. 
But the crux of Zuckerberg's speech was focused on one theme, which was the importance of helping everyone find a purpose. 
"You're graduating at a time when this is extremely important," Zuckerberg said. "Today technology and automation is eliminating a lot of jobs...We have a generational challenge to not only create jobs but create a new sense of purpose." 
In order to do that, Zuckerberg reasoned, the current generation needs to take on big projects, redefine equality and build community across the world. Tackling big projects involves being unafraid of entrepreneurial thinking and not being afraid to move too fast. "The reality is, anything we do today is going to have some issues in the future," he added. 
Facebook has come under fire, particularly within the last year, among critics who claim it's become a platform for fake news and increasing political divisiveness. Last November, former President Barack Obama commented that news is not the "crazy, conspiracy theorizing" that happens on Facebook and said that it creates a "dust cloud of nonsense." In response, Facebook has rolled out additional tools on the News Feed that make it easier for users to distinguish between false and verified news items, as well as view posts that differ from their political affiliation, among other things. 
Zuckerberg also spoke to broader ideas, like committing to creating equality of opportunity. In a particularly candid moment, Zuckerberg seemed to admit that he was able to achieve success by luck and by having an upbringing that would allow him to fail -- things that everyone should have "the freedom to pursue." 
"We all know you don't get successful just by having an idea and working hard, you get successful by being lucky," Zuckerberg explained. "Giving everyone the freedom to pursue purpose should be free. This isn't going to be cheap. People like me need to be willing to pay for it and some of you guys aer going to do well and you should too."
Zuckerberg, at some points tearfully, went on to tell students that they're dealing with a world that "needs a purpose" and that to find that purpose, they must develop communities at the local level. 
"We live in an unstable time [where it's] tough to care more about people in other places when we don't feel good about ourselves at home," Zuckerberg said. "There's a pressure to turn inwards...This is not a battle of nations. It's a battle of ideas."
Jim Cramer and the Action Alerts PLUS team have some thoughts about Facebook, Alphabet and other holdings of their investment club. To find out what they are telling their members, get a free trial subscription to Action Alerts PLUS.
Read More Trending Articles:
Ulta Beauty Rips to an All-Time High After Strong Quarter -- Here's the Trade
Best Buy's Stock Blows Up After Massive Earnings Beat - What You Must Know NowEditors' pick: Originally published May 22.