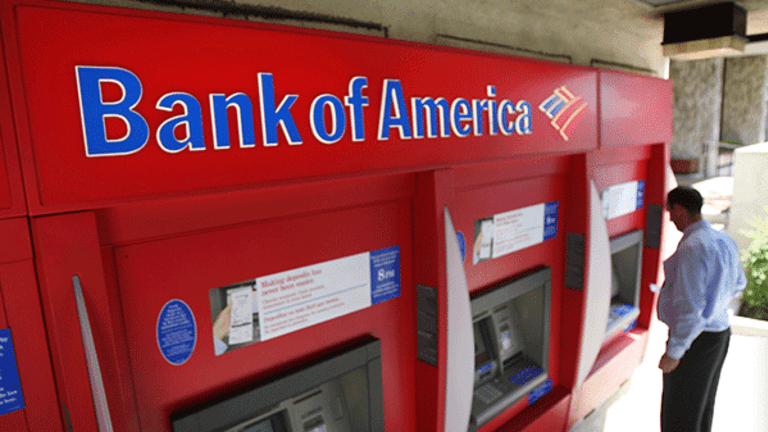 Here's How to Trade Bank of America, Freeport-McMoRan, Seagate Right Now
Here's how to trade seven of the most active stocks on the market Wednesday.
Put down the 10-K filings and the stock screeners. It's time to take a break from the traditional methods of generating investment ideas. Instead, let the crowd do it for you.
From hedge funds to individual investors, scores of market participants are turning to social media and market data to figure out which stocks are worth watching. It's a concept that's known as "crowdsourcing," and it uses the masses to identify emerging trends in the market.
Crowdsourcing has long been a popular tool for the advertising industry, but it also makes a lot of sense as an investment tool. After all, the market is completely driven by the supply and demand, so it can be valuable to see what names are trending among the crowd.
While some fund managers are already trying to leverage social media resources like Twitter to find algorithmic trading opportunities, for most investors, crowdsourcing works best as a starting point for investors who want a starting point in their analysis.
So, today, we'll leverage the power of the crowd to take a look at some of the most active stocks on the market.
Bank of America
Nearest Resistance: N/A
Nearest Support: $22
Catalyst: Dow 20,000
Leading things off is perennially high-volume stock Bank of America (BAC) - Get Free Report. BofA is pushing higher this afternoon, up 1.5% in active trading as the broad market gets a shot of enthusiasm for the Dow Jones Industrial Average finally crossing the 20,000 mark. Those new all-time highs in the stock market indices are being fueled by new highs in the individual stocks, Bank of America included.
BofA is charging into breakout territory today. Shares have been heeding resistance up at $23 as a price ceiling since December, but that's changing with today's push through that level. While it's still a little too early to call the breakout "confirmed" today, a close above $23 would be a buyable signal in BofA this week.
Freeport-McMoRan
Nearest Resistance: N/A
Nearest Support: $16
Catalyst: Q4 Earnings
Natural resource company Freeport-McMoRan (FCX) - Get Free Report is down 4.4% on high volume this afternoon, a notable decliner in a sea of upside as the broad market hits new highs. Freeport released its fourth-quarter earnings in Wednesday's session, generating an adjusted profit of 25 cents per share. Analysts on Wall Street were expecting profits to hit 35 cents per share, on average. Despite the negative price reaction, Freeport's price trajectory still looks very good here.
That's because shares actually broke out through intermediate-term resistance at $16 in yesterday's session, signaling the potential for a second leg higher after a 70% rally off of October's lows. As long as FCX holds onto that $16 level, it remains in "breakout mode".
Seagate Technology 
Nearest Resistance: N/A
Nearest Support: $40
Catalyst: Q2 Earnings
Computer storage company Seagate Technology plc (STX) - Get Free Reportis blasting higher this afternoon, thanks to better than expected earnings results for the firm's second quarter. Seagate posted adjusted earnings of $1.38 per share for the quarter, stomping the average guess of $1.08 in profits that analysts were hoping for. Today's 20.4% reaction move is the largest post-earnings rally in Seagate since 2011.
Technically speaking, Seagate is squarely in "breakout mode" this afternoon. Shares had been hitting their head on resistance at $40 since the end of the fall months, and today's fundamentally-driven move is being augmented by the breakout. Believe it or not, it's still not too late to buy Seagate here.
AK Steel 
Nearest Resistance: $9.25
Nearest Support: $6.50
Catalyst: Downgrade
Steel producer AK Steel (AKS) - Get Free Report has been a very high-volume stock this week, first getting attention ahead of earnings to start the week, and now seeing a negative follow-through after earnings and a downgrade from Wall Street.
J.P. Morgan cut AK Steel to neutral from overweight, slashing its price target on the company from $11 to $8. While the steel industry is still seen as a positive for investors by J.P. Morgan, AKS is losing favor over contract pricing concerns.
Technically, there's good reason to avoid this stock now. Shares of AK Steel violated the bottom of their consolidation range at $9.25 this week, breaking through a key support level and signaling the potential for more downside ahead. This stock is best avoided until it can re-establish some semblance of support once again.
VanEck Vectors Gold Miners ETF
Nearest Resistance: $24
Nearest Support: $22
Catalyst: Gold Prices
The VanEck Vectors Gold Miners ETF (GDX) - Get Free Report is correcting this afternoon, but that doesn't change this big fund's positive trajectory in 2017. GDX is down 2.37%, dipping as spot gold prices slip today - gold miners basically act like a leveraged bet on gold prices, so when the metal drops, GDX typically drops more. That said, this ETF is looking "bottomy" after a prolonged correction since last summer. Shares broke free of their downtrend earlier this month, and they've been making higher lows ever since. Now looks like a good opportunity for gold bulls to buy GDX.
Patterson-UTI Energy
Nearest Resistance: $35
Nearest Support: $27
Catalyst: Share Offering
Mid-cap oil and gas drilling company Patterson-UTI Energy  (PTEN) - Get Free Report is up 6.4% this afternoon on abnormally high volume, tipping the scales as one of the most actively-traded issues on the NASDAQ as I write. Patterson-UTI is seeing a boost following the pricing of a 15.8 million share offering at $26.45. The deal closes on January 27, and the proceeds will be used to fund repayment of acquisition target Seventy Seven Energy's (SVNT) outstanding debt.
Long term, there's a lot to like about the price action in Patterson-UTI Energy. Shares of the energy stock have been in a well-defined upending channel since the end of the summer, and every test of the bottom of their trendline has presented investors with a low-risk, high-reward buying opportunity. As shares come off of support for a sixth time here, it makes sense to buy the next bounce higher.
Arctic Cat
Nearest Resistance: $18.57
Nearest Support: $18.47
Catalyst: Acquisition
Finally, small-cap snowmobile and ATV manufacturer Arctic Cat  (ACAT) is seeing an extremely high-volume session following the announcement that the firm is being acquired by conglomerate Textron  (TXT) - Get Free Reportin a deal that will pay Arctic Cat shareholders $18.50 per share in cash.
At this point, the money has already been made on the Arctic Cat trade. Shares currently sit at a 0.27% premium to the offer price, which means that buying ACAT would actually lose you money if the Textron deal closes as announced. Investors who missed the overnight 41% pop in this stock should look elsewhere for gain opportunities this week.
At the time of publication, author had no positions in the stocks mentioned.