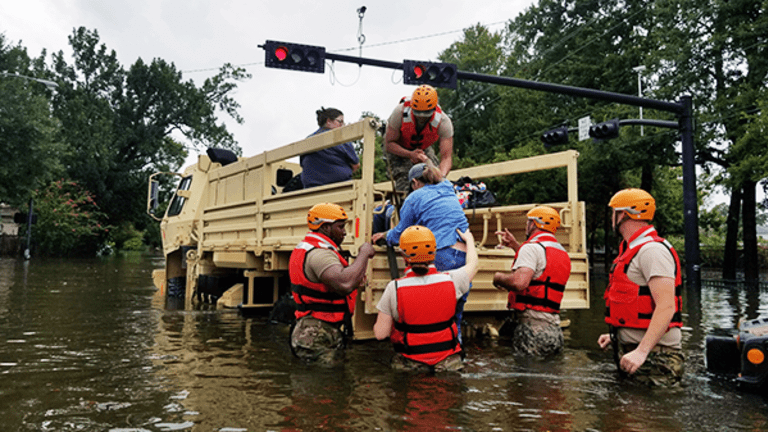 Here's How to Help Harvey's Houston Victims
From donating food to volunteering time to helping animals, here are the best ways to offer support.
As record-setting flooding from Hurricane Harvey continues to overwhelm the Houston area, thousands have been displaced from their homes. Celebrities, companies, politicians and people across the country have come together to lend a helping hand. Here are the best ways to help Harvey's victims.
Donate to the Red Cross -- The American Red Cross has spent $50 million on Harvey relief as of Wednesday, opening 232 shelters for more than 66,000 people, according to NPR. The organization has recently come under fire for abstaining from disclosing what portion of its funds raised goes to victims, but it offers training for volunteers and takes donations via text messaging. Actress Sandra Bullock donated $1 million to the American Red Cross Wednesday, telling Time Inc.-owned (TIME) People magazine, "There are no politics in eight feet of water. There are human beings in eight feet of water." Signer Jennifer Lopez and Yankees' star Alex Rodriguez also each donated $25,000 to the American Red Cross. The Kardashian family offered some financial support as well.
Consider a gift to United Way -- Actor Leonardo DiCaprio donated $1 million to the United Way Harvey Recovery Fund. The United Way operates a fund in Houston already, but it said it expects that disaster relief fund will by drained, with Harvey needs far exceeding existing resources.
Volunteer with FEMA -- The Federal Emergency Management Agency said it will need volunteers for quite some time, especially those with skills and experience in emergency aid. FEMA says on its website that donating cash is the best way to offer help, but they also accept donations of needed food and supplies. If you are looking to volunteer locally to help Harvey victims, apply here.
Consider a viral donation page -- Make a site on GoFundMe to help raise money from your own friends and families. Consider donating what you raise to a general relief fund. Or follow in the footsteps of Houston Texans defensive end JJ Watt, who has raised $8.5 million on a YouCaring website he created in the wake of Harvey's devastation.
Help out with animals -- The SPCA of Texas has organized coordinated rescues of abandoned animals and helped find shelters that are pet-friendly for the families that could bring animals with them while evacuating. Austin Pets Alive! has transported more than 235 animals to its shelter, but it says it's received so many donations that it now needs more storage space - so cash is best. Singer Miranda Lambert's Mutt Nation Foundation has focused efforts in Texas, too.
Donate food -- Many food banks are donating to Harvey relief. Nonprofit Feeding Texas will be coordinating with the state and with other donors to ensure food gets to families as quickly as possible. They aim to avoid the "second disaster" of unorganized response, according to their website. Learn more and donate here.
Support a company that's pledged a donation -- Verizon (VZ) - Get Verizon Communications Inc. Report , Toyota Motor Corp. (TM) - Get Toyota Motor Corp. Sponsored ADR Report , Apple Inc. (AAPL) - Get Apple Inc. (AAPL) Report , Carnival Corp. (CCL) - Get Carnival Corporation Report , Amazon.com (AMZN) - Get Amazon.com, Inc. Report and Whole Foods Market (WFM) , Bank of America (BAC) - Get Bank of America Corp Report , Chevron (CVX) - Get Chevron Corporation Report , Comcast (CMCSA) - Get Comcast Corporation Class A Report , Facebook (FB) - Get Facebook, Inc. Class A Report , Home Depot (HD) - Get Home Depot, Inc. (HD) Report and WalMart Stores Inc. (WMT) - Get Walmart Inc. Report are just some of the companies that have pledged more than $1 million each to Harvey relief.